A teaching by Rev. Barbara Williams, President of the Ministry of the Watchman International
Week of November 25-29, 2019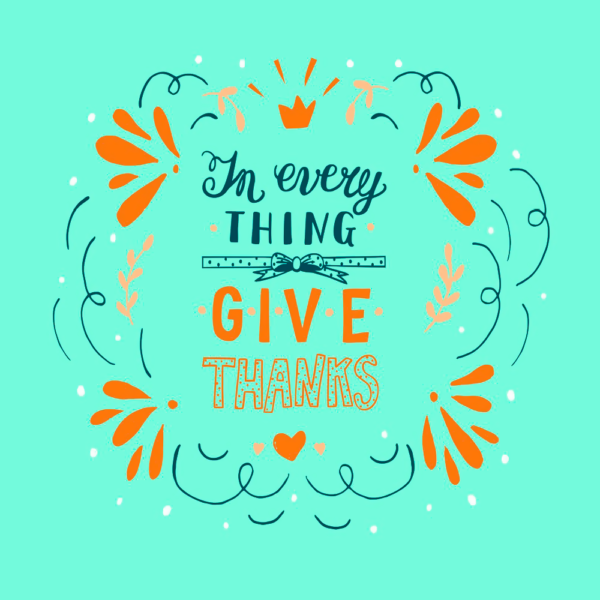 MONDAY
In every thing give thanks: for this is the will of God in Christ Jesus concerning you.
1 Thessalonians 5:18
God commands that we give thanks at all times. In everything we are told to give thanks. The will of God is for us to give thanks at all times. Why is this so important? Psalm 100:4 tells us to enter into His gates with thanksgiving in our hearts. We then move further into God's presence through praise.
Thanksgiving invites God's presence, but more than that, it opens dialogue with God. We actually are allowed into His throne room through the giving of thanks. Is this important? Of course it is. Where He is is where we belong. We have a sense of contentment when we are in the right place. Thanksgiving allows us to be there.
---

If you are in need of healing, there is good news! Proverbs 4:20-22 SAYS:
My son, attend to my words; incline thine ear unto my sayings. Let them not depart from thine eyes; keep them in the midst of thine heart. For they are life unto those that find them, and health to all their flesh.
So there is life and health in God's word. Since God's word is medicine, we must take it like we would a prescription. I suggest three times a day, like you would your food. Remember, healing is the children's bread. Consider this your "dose" for today. Remember, read, and meditate three times a day the following:
Rx: Matthew 15:30-31 ~ Great multitudes came unto him, having with them those that were lame, blind, dumb, maimed, and many others, and cast them down at Jesus' feet: and he healed them. Insomuch that the multitude wondered, when they saw the dumb to speak, the maimed to be whole, the lame to walk, and the blind to see: and they glorified the God of Israel.
---
"Study to show thyself approved unto God, a workman that needeth not to be ashamed, rightly dividing the word of truth."
2 Timothy 2:15
If you've never studied the Bible from Genesis to Revelation, we invite you to join us as we read through the Bible in a year. Read and meditate on these chapters this week:
November 25: 1 Chronicles 21, 1 Peter 2, Jonah 4, Luke 9
November 26: 1 Chronicles 22, 1 Peter 3, Micah 1, Luke 10
November 27: 1 Chronicles 23, 1 Peter 4, Micah 2, Luke 11
November 28: 1 Chronicles 24-25, 1 Peter 5, Micah 3, Luke 12
November 29: 1 Chronicles 26-27, 2 Peter 1, Micah 4, Luke 13
November 30: 1 Chronicles 28, 2 Peter 2, Micah 5, Luke 14
December 1: 1 Chronicles 29, 2 Peter 3, Micah 6, Luke 15

---
TUESDAY
In every thing give thanks: for this is the will of God in Christ Jesus concerning you.
1 Thessalonians 5:18
Giving thanks is the will of God. Have you ever needed direction, or an answer to a problem or question? The answer may seem far away because in our confusion we have strayed away from God. Often we humans tend to seek answers from our own resources instead of from God. We worry, doubt, call somebody whose resources are also limited, all in an attempt to solve our own problems.
Ever wonder what it would be like to automatically give thanks to God when in trouble and enter into His presence? The peace that comes from being in the will of God and knowing that you have touched the Master would calm us down enough to wait patiently for the answer. Obeying His will assures success..
---
WEDNESDAY
In every thing give thanks: for this is the will of God in Christ Jesus concerning you.
1 Thessalonians 5:18
Are we to thank God for everything? This scripture says to thank Him in everything. There is a difference. We would not be honest if we thanked Him for everything. It is hard to see the blessing in certain situations. Disaster, sudden and untimely death, sickness, or mistreatment would be situations to endure trusting and abiding in Him until the bad time subsides.
What about the good times? Sometimes these are the hardest times to focus on the One responsible for the good things that come our way. In fact the bible admonishes us not to forget to give God thanks when we receive His promises because He is the One who gives us power to get wealth.
---
THURSDAY
In every thing give thanks: for this is the will of God in Christ Jesus concerning you.
1 Thessalonians 5:18
When we do the will of God, we sow the highest seed possible. We in turn reap a harvest. Our harvest is more of the will of God. God's will is His highest good for you.
In thanksgiving there is a grace and divine ability that comes to us to move in His will. We find direction and suddenly the way that was darkened has received great light. We find the unwilling are suddenly helpful. What the enemy meant for evil, suddenly turns into good. The miracle of increase and multiple blessings finally comes. Thanksgiving causes this to happen. 
---
FRIDAY
In every thing give thanks: for this is the will of God in Christ Jesus concerning you.
1 Thessalonians 5:18
Thanksgiving brings increase. In Mark 8:6 Jesus gives thanks for seven loaves of pita bread (not Wonder Bread) and God increases it to the point that He feeds four thousand people and has leftovers. Whatever God does, He does in abundance.
Please remember this in the coming year. Whatever we thank Him for on earth, He will bring Heaven's increase to it. This is the blessing of doing the will of God. Remember to give thanks to Him in everything. This is the will of God in Christ Jesus concerning you.