A teaching by Rev. Barbara Williams, President of the Ministry of the Watchman International
Week of December 9-13, 2019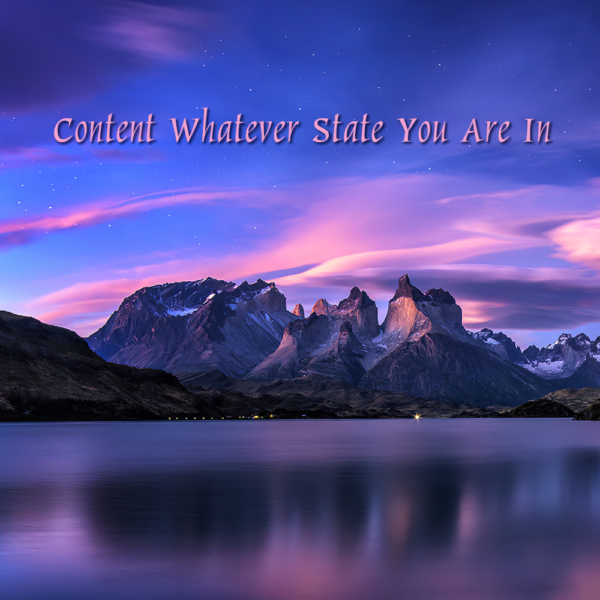 MONDAY
Not that I speak in regard to need, for I have learned in whatever state I am, to be content…
Philippians 4:11
This is a pretty good goal for the Christian life. Have you learned to be content, no matter what happens? Notice that the apostle says that this is something he has learned. It is not a part of the gift of being an apostle.
It is a part of learning. It is something all Christians should learn. This is the mark of the spiritual man. The spiritual man evaluates all things by the spirit. He learns by the inner teacher (the unction of the Holy Spirit) how to settle himself and become established in the things that God has for him. The spiritual man knows how to lean on the inner witness for the guidance he needs. This inner contentment means that he is always in touch with God, through whom he can do all things. His pride is not dominating him telling him how weak or how great he is. He lives in the contentment that comes through righteousness… right standing with God, which leads to right thinking and right living. Contentment emanates from within and moves without. It is not a function of circumstances.
---

If you are in need of healing, there is good news! Proverbs 4:20-22 SAYS:
My son, attend to my words; incline thine ear unto my sayings. Let them not depart from thine eyes; keep them in the midst of thine heart. For they are life unto those that find them, and health to all their flesh.
So there is life and health in God's word. Since God's word is medicine, we must take it like we would a prescription. I suggest three times a day, like you would your food. Remember, healing is the children's bread. Consider this your "dose" for today. Remember, read, and meditate three times a day the following:
Rx: Psalm 34:19 ~ Many are the afflictions of the righteous, but the Lord delivers him out of them all.
---
"Study to show thyself approved unto God, a workman that needeth not to be ashamed, rightly dividing the word of truth."
2 Timothy 2:15
If you've never studied the Bible from Genesis to Revelation, we invite you to join us as we read through the Bible in a year. Read and meditate on these chapters this week:
December 9: 2 Chronicles 8, 3 John 1, Zephaniah 1, Luke 23
December 10: 2 Chronicles 9-10, Jude 1, Zephaniah 2, Luke 24
December 11: 2 Chronicles 11-12, Revelation 1-2, Zephaniah 3, John 1
December 12: 2 Chronicles 13, Revelation 3, Haggai 1, John 2
December 13: 2 Chronicles 14-15, Revelation 4, Haggai 2, John 3
December 14: 2 Chronicles 16, Revelation 5, Zechariah 1, John 4
December 15: 2 Chronicles 17, Revelation 6, Zechariah 2, John 5
---
TUESDAY
Not that I speak in regard to need, for I have learned in whatever state I am, to be content…
Philippians 4:11
"But Barb, you don't know my situation…mine is not your typical Christian story." I am not talking about typical Christianity. I am talking about life in the spirit and being totally dependent upon God for everything, even how we feel. I am speaking of a new way of living for all people. This life in the spirit is much desired by all of us. How many people wish they could get their emotions on an even keel? How many of us wish we didn't continue to say and do the wrong things at the wrong time? How many of us have bad habits we wish we didn't have? Well, if I haven't rung your bell yet, I'm sure God will show you that you are included in the group of normal people trying to live for God. Life in the spirit is not enjoyed by all at all times, but it is something that is attainable by all. We have to undertake learning how this is done.
---
WEDNESDAY
Not that I speak in regard to need, for I have learned in whatever state I am, to be content: I know how to be abased, and I know how to abound. Everywhere and in all things I have learned both to be full and to be hungry, both to abound and to suffer need.
Philippians 4:11-12
The apostle says here that he knows how to be abased and how to abound. Most of us wouldn't put abased on our Christian resume for fear that it might indicate that we do not have enough faith. Yet here is a man who was taken into the realm of the spirit where revelation, dreams and all the gifts of the spirit were open to him. I don't think he suffered a lack of faith, necessarily. He was affected by his circumstances, I'm sure, but he had learned contentment in whatever situation he found himself in. Sometimes we think we can ward off lack by extreme giving, extreme confessing, or extreme good works. This may not protect us from struggle. We will have tribulation in this world. If we work for God and use His power, the world's system will react in hostility to us. Tribulation is good. It is often a precursor to change. Change is good, too.
---
THURSDAY
I know how to be abased, and I know how to abound. Everywhere and in all things I have learned both to be full and to be hungry, both to abound and to suffer need.
Philippians 4:12
So how did the Apostle Paul attain this contentment? He knew how to be abased and abound. There is a know-how to these conditions. They are not just calamities that come upon us that we must suffer through. They are conditions that we must know how to absorb, embrace and put down.
There are times to be abased. There are times to abound. There are times to be full and to be hungry. He knew how to be what when. How did he know what to do? He was instructed. By whom? By the inner teacher; by the Holy Ghost. He knew when to rejoice and when to recoil. He knew that he could be controlled by circumstances, but chose, instead, to be controlled by the inner teacher.
The teacher says, "be full and hungry at the same time. You will not be a glutton;" "embrace your struggle with grace and dignity, and pride will not deceive you;" "don't allow yourself to feel wealthy in the flesh, no matter how much God has blessed you." The instructor helps the believer to remain in the same state of inner contentment no matter what the circumstance. He is not a circumstantial Christian. He walks with God. He enters into God's contentment. 
---
FRIDAY
I can do all things through Christ who strengthens me.
Philippians 4:13
"Well, Barb, it's good to know all that, but it's kind of hard to do. You see, I was a battered husband, and I was also abandoned when I was young."
We all have a past. Paul certainly had one. Imagine having to live among people you used to persecute and murder. Think of the reaction he must have gotten when he got up to preach. Offerings? I don't think so. He was doing well to get off with his life. Yet he had subjected himself to the inner teacher, and was assure of one thing. That he was able to do these things because he had a great mystery revealed to him: it was no longer him living, but Christ living in him, and the inner spirit of Christ allowed him to do everything that the inner teacher instructed him to do.
How wonderful to know that we are not in a spiritual self-control contest, but we are being taught contentment as a way of living. Let the teacher teach you the most important lesson a Christian can learn: how to walk in the contentment of God.