A teaching by Rev. Barbara Williams, President of the Ministry of the Watchman International
Week of March 16-20, 2020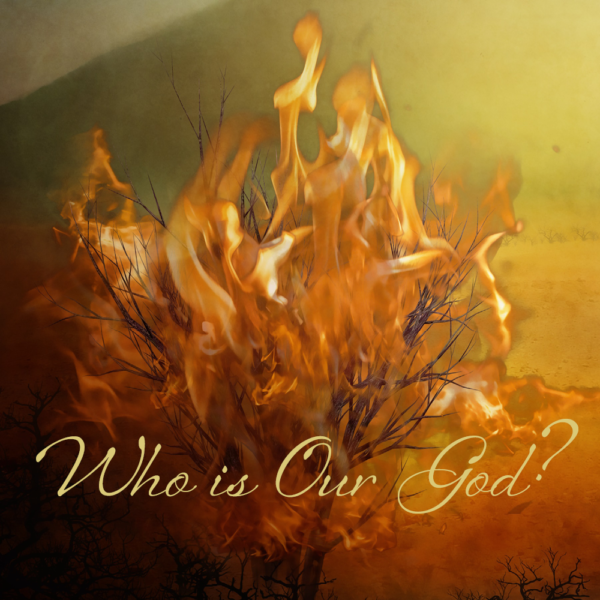 MONDAY
Now Moses was tending the flock of Jethro his father-in-law, the priest of Midian. And he led the flock to the back of the desert, and came to Horeb, the mountain of God. And the Angel of the Lord appeared to him in a flame of fire from the midst of a bush. So he looked, and behold, the bush was burning with fire, but the bush was not consumed. Then Moses said, "I will now turn aside and see this great sight, why the bush does not burn."
Exodus 3:1-3
This passage of scripture is all too familiar to us… the story of Moses and the burning bush. But is it just about Moses only? Have you ever seen yourself in this story? Ever see yourself going about your normal business, at work, in your home, just doing your normal routine, and suddenly an angel appears to you?
Sometimes it is not a literal angel. It might be someone who gives you a message from God, but this passage talks about one's introduction to the one true and living God. Moses had given up his life as the son of pharaoh's daughter, and had married a Midianite woman. He was living a normal life as a husband and father, when suddenly he sees something that gets his attention.
Like all of us, he has a decision to make. Will he turn aside from his normal routine to see what this message means, or will he continue with things as they are? How about you? When God attempts to get your attention, how do you respond?
---

If you are in need of healing, there is good news! Proverbs 4:20-22 SAYS:
My son, attend to my words; incline thine ear unto my sayings. Let them not depart from thine eyes; keep them in the midst of thine heart. For they are life unto those that find them, and health to all their flesh.
So there is life and health in God's word. Since God's word is medicine, we must take it like we would a prescription. I suggest three times a day, like you would your food. Remember, healing is the children's bread. Consider this your "dose" for today. Remember, read, and meditate three times a day the following:
Rx: John 5:6-9 ~ When Jesus saw him lying there and knew that he had already been there a long time, he said to him, "Do you want to be healed?" The sick man answered him, "Sir, I have no one to put me into the pool when the water is stirred up, and while I am going another steps down before me." Jesus said to him, "Get up, take up your bed, and walk." And at once the man was healed, and he took up his bed and walked. Now that day was the Sabbath.
---
"Study to show thyself approved unto God, a workman that needeth not to be ashamed, rightly dividing the word of truth."
2 Timothy 2:15
If you've never studied the Bible from Genesis to Revelation, we invite you to join us as we read through the Bible in a year. Read and meditate on these chapters this week:
March 16: Exodus 27, John 6, Proverbs 3,Galatians 2
March 17: Exodus 28, John 7, Proverbs 4, Galatians 3
March 18: Exodus 29, John 8, Proverbs 5, Galatians 4
March 19: Exodus 30, John 9, Proverbs 6, Galatians 5
March 20: Exodus 31, John 10, Proverbs 7, Galatians 6
March 21: Exodus 32, John 11, Proverbs 8, Ephesians 1
March 22: Exodus 33, John 12, Proverbs 9, Ephesians 2

---
TUESDAY
So when the Lord saw that he turned aside to look, God called to him from the midst of the bush and said, "Moses, Moses!"
And he said, "Here I am."
Then He said, "Do not draw near this place. Take your sandals off your feet, for the place where you stand is holy ground."
Exodus 3:4-5
Moses made the right choice. He "turned aside to see." This is important to know about how one must respond to God. We must turn away from our normal routine in order to turn toward God. He will not reveal Himself to us until He has our full and undivided attention.
Tell me this, when you read your Bible, is there background noise, like the t.v., radio, or other distractions in the room? Tsk, tsk. Well, this may be a key to why your prayers are delayed in being answered, why you have a hard time "hearing from God," or why you don't have as much peace and joy in your life.
Could it be that you have not properly "turned aside" from your life and turned toward God with your undivided attention?
---
WEDNESDAY
Moreover He said, "I am the God of your father—the God of Abraham, the God of Isaac, and the God of Jacob." And Moses hid his face, for he was afraid to look upon God."
And the Lord said: "I have surely seen the oppression of My people who are in Egypt, and have heard their cry because of their taskmasters, for I know their sorrows. So I have come down to deliver them out of the hand of the Egyptians, and to bring them up from that land to a good and large land, to a land flowing with milk and honey, to the place of the Canaanites and the Hittites and the Amorites and the Perizzites and the Hivites and the Jebusites. Now therefore, behold, the cry of the children of Israel has come to Me, and I have also seen the oppression with which the Egyptians oppress them."
Exodus 3:6-9
God introduces himself to Moses. Moses has passed his first test with God. Whenever we worship God, that is, give Him our full attention, He responds to us by bringing us closer to Himself.
"Draw nigh to me and I will draw nigh to you." 
God keeps His word. He goes further by telling Moses something about Himself, His plans, and His dreams. He reveals His heart to Moses. He tells Moses who He is and how He feels about the way His people are being treated.
When we turn aside from our normal routine and give God our full attention, He gives us something wonderful in return. He gives us a revelation of Himself. He shares His plan for the children of Israel with Moses. Why?
---
THURSDAY
"Come now, therefore, and I will send you to Pharaoh that you may bring My people, the children of Israel, out of Egypt."
But Moses said to God, "Who am I that I should go to Pharaoh, and that I should bring the children of Israel out of Egypt?"
So He said, "I will certainly be with you. And this shall be a sign to you that I have sent you: When you have brought the people out of Egypt, you shall serve God on this mountain."
Exodus 3:10-12
I'll tell you why. Because Moses is a part of that plan. God only shares pertinent information with us. He is a God of purpose. When God came to Moses it was for the purpose of using Moses in His great plan. Well, don't look so surprised. The main reason God reveals Himself to us is so that we can finally realize our real purpose for being.
Rev. Norvel Hayes, a contemporary bible teacher, testified that he was invited to speak at a meeting with nothing but government workers. When he asked God what he was to speak to them about, God told them to inform these people that they were not created to merely work for the government. Some of these persons were very prominent with great jobs, but God told Brother Norvel to inform them that there was a higher purpose for their lives. When God introduces Himself to you, you will know your purpose in His plan.
Of course Moses feels inadequate for the job. We all do. This is normal and human. God knows we cannot do it without Him. If God's plan were something we could do on our own, we would have thought of it and done it already. Even if His plan includes things we already desire, we have no power to succeed in them without Him. God's presence with us and guidance over us insures our success.
---
FRIDAY
Then Moses said to God, "Indeed, when I come to the children of Israel and say to them, 'The God of your fathers has sent me to you,' and they say to me, 'What is His name?' what shall I say to them?"
And God said to Moses, "I AM WHO I AM." And He said, "Thus you shall say to the children of Israel, 'I AM has sent me to you.' " Moreover God said to Moses, "Thus you shall say to the children of Israel: 'The Lord God of your fathers, the God of Abraham, the God of Isaac, and the God of Jacob, has sent me to you. This is My name forever, and this is My memorial to all generations.'"
Exodus 3:13-15
Moses still has questions. This is the divine hook, or spiritual entrapment. When God reveals a little of himself to us, this little bit of knowledge generates more questions. We get a little more information, which only produces more questions. We will never exhaust the knowledge of God. He's way too big. God does however give Moses something that will carry Moses from one encounter with God to the next. God tells Moses his name. He calls Himself, "I am that I am." These words imply that He is the all sufficient, Living God. This name denotes personhood, and therefore demands respect.
Sojourner Truth, the Afro-American abolitionist, was stopped by a policeman on the streets of Chicago while walking home from a meeting one night where she had given a speech on the evils of slavery. She was a devout Christian and an ex-slave who had obtained her freedom. When asked to identify herself, she looked the policeman in the eye, and replied, "I am that I am." The policeman put his head down and hurried past her. Pretty bold move, huh?
This statement on her part demonstrated not only her understanding of her value as a human being made in the image of God, but also indicated her total dependence upon God. A dependence like that of Moses. Moses was so dependent upon God that he would not go anywhere unless God went with Him, and he told God this. What a commitment.
To only go with God means to only go at His leading. So impressed was Moses with this Living God, that he renounced his desire for the Egyptian way of life, and chose the desert life with God. He chose Divine purpose.
Is God alive to you in this way? Do you know who your God is? Do you seek to know more about Him every day, as Moses eventually did? If not, why not ask Him to help you desire to know more about Him.
Turn aside from your former knowledge. Take your shoes off. Where he speaks with you is Holy Ground.