A teaching by Rev. Barbara Williams, President of the Ministry of the Watchman International
Week of May 25-31, 2020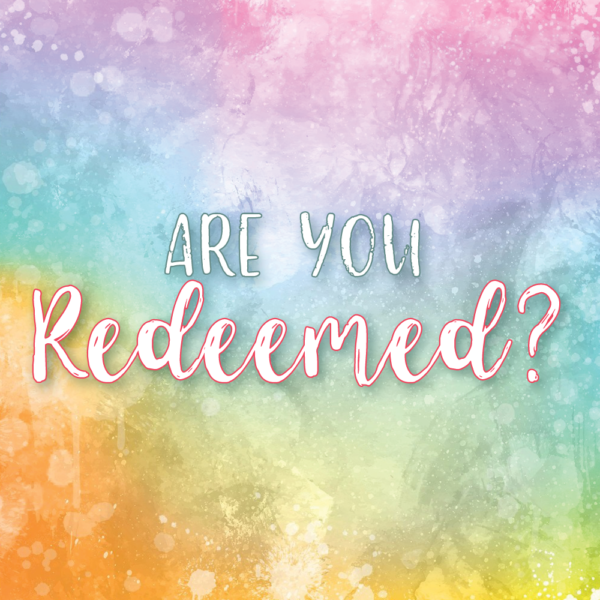 MONDAY
In Him we have redemption through His blood, the forgiveness of sins, according to the riches of His grace which He made to abound toward us in all wisdom and prudence, having made known to us the mystery of His will, according to His good pleasure which He purposed in Himself, that in the dispensation of the fullness of the times He might gather together in one all things in Christ, both which are in heaven and which are on earth—in Him.
Ephesians 1:7-10
We are redeemed by the shed blood of the Lord Jesus Christ. To redeem also means "to sever, to preserve, and to release." This passage states that "we have redemption through His blood."
His life was the price of your redemption. A life for a life. He will take your empty life and give you His full life, if you will receive it.
The things that bring us happiness, make us complete, and bring us joy are inner things. It is God's Kingdom that makes us complete: righteousness, peace and joy in the Holy Ghost. (Romans 14:17).
---

If you are in need of healing, there is good news! Proverbs 4:20-22 SAYS:
My son, attend to my words; incline thine ear unto my sayings. Let them not depart from thine eyes; keep them in the midst of thine heart. For they are life unto those that find them, and health to all their flesh.
So there is life and health in God's word. Since God's word is medicine, we must take it like we would a prescription. I suggest three times a day, like you would your food. Remember, healing is the children's bread. Consider this your "dose" for today. Remember, read, and meditate three times a day the following:
Rx: Jeremiah 17:14 ~ Heal me, O Lord, and I shall be healed; save me, and I shall be saved; for you are my praise.
---
"Study to show thyself approved unto God, a workman that needeth not to be ashamed, rightly dividing the word of truth."
2 Timothy 2:15
If you've never studied the Bible from Genesis to Revelation, we invite you to join us as we read through the Bible in a year. Read and meditate on these chapters this week:
May 25: Numbers 34, Psalms 78:38-72, Isaiah 26, 1 John 4
May 26: Numbers 35, Psalms 79, Isaiah 27, 1 John 5
May 27: Numbers 36, Psalms 80, Isaiah 28, 2 John 1
May 28: Deuteronomy 1, Psalms 81-82, Isaiah 29, 3 John 1
May 29: Deuteronomy 2, Psalms 83-84, Isaiah 30, Jude 1
May 30: Deuteronomy 3, Psalms 85, Isaiah 31, Revelation 1
May 31: Deuteronomy 4, Psalms 86-87, Isaiah 32, Revelation 2

---
TUESDAY
Therefore gird up the loins of your mind, be sober, and rest your hope fully upon the grace that is to be brought to you at the revelation of Jesus Christ; as obedient children, not conforming yourselves to the former lusts, as in your ignorance; but as He who called you is holy, you also be holy in all your conduct, because it is written, "Be holy, for I am holy."
1 Peter 1:13-16
As believers, we must strengthen our minds with the Word of God. This is important if we are to be successful in this new life of redemption. We receive revelation of God's grace through having sober thoughts. A mind filed with the thoughts of God.
This is what obedient children do… they obey their father. If we continue in this way, we become imitators of God. We can be holy as He is holy. Is this really possible? Of course it is. It is God's plan for us. Any time we imitate God we are demonstrating holiness.
---
WEDNESDAY
And if you call on the Father, who without partiality judges according to each one's work, conduct yourselves throughout the time of your stay here in fear; knowing that you were not redeemed with corruptible things, like silver or gold, from your aimless conduct received by tradition from your fathers, but with the precious blood of Christ, as of a lamb without blemish and without spot.
1 Peter 1:17-19
As children of God, we should call on Him. We need Him. We need His direction, His wisdom, His guidance and protection. We need everything we can get from God. God will judge us according to our works, so if we call on Him, we should reverence Him and fear Him.
We should be careful how we spend our time here on earth. We should spend it doing the things God approves of. We should seek Him for what works we should be involved in. We need to be very careful about these areas of life because we do not belong to ourselves.
We have been redeemed, or purchased back from the ways of the world. We must be very careful to make no plans without first consulting God. He purchased us for His purpose, therefore, we must obey Him, cultivate holiness and reverence and serve God.
---
THURSDAY
He indeed was foreordained before the foundation of the world, but was manifest in these last times for you who through Him believe in God, who raised Him from the dead and gave Him glory, so that your faith and hope are in God.
1 Peter 1:20-21
It is through Christ's life in us that we live for God. Because he requires that we lay down our lives, it is important that we pick up His life, or we have nothing. God gives us all ability. He never takes more from us than He gives to us. What we have given up is really corruptible things, things that will not last.
He takes the corruption and gives incorruption. He takes the carnal and gives the spiritual. He takes mortality and gives immortality. He gives everlasting life. God is so wonderful. He is such a loving giver. He purposed to give Christ to redeem us before the foundation of the world.
---
FRIDAY
Since you have purified your souls in obeying the truth through the Spirit in sincere love of the brethren, love one another fervently with a pure heart, having been born again, not of corruptible seed but incorruptible, through the word of God which lives and abides forever, because "All flesh is as grass, and all the glory of man as the flower of the grass. The grass withers, and its flower falls away, but the word of the Lord endures forever."
Now this is the word which by the gospel was preached to you.
1 Peter 1:22-25
We believe because of what Jesus gave for us. He gave us His very life. Your faith and hope needs to be in Him because of all that He has proven to us.
By His life He demonstrated the will of the Father. In his death, He demonstrated the love of the Father. In His resurrection, He demonstrated the power of the Father.
In this life we prove His redemption as we imitate the Father by loving the brethren; we demonstrate that we are His disciples. We demonstrate that we are born again because we obey God's truth.
Are you truly redeemed? Are you able to imitate God by loving the brethren?