A teaching by Rev. Barbara Williams, President of the Ministry of the Watchman International
Week of June 22-26, 2020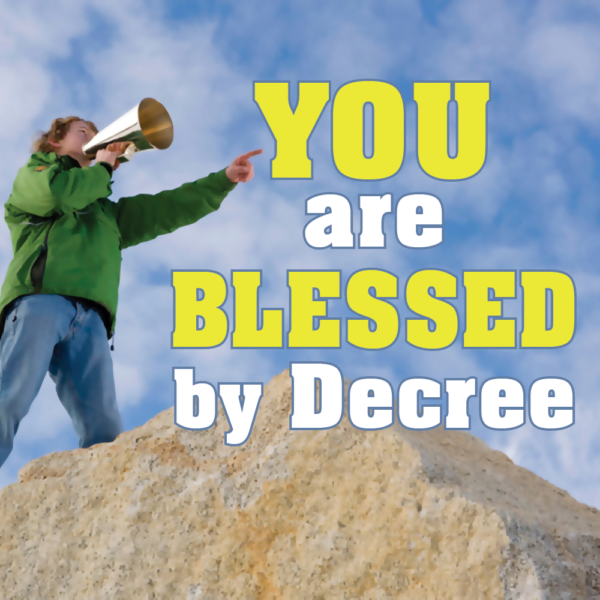 MONDAY
So he cried out to the Lord, and the Lord showed him a tree. When he cast it into the waters, the waters were made sweet. There He made a statute and an ordinance for them, and there He tested them, and said, "If you diligently heed the voice of the Lord your God and do what is right in His sight, give ear to His commandments and keep all His statutes, I will put none of the diseases on you which I have brought on the Egyptians. For I am the Lord who heals you."
Exodus 15:25-26
Your blessings have been decreed by God. All of them. They are established by decree. We will use healing as an example, but all the blessings of our covenant with God belong to us by decree. It is written. It is forever settled. When you are born again, you become joint-heirs with Christ. All that He possesses belongs to us by decree. We must merely believe and do the things that He commands in order to qualify to receive our inheritance.
In this example, we see the children of Israel who have lived in Egypt for four hundred years. They had been imprisoned by Pharaoh and compelled to work building great monuments to their gods. They had not worshipped the Lord Jehovah in many years. They had been too busy working for a false god. They had been subject to all the diseases and problems of Egypt. Then God delivered them out of their former condition. He did it by decree. He declared their freedom from Egypt when they observed the Passover. They were no longer subject to the conditions of their former captors. They would have to believe God at every turn in order to partake of this blessing.
Their first test occurred at the bitter waters of Marah. Bitter or stagnant water meant illness or death. When they feared to drink the water and thirst was upon them, their leader Moses cried out to God, and God provided a branch, a type of the cross of Jesus Christ to be thrown into the water and the waters became sweet to drink, and therefore disease free. God then made a statue and an ordinance decree for divine healing for His people.
---

If you are in need of healing, there is good news! Proverbs 4:20-22 SAYS:
My son, attend to my words; incline thine ear unto my sayings. Let them not depart from thine eyes; keep them in the midst of thine heart. For they are life unto those that find them, and health to all their flesh.
So there is life and health in God's word. Since God's word is medicine, we must take it like we would a prescription. I suggest three times a day, like you would your food. Remember, healing is the children's bread. Consider this your "dose" for today. Remember, read, and meditate three times a day the following:
Rx: Ezekiel 16:6 ~ And when I passed by you and saw you wallowing in your blood, I said to you in your blood, "Live!" I said to you in your blood, "Live!"
---
"Study to show thyself approved unto God, a workman that needeth not to be ashamed, rightly dividing the word of truth."
2 Timothy 2:15
If you've never studied the Bible from Genesis to Revelation, we invite you to join us as we read through the Bible in a year. Read and meditate on these chapters this week:
June 22: Deuteronomy 27-28:19, Psalms 119:1-24, Isaiah 54, Matthew 2
June 23: Deuteronomy 28:20-68, Psalms 119:25-48, Isaiah 55, Matthew 3
June 24: Deuteronomy 29, Psalms 119:49-72, Isaiah 56, Matthew 4
June 25: Deuteronomy 30, Psalms 119:73-96, Isaiah 57, Matthew 5
June 26: Deuteronomy 31, Psalms 119:97-120, Isaiah 58, Matthew 6
June 27: Deuteronomy 32, Psalms 119:121-144, Isaiah 59, Matthew 7
June 28: Deuteronomy 33-34, Psalms 119:145-176, Isaiah 60, Matthew 8

---
TUESDAY
Then the Lord said to Moses, "Make a fiery serpent, and set it on a pole; and it shall be that everyone who is bitten, when he looks at it, shall live."
Numbers 21:8
Here we see the same children of Israel who have come to another test of their faith. Any time there are problems in our lives, our faith is being tried. God is not the author of these things. Everybody has problems because the prince of this world creates trouble for everybody. That is why we must know God's laws. We must know His statutes and ordinances. The children of Israel already have a law in effect in their lives concerning their healing, but they have violated that law by complaining against God. A statute is an established law, decree or edict; an ordinance is any custom or rite based on that law or decree. God's laws are made in accordance with the eternal counsel of Heaven. This counsel does not change. God's laws do not change. We must change and walk in cooperation with God and obedience to His word.
Since Israel had violated the law of God, they must repent or continue to pay the consequences. Once a law is established, violation of that law draws an automatic penalty. People who are not law-abiding soon learn better. Too many parking tickets will soon teach a person to either learn the rules regarding parking, or continue to pay. Ignorance of the law is no excuse. The lawmaker has spoken. But God always provides a remedy. He wants us to be blessed. He told Moses to make a brazen serpent, hoist it upon a pole (branch) and all the snake-bite victims who looked upon it will live. Here again we see the ordinance of Christ our healer being carried out in Old Testament type.
---
WEDNESDAY
Surely He has borne our griefs and carried our sorrows; yet we esteemed Him stricken, smitten by God, and afflicted. But He was wounded for our transgressions, He was bruised for our iniquities; the chastisement for our peace was upon Him, and by His stripes we are healed.
Isaiah 53:4-5
The prophet Isaiah is having a vision about a servant whom the Lord will send. This is a recurring vision and message that he shares with the nation of Israel. This servant is born of a virgin. He is called the Branch. He is the offspring of Jesse. He is called Wonderful, Counselor, The Mighty God, The Everlasting Father. He is The Prince of Peace. He is also the Savior of all mankind.
Isaiah sees this servant lifted up, just as the brazen serpent was lifted up in the wilderness. Upon him was laid the iniquity of us all, just as the Passover lamb that was slain. He was wounded for our transgressions and bruised for our iniquities. We are healed by His stripes. Even though Isaiah was speaking of a future happening, the event was already spoken by God. He sent His word and reaffirmed His prior statute. He decreed our healing by sending our substitute, Jesus. He will act out this ordinance for His people, so that all who look when He is lifted up may live.
---
THURSDAY
When evening had come, they brought to Him many who were demon-possessed. And He cast out the spirits with a word, and healed all who were sick, that it might be fulfilled which was spoken by Isaiah the prophet, saying: "He Himself took our infirmities and bore our sicknesses."
Matthew 8:16-17
Here we see the Servant Isaiah spoke of as Jesus as He walks among the people. That He is sent by God, no one can dispute. His mighty works declare that God is with Him. He differs from all other servants of God because He is able to take away sins and sickness as He walks the earth. He does this as the substitute who takes our place in death and illness. This is the eternal law of God.
Since this ordinance was established at the waters of Marah, He has been able to take away sickness. From the foundation of the world, He has taken away our sins, as He was slain for that purpose. He died for our sins. So we see Him demonstrate His power to do both in His earthly ministry. Hebrews 13:8 declares that Jesus Christ is the same yesterday, today and forever more. He has decreed that we are healed. It was done under the old covenant by obedience to the word and under the new covenant to obedience to Christ, The Living Word. It is the counsel of heaven. The counsel of God does not change.
---
FRIDAY
Who his own self bore our sins in his own body on the tree, that we, being dead to sins, should live to righteousness: by whose stripes you were healed.
1 Peter 2:24
The apostle Peter received instructions from Jesus to go into all the world and preach healing, deliverance and the new birth in the Name of Jesus. When Jesus left the earth, He left the church with His power. His power has an ordinance of healing included in it. Healing is part of the power of the gospel. Whenever Jesus Christ is preached, He comes into our midst with healing in His wings. He is the Son of righteousness. As the church, we have the right to walk in divine health through the power of the Holy Spirit. That is why Peter reminds the church that by His stripes we were healed. That is a decree. We are healed because God said so. When we accepted Jesus to live within us, we became His body. Is His body sick? Of course not. God will not suffer His holy one to see corruption. We are healed by decree.
Have symptoms of illness attached themselves to your body? Do they seem more real than God's word to you? Then begin to declare what the word says about you. You were healed. Defend yourself against the attacks of the devil by resisting evil symptoms with your words. Once a decree is made, the scriptures cannot be broken. No matter how long it may take (often many symptoms leave in a short time) continue to declare that you are healed. IT IS A LAW. You are blessed by decree.