A teaching by Rev. Barbara Williams, President of the Ministry of the Watchman International
Week of September 28-October 2, 2020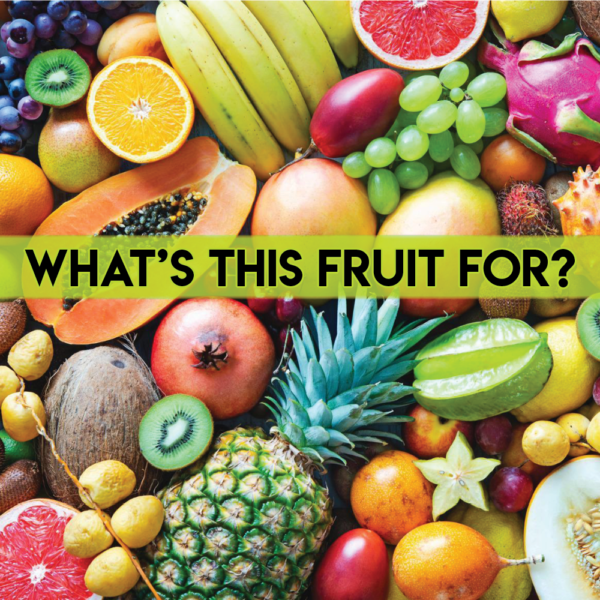 But the fruit of the Spirit is love, joy, peace, patience, kindness, goodness, faithfulness, gentleness, self-control; against such things there is no law.
Galatians 5:22-23
This week we will examine the role of spiritual fruit in our lives and how God ministers to us by adding fruit to our diet. We live in a "fast food" society, and there is no faster food that we can partake of than spiritual fruit. It sustains us through the most difficult phase of our lives, the "waiting" phase.
MONDAY
Peace
When we experience any disturbance in our well-being, God feeds us the fruit of peace. How do we partake of the fruit of the spirit? We do so by yielding to it. The fruit of the spirit is a spiritual force that is resident within us, so we merely have to draw from that reservoir and receive what God has provided.
The fruit is the "comfort food" provided by the Holy Spirit, who is our Comforter. Strife and contention yield discomfort and separation from God. In order to connect back to the vine, we must come by way of fruit. When we yield to the fruit of peace, we are reunited with God, and abiding in the vine is again possible. We eat of the fruit continuously, thereby maintaining our connection to God.
---

If you are in need of healing, there is good news! Proverbs 4:20-22 SAYS:
My son, attend to my words; incline thine ear unto my sayings. Let them not depart from thine eyes; keep them in the midst of thine heart. For they are life unto those that find them, and health to all their flesh.
So there is life and health in God's word. Since God's word is medicine, we must take it like we would a prescription. I suggest three times a day, like you would your food. Remember, healing is the children's bread. Consider this your "dose" for today. Remember, read, and meditate three times a day the following:
Rx: Jeremiah 30:17a ~ "For I will restore health unto you and I will heal you of your wounds," declares the Lord.
---
"Study to show thyself approved unto God, a workman that needeth not to be ashamed, rightly dividing the word of truth."
2 Timothy 2:15
If you've never studied the Bible from Genesis to Revelation, we invite you to join us as we read through the Bible in a year. Read and meditate on these chapters this week:
September 28: 2 Samuel 24, Galatians 4, Ezekiel 31, Psalms 79
September 29: 1 Kings 1, Galatians 5, Ezekiel 32, Psalms 80
September 30: 1 Kings 2, Galatians 6, Ezekiel 33, Psalms 81-82
October 1: 1 Kings 3, Ephesians 1, Ezekiel 34, Psalms 83-84
October 2: 1 Kings 4-5, Ephesians 2, Ezekiel 35, Psalms 85
October 3: 1 Kings 6, Ephesians 3, Ezekiel 36, Psalms 86
October 4: 1 Kings 7, Ephesians 4, Ezekiel 37, Psalms 87-88

---
TUESDAY
Joy
When Jesus attended the wedding at Cana and performed the first miracle of His ministry, He set the tone for His purpose on the earth. Running out of wine is symbolic of our situations when we lose our joy. Jesus came to bring good tidings of great joy.
As His people, we must also bear the good news of joy to the world. Sometimes, though, we may "lose" our joy or lose touch with the fruit of joy. When this happens we need to know that Jesus still turns the water (our everyday drink) into wine (the drink of the feast).
In other words, we may live in a continual feast of exuberance and overcoming power by yielding to the fruit of joy. Joy is for overcoming.
---
WEDNESDAY
Patience
James 1:3-4 tells us to let patience do something for us. Can we stop the flow of the fruit in our lives? Yes we can, by picking up the disturbance that was remedied by yielding to the fruit. The fruit of patience is the completer. This fruit allows us to mature, relax and go with the flow. When we yield to the fruit of patience, we lack nothing. How wonderful!
Patience takes care of lack! Gee, we all thought money did that. The patient person is rich indeed. When we are anxious for nothing, we seem to have the world by the tail! People will flock to a person who is steadfast and unflustered. Everybody loves maturity. This is why patience must be yielded to.
Patience completes us and settles us in to a comfort zone that is rich and full.
---
THURSDAY
Kindness
This is the tender part of love. Have you ever been angry because someone has wronged you? You fume and stew. You know you must forgive, and you even confess forgiveness, but underneath is the smoldering anger. You avoid contact with that person for fear you will "fly off the handle" or "go off on them." Then God shows up and offers you a piece of fruit to settle your nervous stomach.
He offers you kindness. You need it more than the offending party does, even though you are instructed to share the fruit with that person. "What? Me be kind to him? Why, you don't know what he did to me. I've never been treated so…okay, God, I'll try a little bite of kindness…" and guess what? You eat the whole thing!
The truth is you love being kind more than being angry! Then you happen to "run into" the person who offended you…and guess what? You feel compassion and kindness for them…you share your fruit with them. They are convicted…they apologize. Friendship is restored.
---
FRIDAY
Faithfulness
The great rewarder comes to validate us with God. This fruit is for the God-pleaser. The exercise of our faith over a long period of time yields the fruit of faithfulness. The faithful person has proven himself to God, the Rewarder.
When God sees our faith over a period of time, He judges us faithful and He gives us the reward. Do you know what the reward is? More fruit! We enter into the joy of the Lord! When the fruit of faithfulness is yielded to, we receive the ability to be even more faithful and use a greater measure of faith each time we exercise our spirit.
Faithfulness really is its own reward. It is evidence that we have overcome and established victory over the flesh, and have been rewarded for doing so. The fruit is for life!