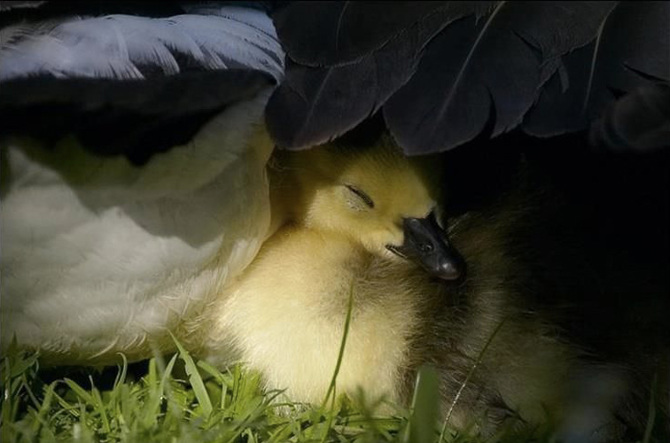 He who dwells in the secret place of the Most High
Shall abide under the shadow of the Almighty.
I will say of the Lord, "He is my refuge and my fortress;
My God, in Him I will trust."
Psalm 91:1-2
"The secret place of the Most High." It sounds intriguing doesn't it? Is it a real place? How do I get there? Do I really want to be there? Of course I do. As I look at all the benefits of being there, I know that there is no better place in which to dwell. "The Shadow of the Almighty" sounds interesting, too.
Let's see… a shadow is ahead of a person before noon and behind him afternoon. Or is it the opposite? Anyway, the shadow is either ahead of the person or behind him. Doesn't the Bible tell us that the glory of the Lord goes before us and is our rear guard? Well the secret place of the Most High is abiding in His glory, His presence, His will, His goodness, His blessings, His fruit, His mind. Being in constant contact with God is dwelling with Him. Could it be, Lord? Can I really do it? Please teach me.
I begin by saying that He is my refuge. I believe that He is. I begin to enter into a door of faith that puts me in His shadow. What a place!

Surely He shall deliver you from the snare of the fowler
And from the perilous pestilence.
He shall cover you with His feathers,
And under His wings you shall take refuge;
His truth shall be your shield and buckler.
You shall not be afraid of the terror by night,
Nor of the arrow that flies by day,
Nor of the pestilence that walks in darkness,
Nor of the destruction that lays waste at noonday.
Psalm 91:3-6
Deliverance! Boy do I need it! It seems at times that things are going so well. I have peace, joy, and contentment. Then I begin to think of prayers that are yet to be answered, relationships that are shaky but necessary, things I want to do for my family and friends, and I shake a little bit.
Lord, please help me to abide with you, thinking of your answers, your solutions, and your promises, which will surely come to pass. Thanks for the feathers that your cover my mind with. When my thoughts race too fast, you cover me with your soft peaceful feathers. You speak your truth to me, which is a shield. It protects me from my fears. As long as I am here, I am fearless. I am not afraid of bullets that ring out in the night, sirens that cause alarm of aids, cancer, heart disease, or diabetes. These things cannot touch me. I am under your wing. Can I stay here forever?
A thousand may fall at your side,
And ten thousand at your right hand;
But it shall not come near you.
Only with your eyes shall you look,
And see the reward of the wicked.
Because you have made the Lord, who is my refuge,
Even the Most High, your dwelling place,
No evil shall befall you,
Nor shall any plague come near your dwelling.
Psalm 91:7-10

As I watch what is happening around me, I see many people make the wrong decisions. They make the wrong moves. They make mistakes. People lose their children to accidents, illness, and divorce. I feel bad and shudder. I pray for them. I try to help, then I become fearful for myself again, but somehow the Lord protects what I love.
Some people don't know God, or don't live for Him, and they suffer the consequences. Some love the Lord very much, but do they know about the secret place? If only we could all dwell there all the time. I guess I'm blessed because I have made the Lord my refuge. This is why no evil will befall me; yes, I can say it with confidence, "because I have made the Lord my refuge, no evil shall befall me." Praise His Holy name.
For He shall give His angels charge over you,
To keep you in all your ways.
In their hands they shall bear you up,
Lest you dash your foot against a stone.
You shall tread upon the lion and the cobra,
The young lion and the serpent you shall trample underfoot.
Psalm 91:11-13
Wow, real angels to hold me up. They are here to minister to those who are heirs of salvation. They even worked to help me before I was saved. Now that I know the Lord, it is up to me to make Him my refuge. These angels keep me in His shadow at all times. Wherever I go they are with me.
I love this place. I love this secret place. I want to tell everybody I meet about the secret place. There's room for everybody in the secret place. If I can go, you can go, just make the Lord your refuge. When trouble comes, call on Him. In times of uncertainty, call on Him. When You want to share something very intimate, call on Him… He will invite you in. What a wonderful place.
"Because he has set his love upon Me, therefore I will deliver him;
I will set him on high, because he has known My name.
He shall call upon Me, and I will answer him;
I will be with him in trouble;
I will deliver him and honor him.
With long life I will satisfy him,
And show him My salvation."
Psalm 91:14-16

Boy, do I love Jesus. Because He first loved me. He has given me all things, His very life. No greater love is there. And because I HAVE SET MY LOVE ON HIM, (that is, my love for Him is unwavering), He will deliver me, and set me on top of all my difficulties. When I call, He will answer me. He will deliver me and honor me, and satisfy me with long life.
You know what, I feel so good, this calls for a song:
HE WHO DWELLS IN THE SECRET PLACE OF THE MOST HIGH
SHALL ABIDE UNDER SHADOW OF THE ALMIGHTY
HE WHO DWELLS IN THE SECRET PLACE OF THE MOST HIGH
SHALL LIVE IN THE PRESENCE OF THE LORD 
AND HE CAN HAVE LONG LIFE AND DO ANYTHING
AND HE CAN HAVE LONG LIFE AND DO ANYTHING
AND HE CAN HAVE ALL THE JOY THAT HEAVEN BRINGS
BECAUSE HE SERVES THE LORD OF LORDS AND KING OF KINGS
Barbara Williams