CAN WE TALK? BUNDLE
Can We Talk? About Tongues + Can We Talk? About Ministering the Baptism of the Holy Spirit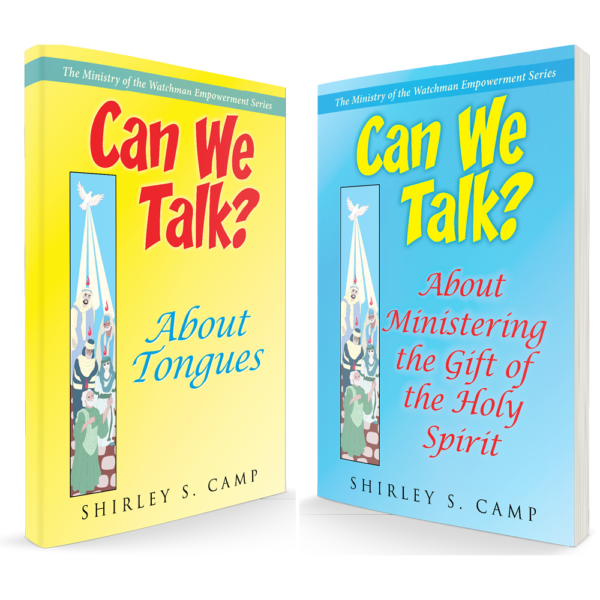 Nevertheless I tell you the truth; It is expedient for you that I go away:
for if I go not away, the Comforter will not come unto you; but if I depart, I will send him unto you.
(John 16:7)
Let's talk about tongues! Believers need to understand why they need to speak in another language (or pray in tongues / pray in the Holy Ghost). People have different names for the gift of the Holy Spirit, or different understandings, but when Jesus left this earth He made it perfectly clear.
He said its expedient for you that I go away, so that I can leave with you the Comforter, which is the Holy Ghost. He knew that we would need the Holy Spirit.
Tongues is evidence of the infilling of the Holy Spirit WITHIN YOU. It's for everybody. God doesn't want to leave one person out because this is a gift, and Jesus left that gift for us. He knew that we would need the gift of tongues, we would need a Comforter, and we would need this gift to be exercised in our life as a Helper.
There are a lot of purposes for tongues laid out throughout the Word of God, and we need to have understanding to receive the full benefit of this precious gift.
As Shirley Camp speaks from her heart and the Word of God, you will have the mysteries of God unfold in a new way. Her style of teaching is both revelatory and scriptural. She has mastered the techniques of "reaching" and "imparting" through the anointing of God. She also shares from her wealth of knowledge on administering the gift of the Holy Spirit. Whether you have ministered this gift or not, you will be enlightened, intrigued and informed as Rev. Camp shares the knowledge gained from her years of experience teaching believers. Most of all, you will be empowered to minister to others what God has given to you, as you read the wealth of knowledge and wisdom contained on these pages. Whether you are a believer desiring a greater understanding of the gift of tongues for your personal life, or you want wisdom to share this wonderful Promise of the Father with others, these books are for you!
You too, will fulfill Mark 16:17, 18…
"And these signs shall follow them that believe; In my name shall they cast out devils; they shall speak with new tongues; They shall take up serpents; and if they drink any deadly thing, it shall not hurt them; they shall lay hands on the sick, and they shall recover."
Special Price $8.99 FOR BOTH BOOKS
+ SHIPPING
---
PRAYERS THAT AVAIL MUCH MORE
Ministry of the Watchman
MASTER PRAYER MANUAL
(Classic 2008 Edition)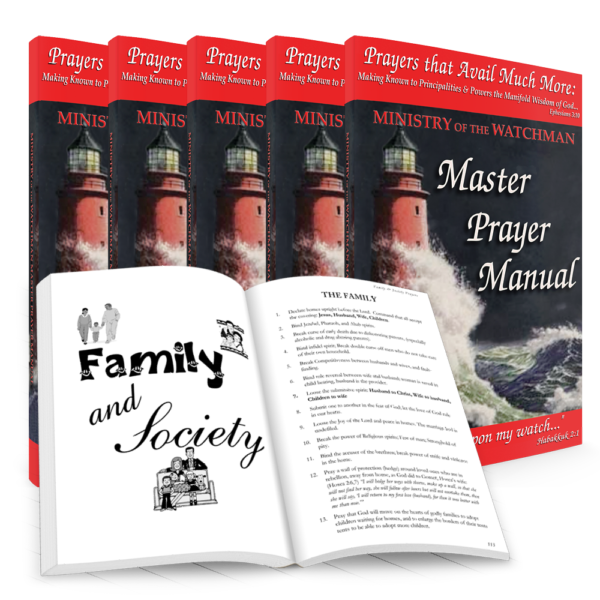 Whether you call yourself an intercessor or not, if you are willing to pray, that qualifies you as an intercessor. PRAYERS THAT AVAIL MUCH MORE by Barbara A. Williams is an effective, Christian Prayer Manual that has been used by intercessors for over 30 years. The manual is easy to use for any believer, and has been used with documented results. People who have used this manual have seen numerous miracles including physical and emotional healing, financial breakthrough, family reconciliation, and much more. If you have a desire to pray and receive answers, this book is for you!
This manual includes prayers, not only to impact your personal life, but also society and the world around us. These scriptural, prophetic prayers make known to principalities and powers the manifold wisdom of God.
The Prayer Manual contains over 50 prayers covering a broad range of topics including:
God's Voices in the Earth
Protection against Persecution
Revival and Reformation
Divine Health
Backsliders
Lost Souls
Crimes against Children
Setting Captives Free
Schools
Women's Needs
The Media
Rulers and Leaders
Spirit of Destruction
How To Keep Your Life
Prayer for a Successful Business
Regular price: $20.00
SPECIAL PRICE:  $8.00ea+ SHIPPING
PERFECT FOR PRAYER GROUPS! 
BUY MORE, SAVE MORE!
2 FOR $15, 5 FOR $35, 10 FOR $65
---