---
The following is an excerpt taken from Rev. Shirley Camp's Book entitled, Can We Talk? About Tongues
THE GIFT OF THE HOLY SPIRIT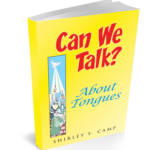 God's understanding is endless.  There's always another phase to God.  There's always a lot more to understand about the things of God.  We never know everything… we know things in part.  
So, as you continue to pursue God, and desire to know more about Him, desire to know about His gifts, desire to know what He wants and what He desires, He'll impart information to you.
If any of you lack wisdom, let him ask of God, that giveth to all men liberally, and upbraideth not; and it shall be given him.
James 1:5
So, why do people need to speak in tongues?  People need to know why they need to talk in another language or pray in tongues or pray in the Holy Ghost, (whatever you want to call it).  People have different names for it, people have different understandings, but I think when Jesus left this earth He made it perfectly clear.  He said,
Nevertheless I tell you the truth; It is expedient for you that I go away: for if I go not away, the Comforter will not come unto you; but if I depart, I will send him unto you.
John 16:7
He said it's expedient for you that I go away, so that I can leave with you the Comforter, which is the Holy Ghost.  He knew that we would need the Holy Spirit. 
So we're going to talk a little bit about why we need the Holy Spirit.  Praying in tongues is the evidence of the infilling… the filling of the Holy Spirit WITHIN YOU.  And that should be our pattern today as modern, New Testament Believers.  And this is for believers.  It's for everybody, and God doesn't want to leave one person out because it is a gift, and Jesus left that gift for us.  He knew that we would need the gift of tongues, we would need a Comforter, and we would need this gift to be exercised in our life as a Helper.  There are a lot of purposes for it, and that's what we're going to talk about today.
And, being assembled together with them, commanded them that they should not depart from Jerusalem, but wait for the promise of the Father, which, saith he, ye have heard of me.  For John truly baptized with water; but ye shall be baptized with the Holy Ghost not many days hence.
Acts 1:4-5
The Holy Spirit is the Gift of the Father.  Wouldn't you want every gift God left for you?  Everything that He has for me, I want.  He's the Holy Spirit of Promise.   Jesus is letting his disciples know that they will receive.  They've received the gift of water baptism, but they will receive another gift, and it is the baptism with fire.
And when the day of Pentecost was fully come, they were all with one accord in one place.
Acts 2:1
So already we know two things about the Holy Spirit or the gift of tongues:
1. It's a gift from the Father. 
2. It puts believers on one accord.  
That is one way that we all know that we are on one accord.  You know, you can be in a church and you can think that you're on one accord with the pastor, and with the people with your church.  But if you don't pray in tongues together, you're not on one accord. 
Everybody should have the Holy Spirit ministered to them.  That's why when Paul went to Ephesus and he joined the disciples there, the first thing he asked them was, "Have you received the Holy Ghost since you've believed?"  (Acts 19:1-2)  There's more to God's plan for us than just believing or being saved.  And if Jesus did it, and the disciples did it, then why not us?  It is a gift that is for today.  It's for the New Testament Church.
And suddenly there came a sound from heaven as of a rushing mighty wind, and it filled all the house where they were sitting.
Acts 2:2
I think this was more of a sound.  It sounded like wind more than a physical wind rushing in.  It could have been wind, but I think it was more or less the sound of wind. 
Tongues are that mighty.  The Spirit came as a mighty rushing wind and it filled the whole house where they were sitting. 
And there appeared unto them cloven tongues like as of fire, and it sat upon each of them.
Acts 2:3
This was more of an open vision of the Holy Spirit.  When God does something, He does it big, and He likes to prove Himself to unbelievers, and to those who don't believe.  He likes to show out because He's God and He can do it!  He does it because He can!  This was an outward show of His power and His greatness, and it made a mighty impact on the believers assembled there.  The Holy Spirit filled that place to the point where it really seemed like there was a storm going on.  We need those manifestations in the earth today.  That is why we need the gift of tongues.
So in Acts 2, they were on one accord in one place, and the Holy Spirit came as a mighty, rushing wind; mighty but unseen power.  The power of God is mighty, even though it's unseen.  This tells me something about faith.  When you receive the baptism of the Holy Spirit, there is an element of faith involved.  And this is why a lot of people try and try and they don't receive the first time because the element of faith is not there.  They don't understand enough about the Holy Spirit, or they don't understand enough about Jesus and the gift and His love to enable them to receive.  That's why we must minister this gift to people. 
When you impart knowledge and wisdom to people about tongues, then the element of faith increases. 
So then faith cometh by hearing, and hearing by the Word of God.
Romans 10:17
Receiving the infilling of the Holy Spirit is of God.  We need to have this experience of infilling to do the work of the ministry, to possess power from On High, to believe the promises of God, and to do the great and mighty works.  God left us the Holy Spirit so we can believe the promises.  That's why sometimes people have a hard time believing because you need the help of the Comforter.  Sometimes it's because you don't have the infilling, so you don't understand how to do the works of God. 
Many people go out and they pass out tracts, and they try to do the work without the infilling.  You get that in traditional churches all the time.  And they wonder why they don't get a lot of people in the church to stick with it.  They go to church for about three or four months, and then they slack off, and it's because they don't have the infilling of the Holy Spirit.  See, the infilling of the Holy Spirit possesses you and He is a Keeper.  He keeps you and separates you from sin, if you allow Him to.
The baptism of the Holy Spirit builds you up on your most holy faith.  This is how you maintain your life with Christ.  A lot of people receive the gift of tongues, and then they never use them.  Or they use them once a week.  You need to be built up everyday.  The bible says to keep the word before you day and night.  (Joshua 1:8).  And when you study the Word, you should always pray in tongues.  It will maintain your life.  It will keep you up, it will build you up, and it will keep you out of sin, if you allow it to.  When you acknowledge the presence of the Holy Spirit inside of you by exercising the gift all the time, you won't want to sin.  Perhaps this is why people fall away, or they fall short, or they cuss and fuss; they do things they wouldn't ordinarily do because they don't allow the presence of the Holy Spirit to become alive inside of them.  They don't exercise the gift enough.
But ye, beloved, building up yourselves on your most holy faith, praying in the Holy Ghost, Keep yourselves in the love of God, looking for the mercy of our Lord Jesus Christ unto eternal life. 
Jude 1:20-21
Praying in tongues allows you receive the mercy of God.  In other words God will help you when you pray in another language; if you exercise the gift of the infilling.  Because you've been filled with God's precious Holy Spirit, and when you exercise that Gift, then God will help you.  He builds you up.  It enables Him to set up a standard against the enemy.  But we must exercise the gift.  It's a precious gift.
If ye love me, keep my commandments. And I will pray the Father, and He shall give you another Comforter, that He may abide with you for ever; Even the Spirit of Truth; whom the world cannot receive, because it seeth Him not, neither knoweth Him: but ye know Him; for He dwelleth with you, and shall be in you.   
John 14:15 -17
And I say unto you, Ask, and it shall be given you; seek, and ye shall find; knock, and it shall be opened unto you. For every one that asketh receiveth; and he that seeketh findeth; and to him that knocketh it shall be opened. If a son shall ask bread of any of you that is a father, will he give him a stone? or if he ask a fish, will he for a fish give him a serpent? Or if he shall ask an egg, will he offer him a scorpion? 
If ye then, being evil, know how to give good gifts unto your children: how much more shall your Heavenly Father give the Holy Spirit to them that ask Him?   
Luke 11:9 -13

---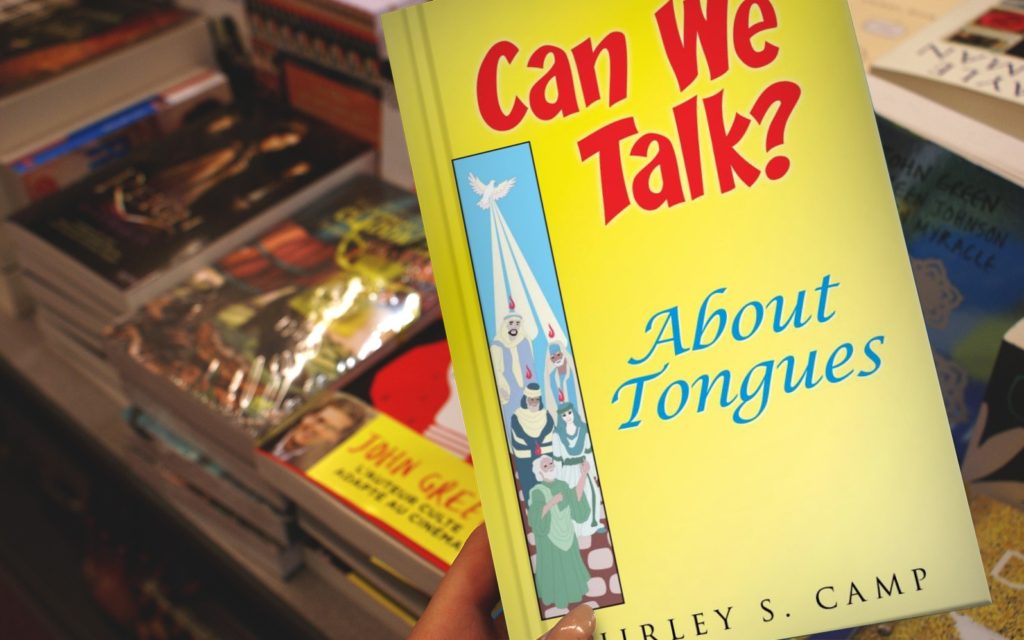 This teaching will strengthen your faith to receive this precious promise of the Father, and will give you a greater understanding of the work of the Holy Spirit in the earth today.  God has more for you.  In addition to blessing you, He wants to use you to bless others
1-800-560-9240  [email protected]