**NOTE: All orders outside of the USA will be sent via digital download**
PRAYERS THAT AVAIL MUCH MORE:
Making known to Principalities and Powers the Manifold Wisdom of God … Ephesians 3:10
Ministry of the Watchman Master Prayer Manual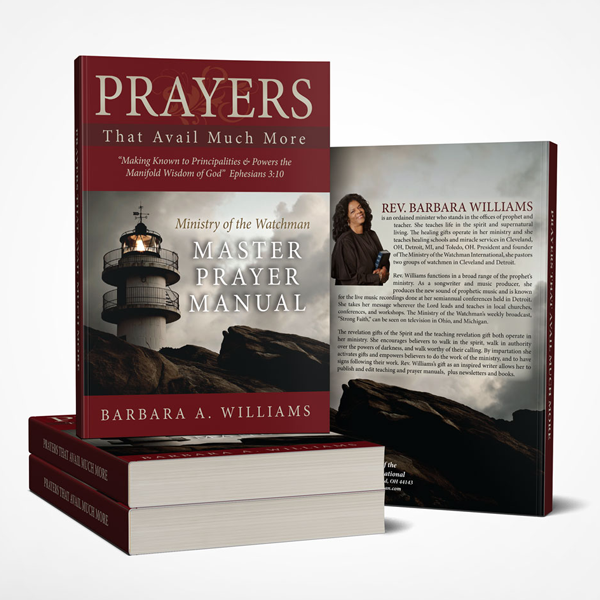 Whether you call yourself an intercessor or not, if you are willing to pray, that qualifies you as an intercessor. PRAYERS THAT AVAIL MUCH MORE by Barbara A. Williams is an effective, Christian Prayer Manual that has been used by intercessors for over 30 years. The manual is easy to use for any believer, and has been used with documented results. People who have used this manual have seen numerous miracles including physical and emotional healing, financial breakthrough, family reconciliation, and much more. If you have a desire to pray and receive answers, this book is for you!
This manual includes prayers, not only to impact your personal life, but also society and the world around us. These scriptural, prophetic prayers make known to principalities and powers the manifold wisdom of God.
The Prayer Manual contains over 50 prayers covering a broad range of topics including:
God's Voices in the Earth
Protection against Persecution
Revival and Reformation
Divine Health
Backsliders
Lost Souls
Crimes against Children
Setting Captives Free
Schools
Women's Needs
The Media
Rulers and Leaders
Spirit of Destruction
How To Keep Your Life
Prayer for a Successful Business
The manual also includes some significant answers to prayer, which will inspire you to use the manual and the principles of watching prayer to enhance your labor in the Lord: to make it more fruitful so that your prayers avail much more than you can ask or think and that you will inspire others to do the same.
Price $19.99
[purchase_link id="2288″ text="Purchase" style="button" color="blue"]