A teaching by Rev. Barbara Williams, President of the Ministry of the Watchman International
Week of July 11-15, 2022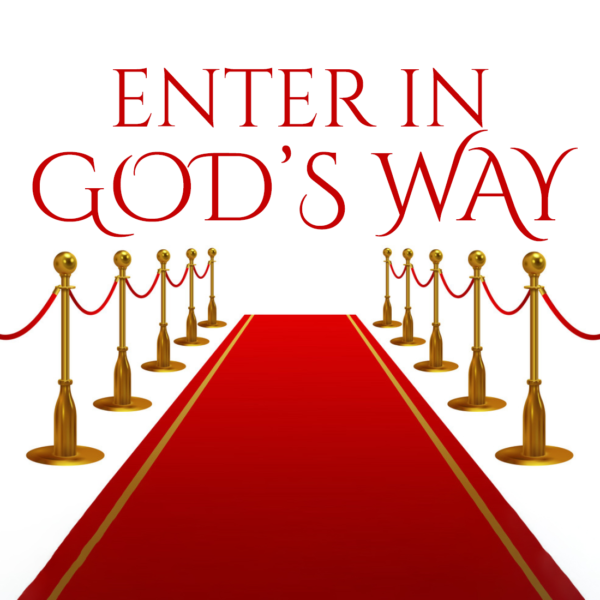 MONDAY
Jesus said to him, "If you want to be perfect, go, sell what you have and give to the poor, and you will have treasure in heaven; and come, follow Me." But when the young man heard that saying, he went away sorrowful, for he had great possessions. Then Jesus said to His disciples, "Assuredly, I say to you that it is hard for a rich man to enter the kingdom of heaven. And again I say to you, it is easier for a camel to go through the eye of a needle than for a rich man to enter the kingdom of God."
When His disciples heard it, they were greatly astonished, saying, "Who then can be saved?"
But Jesus looked at them and said to them, "With men this is impossible, but with God all things are possible."
Matthew 19:21-26
We live in unusual times. Information is plentiful. There are few secrets, because everybody sells them now. Whether it is secrets to health, wealth or beauty, information abounds. In this age, there are many people who say that all paths lead to heaven. Nothing could be farther from the truth.
The truth is there is still only one way: Jesus Christ. We believers know this, but there are those who call us arrogant and narrow minded if we declare this. Yet Jesus said the narrow way leads to life. He also said that there are few who find it (Matthew 7:13-14). He invites us to walk and live on this narrow way in His presence—He is the Way, the Truth and the Life.
---

If you are in need of healing, there is good news! Proverbs 4:20-22 SAYS:
My son, attend to my words; incline thine ear unto my sayings. Let them not depart from thine eyes; keep them in the midst of thine heart. For they are life unto those that find them, and health to all their flesh.
So there is life and health in God's word. Since God's word is medicine, we must take it like we would a prescription. I suggest three times a day, like you would your food. Remember, healing is the children's bread. Consider this your "dose" for today. Remember, read, and meditate three times a day the following:
Rx: Psalm 103:1-3 ~ Bless the Lord, O my soul; And all that is within me, bless His holy name! Bless the Lord, O my soul, And forget not all His benefits: Who forgives all your iniquities, Who heals all your diseases.
---
"Study to show thyself approved unto God, a workman that needeth not to be ashamed, rightly dividing the word of truth."
2 Timothy 2:15
If you've never studied the Bible from Genesis to Revelation, we invite you to join us as we read through the Bible in a year. Read and meditate on these chapters this week:
July 11: Joshua 14-15, Psalms 146-147, Jeremiah 7, Matthew 21
July 12: Joshua 16-17, Psalms 148, Jeremiah 8, Matthew 22
July 13: Joshua 18-19, Psalms 149-150, Jeremiah 9, Matthew 23
July 14: Joshua 20-21, Acts 1, Jeremiah 10, Matthew 24
July 15: Joshua 22, Acts 2, Jeremiah 11, Matthew 25
July 16: Joshua 23, Acts 3, Jeremiah 12, Matthew 26
July 17: Joshua 24, Acts 4, Jeremiah 13, Matthew 27

---
TUESDAY
Now as Jesus was going out on the road, one came running, knelt before Him, and asked Him, "Good Teacher, what shall I do that I may inherit eternal life?"
So Jesus said to him, "Why do you call Me good? No one is good but One, that is, God. You know the commandments: 'Do not commit adultery,' 'Do not murder,' 'Do not steal,' 'Do not bear false witness,' 'Do not defraud,' 'Honor your father and your mother.' "
And he answered and said to Him, "Teacher, all these things I have kept from my youth."
Then Jesus, looking at him, loved him, and said to him, "One thing you lack: Go your way, sell whatever you have and give to the poor, and you will have treasure in heaven; and come, take up the cross, and follow Me." But he was sad at this word, and went away sorrowful, for he had great possessions.
Mark 10:17-22
In this passage, Jesus has just informed a young man that although he has kept the law from his youth up, there is still something lacking. It is a dangerous thing to approach God on the basis of personal qualifications and performance. When we do, we will always find ourselves lacking in one thing or another. When we depend on ourselves, we fall short. We will find that our own righteousnesses are nothing but filthy rags. We are lacking when we try to qualify on the basis of self-righteousness. To enter in God's way, we have to let all our own accolades go. Let go of what makes you rich in your own eyes.
Is there something holding you back from full surrender to God? What could it be?
For this young man, it was his trust in earthly riches. Jesus said it is easier for a camel to go through the eye of a needle than for a rich man to enter the kingdom of God with all his "baggage," (Matthew 19:24). This young man walked away sorrowful because of his great wealth, but in doing so, he forfeited the greatest treasure of all.
---
WEDNESDAY
But he was sad at this word, and went away sorrowful, for he had great possessions. Then Jesus looked around and said to His disciples, "How hard it is for those who have riches to enter the kingdom of God!" And the disciples were astonished at His words. But Jesus answered again and said to them, "Children, how hard it is for those who trust in riches to enter the kingdom of God! It is easier for a camel to go through the eye of a needle than for a rich man to enter the kingdom of God."
Mark 10:22-25
Command those who are rich in this present age not to be haughty, nor to trust in uncertain riches but in the living God, who gives us richly all things to enjoy. Let them do good, that they be rich in good works, ready to give, willing to share, storing up for themselves a good foundation for the time to come, that they may lay hold on eternal life.
1 Timothy 6:17-19
When we trust in riches, or earthly possessions, or personal things to qualify to enter into the presence of God, we miss it terribly.
What are you trusting in to qualify you? Your own accomplishments? Credentials? Strength?
Just as the camel entering the gate of the city had to be relieved of his load or baggage and bend down to enter into the gate of the city, so the person who wants the true riches of the Kingdom of God must unload himself and bow down in worship to enter in. He gives grace to the humble.
What are you trusting in? Let go of it and enter in God's way.
---
THURSDAY
Serve the Lord with gladness; Come before His presence with singing. Know that the Lord, He is God; It is He who has made us, and not we ourselves; We are His people and the sheep of His pasture. Enter into His gates with thanksgiving, and into His courts with praise. Be thankful to Him, and bless His name.
Psalm 100:2-4
I will greatly rejoice in the Lord, My soul shall be joyful in my God; For He has clothed me with the garments of salvation, He has covered me with the robe of righteousness, as a bridegroom decks himself with ornaments, and as a bride adorns herself with her jewels.
Isaiah 61:10
The way into his presence is worship and praise. After we have taken off our baggage, He clothes us with garments of salvation, and His robe of righteousness. We are adorned with His precious jewels.
Just as the Old Testament priest had to enter into the earthly temple through preparation, with cleansing and preiestly garments, so we do. Now we are His temple, cleansed by His blood, and we have His very presence inside our hearts.
We must be willing to remove all hindrances to the presence and allow ourselves to be made ready for Him. Praise and worship does this. Psalm 33 says, "Praise is comely for the upright," which means that praise looks good on you. It is becoming, and makes you attractive to God. Praise invokes the presence of God by saying, "I am ready to receive You. I adore and extol You. You are my one desire. I trust only in You!" When you enter that way, get ready to experience the Kingdom.
---
FRIDAY
Oh come, let us worship and bow down; Let us kneel before the Lord our Maker. For He is our God, and we are the people of His pasture, and the sheep of His hand.
Psalm 95:6-7a
I appeal to you therefore, brothers, by the mercies of God, to present your bodies as a living sacrifice, holy and acceptable to God, which is your spiritual worship.
Romans 12:1
Worship sustains the presence of God. In the worship experience, we must totally abandon ourselves to His Spirit. Once the release of our power has been accomplished, we find ease in responding to Him.
Now we are not aware of having trusted in anything else. His all-consuming presence has taken away all care, self-thinking and self-awareness. We are aware only of ourselves and what we need to do to keep His presence near.
People who don't like to worship the Lord, acknowledging Him as God alone, are trusting in something else to get them into His Kingdom. They have not bowed down in true camel fashion and allowed the burdens to be released. But those who put their trust in Him are never disappointed.
It's a good thing to let go and let God.