A teaching by Rev. Barbara Williams, President of the Ministry of the Watchman International
Week of September 19-23, 2022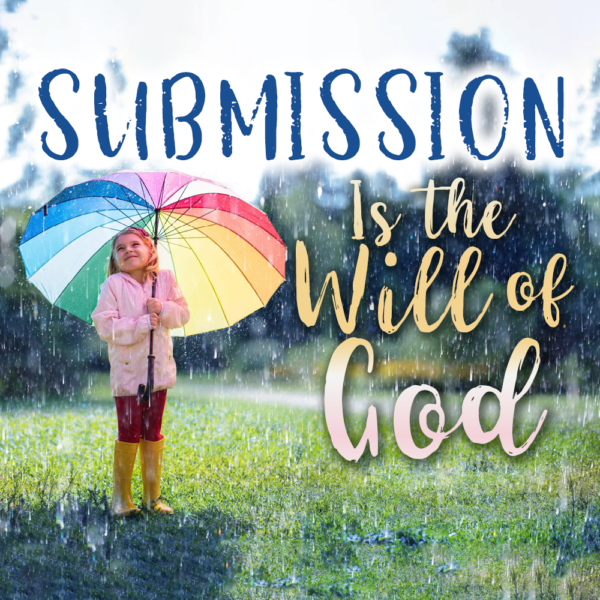 MONDAY
Likewise you younger people, submit yourselves to your elders. Yes, all of you be submissive to one another, and be clothed with humility, for "God resists the proud, but gives grace to the humble." Therefore humble yourselves under the mighty hand of God, that He may exalt you in due time, casting all your care upon Him, for He cares for you.
1 Peter 5:5-7
Children, obey your parents in the Lord, for this is right. "Honor your father and mother," which is the first commandment with promise: "that it may be well with you and you may live long on the earth."
Ephesians 6:1-3
We live in a free society. People have many liberties. Somehow, though, the satisfaction rate among people is miserably low. One way this is evident is in the ever-increasing rates of divorce and domestic violence. Freedom has somehow caused us much discontent. Perhaps freedom is not the root of the problem, but it must be considered. Since the sexual revolution of the 1960's, there has been much moral liberalism, but little actual freedom. People seem to be bound to more work, less free time, less time to spend with the families we love. What is the problem?
Could the problem be found in the way we relate to one another? Everybody seems to have their own plans, their own goals and desperately want the freedom to carry out these plans. What is the glue that is needed to hold all these things together? The answer is found in the Word of God.
God gives grace to the humble.
God starts with the most important element: submission of the less knowledgeable to the more knowledgeable. This is right. According to the apostle Paul, the family survives through first having children in subjection to the parents. The parents' role is to teach the children the ways of the Lord. The promise here is that all will be well with them if they submit to the parents' authority. Rebellion produces stubbornness, foolishness, and disorder, but submission and humilty produce peace and teachableness.
---

If you are in need of healing, there is good news! Proverbs 4:20-22 SAYS:
My son, attend to my words; incline thine ear unto my sayings. Let them not depart from thine eyes; keep them in the midst of thine heart. For they are life unto those that find them, and health to all their flesh.
So there is life and health in God's word. Since God's word is medicine, we must take it like we would a prescription. I suggest three times a day, like you would your food. Remember, healing is the children's bread. Consider this your "dose" for today. Remember, read, and meditate three times a day the following:
Rx: Psalm 103:1-5 ~ Bless the Lord, O my soul; and all that is within me, bless His holy name! Bless the Lord, O my soul, and forget not all His benefits: Who forgives all your iniquities, Who heals all your diseases, Who redeems your life from destruction, Who crowns you with lovingkindness and tender mercies, Who satisfies your mouth with good things, so that your youth is renewed like the eagle's.
---
"Study to show thyself approved unto God, a workman that needeth not to be ashamed, rightly dividing the word of truth."
2 Timothy 2:15
If you've never studied the Bible from Genesis to Revelation, we invite you to join us as we read through the Bible in a year. Read and meditate on these chapters this week:
September 19: 2 Samuel 15, 2 Corinthians 8, Ezekiel 22, Psalms 69
September 20: 2 Samuel 16, 2 Corinthians 9, Ezekiel 23, Psalms 70-71
September 21: 2 Samuel 17, 2 Corinthians 10, Ezekiel 24, Psalms 72
September 22: 2 Samuel 18, 2 Corinthians 11, Ezekiel 25, Psalms 73
September 23: 2 Samuel 19, 2 Corinthians 12, Ezekiel 26, Psalms 74
September 24: 2 Samuel 20, 2 Corinthians 13, Ezekiel 27, Psalms 75-76
September 25: 2 Samuel 21, Galatians1, Ezekiel 28, Psalms 77

---
TUESDAY
And you, fathers, do not provoke your children to wrath, but bring them up in the training and admonition of the Lord.
Ephesians 6:4
Parents, likewise, must not take advantage of their position. This is sometimes most difficult. Teaching is as difficult as is learning. The parent must exert a great deal of self-control. If a child has difficulty learning some concepts, especially those that are important to the parent, the parent may have a hard time working with the child until he masters certain tasks.
If dad tells Johnny to take out the trash three times before Johnny does it, the parent may become discouraged and quit the training process. Human beings learn by doing, and doing over and over again. In the teaching process, the child may "forget" what his duties are.
Actually, stubbornness on the part of many humans causes much of what is said by the parent/teacher not to be accepted and internalized. If a child does not incorporate the desired tasks into his lifestyle, he becomes an eye servant. He has developed no discipline, and will have little self esteem since he has not accomplished much.
Accomplishment is something God wants for all of us. He promises good success in everything we set our hands to. Training and discipline cause us to develop into accomplishers. This starts with the training we receive as children. This is why God says the parents who spare the rod of discipline hate their children. Many children who hate their parents lack this basic training: they lack submission. This causes a lack of discipline.
---
WEDNESDAY
Bondservants, be obedient to those who are your masters according to the flesh, with fear and trembling, in sincerity of heart, as to Christ; not with eyeservice, as men-pleasers, but as bondservants of Christ, doing the will of God from the heart, with goodwill doing service, as to the Lord, and not to men, knowing that whatever good anyone does, he will receive the same from the Lord, whether he is a slave or free.
Ephesians 6:5-8
The admonition to servants is one that we can all apply. Everybody is employed by somebody, if you are fortunate enough to have a job. Even the boss has to answer to somebody. I felt for many years that if I just had my own business, I could do whatever I wanted. When I did get my own business, I found that I was servant to creditors, customers, merchants, and anybody else I did business with. It is a great fallacy to think being in charge puts us on easy street.
Servants are admonished to have a single heart toward masters. This is important. Ambivalence causes our work to be sporadic and haphazard. I once heard a friend say that she had been in many situations in the churches she had attended in her lifetime. She said she was always able to receive help from God through the pastors she was under because her mother taught her to "respect the office, no matter who stands in it." Her mother lived well into her nineties, and served God all the days of her life.
Serving with singleness of heart means fighting thoughts of judgment, insubordination, and the desire to teach our teachers. Treat those over you as you would treat the Lord. Give them honor and respect. God will bless you with wisdom and favor.
---
THURSDAY
Bondservants, be obedient to those who are your masters according to the flesh, with fear and trembling, in sincerity of heart, as to Christ; not with eyeservice, as men-pleasers, but as bondservants of Christ, doing the will of God from the heart, with goodwill doing service, as to the Lord, and not to men, knowing that whatever good anyone does, he will receive the same from the Lord, whether he is a slave or free.
Ephesians 6:5-8
God does not like eye servants or man pleasers, but He just told us to serve and submit to our masters. Yes, we must submit and learn from them and serve with singleness of heart, not to curry their favor, but in order to please God, so that He can bless us. We are doing everything with the understanding that we are obeying God, and that the blessing we seek comes directly from God.
This must be first and foremost in our thinking. We must understand that these acts of obedience are being submitted to God, offered up to God, and God gives back to us the reward as He sees fit. He detests eye service. When nobody is looking, we let our guards down, and quit serving. God does not stop watching, however. He sees everything, and He rewards according to our obedience.
Don't like where your life is now? Want to make it better? I challenge you to keep in mind that God sees, watches, and rewards. The fool has said in his heart that there is no God who watches, sees, and rewards.
---
FRIDAY
And you, masters, do the same things to them, giving up threatening, knowing that your own Master also is in heaven, and there is no partiality with Him. Finally, my brethren, be strong in the Lord and in the power of His might.
Ephesians 6:9-10
Masters who are not fair to their servants or subordinates will get their reward, also. The incidence of single persons who wind up in nursing home care is staggering. It will worsen as fewer and fewer people remain married to a single spouse throughout their lifetimes. Masters who do not treat subordinates fairly find themselves unable to hold on to good employees. Parents who do not treat children fairly find themselves estranged from them. Spouses who mistreat one another find themselves alone.
Whenever we are given stewardship over something, we must treat it right and care for it in order to prosper in it and reap the benefits of ownership. This is very important for those of us in authority to know. We are all stewards of something. We are stewards over relationships, and God is a God who wants us to have good, loving relationships.
Good relationships begin with good submission. Laying down our wants, wills, and ideas in order to allow group harmony to prevail is the will of God. The outcome is that through submission we become strong in the Lord and the power of his might. Submission in love to one another gives us the strength of God.
"Let nothing be done through selfish ambition or conceit, but in lowliness of mind let each esteem others better than himself. Let each of you look out not only for his own interests, but also for the interests of others. Let this mind be in you which was also in Christ Jesus, who, being in the form of God, did not consider it robbery to be equal with God, but made Himself of no reputation, taking the form of a bondservant, and coming in the likeness of men. And being found in appearance as a man, He humbled Himself and became obedient to the point of death, even the death of the cross. Therefore God also has highly exalted Him and given Him the name which is above every name, that at the name of Jesus every knee should bow, of those in heaven, and of those on earth, and of those under the earth, and that every tongue should confess that Jesus Christ is Lord, to the glory of God the Father." Philippians 2:3-11
Jesus humbled Himself, made himself of no reputation and was highly exalted and given a name above every name. He will do the same for you if you follow His pattern.