A teaching by Rev. Barbara Williams, President of the Ministry of the Watchman International
Week of October 3-7, 2022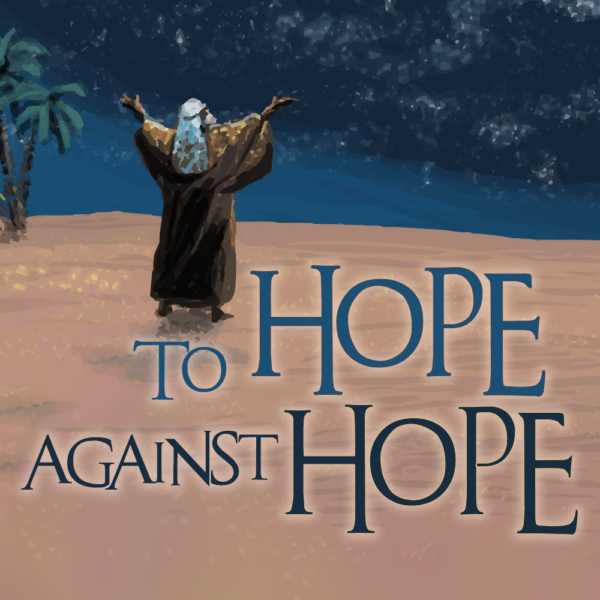 MONDAY
Therefore it is of faith that it might be according to grace, so that the promise might be sure to all the seed, not only to those who are of the law, but also to those who are of the faith of Abraham, who is the father of us all (as it is written, "I have made you a father of many nations") in the presence of Him whom he believed—God, who gives life to the dead and calls those things which do not exist as though they did; who, contrary to hope, in hope believed, so that he became the father of many nations, according to what was spoken, "So shall your descendants be."
Romans 4:16-18
Sure promises. We all want sure promises. They come by faith. This is so important to understand. They are received by grace, the unmerited favor of God. Whenever God tells us something, He expects us to believe Him. He rewards our faith by giving us what we believe Him to do for us. Without faith it is impossible to please God. We must please Him in order to receive our reward. I have often wondered how some people received great blessings and others did not. It's hard to tell by appearance, and even some level of spiritual discernment, who will get the prize. God has no problem determining who will be rewarded. He rewards those who have faith in Him.
God calls those things that be not as though they are. He expects us to agree with Him. Abraham allowed God to change his name, and then changed his own name himself to agree with what God called him. That's agreement. What are you agreeing with God for today? Have you made the necessary change that will please God? Has God changed your name? Have you changed your name to match what He says about you? God desires to bless us. We must please Him with our faith. Abraham's new identity was key in his receiving the promise of God.
---

If you are in need of healing, there is good news! Proverbs 4:20-22 SAYS:
My son, attend to my words; incline thine ear unto my sayings. Let them not depart from thine eyes; keep them in the midst of thine heart. For they are life unto those that find them, and health to all their flesh.
So there is life and health in God's word. Since God's word is medicine, we must take it like we would a prescription. I suggest three times a day, like you would your food. Remember, healing is the children's bread. Consider this your "dose" for today. Remember, read, and meditate three times a day the following:
Rx: Exodus 15:26b ~ I am the Lord who heals you.
---
"Study to show thyself approved unto God, a workman that needeth not to be ashamed, rightly dividing the word of truth."
2 Timothy 2:15
If you've never studied the Bible from Genesis to Revelation, we invite you to join us as we read through the Bible in a year. Read and meditate on these chapters this week:
October 3: 1 Kings 6, Ephesians 3, Ezekiel 36, Psalms 86
October 4: 1 Kings 7, Ephesians 4, Ezekiel 37, Psalms 87-88
October 5: 1 Kings 8, Ephesians 5, Ezekiel 38, Psalms 89
October 6: 1 Kings 9, Ephesians 6, Ezekiel 39, Psalms 90
October 7: 1 Kings 10, Philippians 1, Ezekiel 40, Psalms 91
October 8: 1 Kings 10, Philippians 2, Ezekiel 41, Psalms 92-93
October 9: 1 Kings 10, Philippians 3, Ezekiel 42, Psalms 94

---
TUESDAY
Abraham, against all hope, believed in hope, that he might become the father of many nations, according to that which had been spoken, "So shall thy seed be." And being not weak in faith, he considered not his own body now dead, when he was about a hundred years old, nor yet the deadness of Sarah's womb. He staggered not at the promise of God through unbelief, but was strong in faith, giving glory to God.
Romans 4:18-20
Abraham against hope believed in hope. What does this mean? In the natural, Abraham was hopeless to have a child with his wife Sarah (whose name also was changed). They were too old to conceive. Abraham's body is described as dead, he being 100 years old. Also to be considered is the deadness of Sarah's womb, she having been barren the entire time of their marriage. Hopeless. In the natural sense, impossible. But Abraham was able to hope against this natural hopelessness. How was he able to do this? He did it by faith. The faith of the Son of God. Sons have a sure inheritance. Friends have a favor that enemies do not have. Abraham was the father of those who are of faith. He believed God and received a righteousness that made his faith pure. He was also the friend of God, so God could constantly approach him and encourage his faith.
Abraham was strong in faith. We are all strong when we are in faith. There were times when Abraham was weak in faith. Consider his relationship with Hagar, Sarai's maid. His weak faith made him consider his wife's barrenness. However, at this point, his faith is no longer weak, because he refuses to consider his physical limitations or abilities. When you consider not your own self, you consider neither strengths nor weaknesses. Real faith trusts God entirely.
---
WEDNESDAY
He staggered not at the promise of God through unbelief, but was strong in faith, giving glory to God, and being fully persuaded that what He had promised, He was able also to perform.
Romans 4:20-21
He was not staggered by the promise of God in unbelief. You can stagger in awe of your Miracle-Working God, but unbelief is unacceptable to God when you are looking for a miracle. Abraham did not stagger at the promise of God through unbelief. Instead he was strong in faith, giving glory to God. Glorifying God in times of hopelessness is a key to hoping against hope. This keeps your faith strong. Unbelief has a way of stealing the supernatural hope from our hearts. When our hearts are perfect toward God, we rise up in a greater level of righteousness. This righteousness is the essence of Godliness. We become partakers of the divine nature in a greater measure. All of these things please God. Little by little we obtain the faith for great things. We are able to receive the miracle. This faith opens the door to the grace to receive what God has for us unhindered, without struggle, in abundance.
---
THURSDAY
He staggered not at the promise of God through unbelief, but was strong in faith, giving glory to God, and being fully persuaded that what He had promised, He was able also to perform.
Romans 4:20-21
Abraham was fully persuaded. Are we ever partially persuaded? Of course we are. We have head-knowledge of many things. When that knowledge becomes challenged, we must make a decision about what we know. Alcoholics and drug addicts all began by being convinced that they were not addicted. They believed that they could quit at any time. The fact is, however, that they cannot. They are persuaded in their minds in a very weak way that they have power to resist temptation. After treatment and years of some types of therapy, they are more persuaded, but perhaps still unable to resist drugs. After a greater amount of time of hearing that they can overcome, they become more persuaded. Finally, they may be able to be drug-free: first for a day, then a week, then months and so on.
Faith is very similar to this. It grows until we are fully persuaded that God will do what He has promised. We are totally convinced of this: spirit, soul and body. We are on one accord within ourselves and not divided. We know that we know that we know that what God has promised, He is able to perform.
---
FRIDAY
That is why his faith was "counted to him as righteousness."
Romans 4:22
After he proved to God that he was fully persuaded that what God had promised He was going to do, Abraham had righteousness imputed to him. This is very important to obtain from God. Righteousness allows faith to work perfectly. Righteousness causes us to make right decisions to obey the voice of faith and the leading of the spirit of faith. When righteousness is imputed to us, the curse is lifted. Sin no longer has dominion over us. We have risen to a new level of trust in God's Kingdom. Righteousness keeps us in a proper place before God and allows His grace to be shed upon us in such a way that we have a foolproof method of obtaining all that God has for us. This righteousness allows us to hope against hope and win. We can confess what we believe and be challenged without losing ground in our faith. It keeps us from being talked out of the promise by someone else's unbelief. Righteousness makes our faith so perfect that it begins to pass judgment on the unbelief of others and causes natural hope to become unbelief. We are elevated to a new level of life. We are in right standing with Almighty God. Natural hope bows to the hope of God. Righteous hope excels and causes us to give glory to God. Keep believing God for what He has promised you. Faith brings righteousness. Holding to what He has said is the greatest righteous act that you can perform. Hold on to your faith. You will receive what you hope for.