A teaching by Rev. Barbara Williams, President of the Ministry of the Watchman International
Week of April 10-14, 2023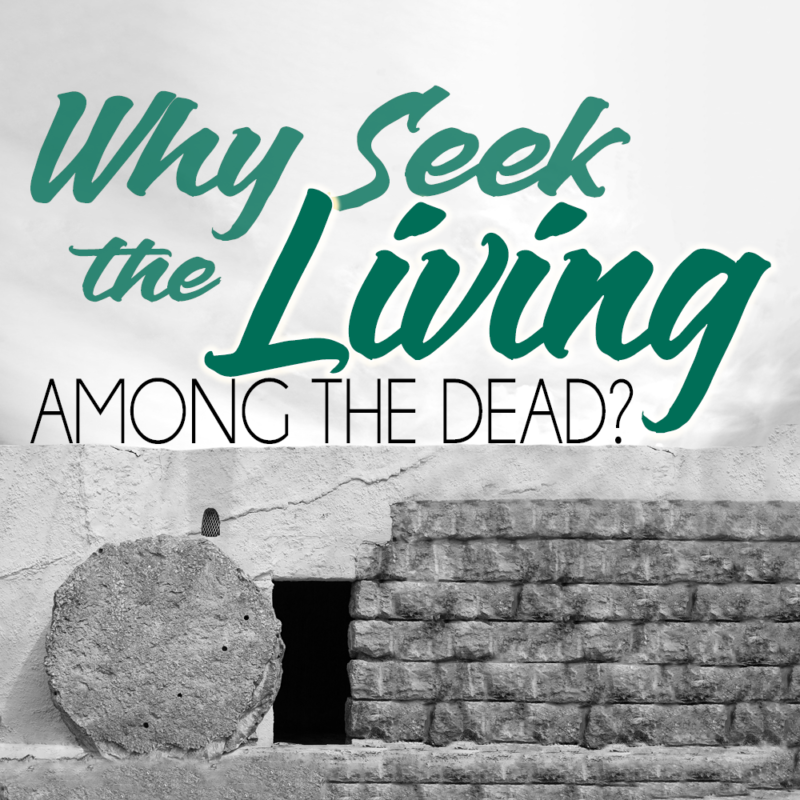 MONDAY
Now on the first day of the week, very early in the morning, they, and certain other women with them, came to the tomb bringing the spices which they had prepared.
Luke 24:1
The first day of the week is always a little rough. The disciples of Jesus have decided to do the right thing and prepare His body for burial. Even though He has been in the tomb since Friday afternoon, they decide they must do the "ceremonially correct" thing. They want to embalm Jesus, even though it has been prophesied about Him that God will never allow His holy one to see corruption (Psalm 16:10). Why have they waited? Because of the Jewish Sabbath, no work was to be done from Friday sundown 'til Sunday sun up. Jesus had broken the Jewish tradition many times by healing people on the Sabbath. The priests traditionally broke the Sabbath when they taught in the synagogues on the Sabbath. Many of his disciples did miracles on the Sabbath, yet because the Master was no longer there to guide them, they had resorted to the old, traditional ways. Just think if they had gotten to the tomb earlier, we might have an eyewitness account of His resurrection.
It is that way with us, sometimes. When we're in prayer, or reading the bible, or in a service, we feel so close to the Lord, but what about the times when He is not so near? It is at those times that we begin to "live in the tombs" so to speak. We focus on our lack, our limitations, our debts, and our symptoms. We act as though God is dead, because we don't seek Him in the right places. We cannot find the living among the dead. We will not hear from God as long as we dwell on our inabilities. We can find Him only when we dwell on His abilities.
---

If you are in need of healing, there is good news! Proverbs 4:20-22 SAYS:
My son, attend to my words; incline thine ear unto my sayings. Let them not depart from thine eyes; keep them in the midst of thine heart. For they are life unto those that find them, and health to all their flesh.
So there is life and health in God's word. Since God's word is medicine, we must take it like we would a prescription. I suggest three times a day, like you would your food. Remember, healing is the children's bread. Consider this your "dose" for today. Remember, read, and meditate three times a day the following:
Rx: Psalm 103:1-5 ~ Bless the Lord, O my soul; and all that is within me, bless His holy name! Bless the Lord, O my soul, And forget not all His benefits: Who forgives all your iniquities, Who heals all your diseases, Who redeems your life from destruction, Who crowns you with lovingkindness and tender mercies, Who satisfies your mouth with good things, so that your youth is renewed like the eagle's.

---
"Study to show thyself approved unto God, a workman that needeth not to be ashamed, rightly dividing the word of truth."
2 Timothy 2:15
If you've never studied the Bible from Genesis to Revelation, we invite you to join us as we read through the Bible in a year. Read and meditate on these chapters this week:
April 10: Leviticus 14, Psalms 17, Proverbs 28, 2 Thessalonians 2
April 11: Leviticus 15, Psalms 18, Proverbs 29, 2 Thessalonians 3
April 12: Leviticus 16, Psalms 19, Proverbs 30, 1 Timothy 1
April 13: Leviticus 17, Psalms 20-21, Proverbs 31, 1 Timothy 2
April 14: Leviticus 18, Psalms 22, Ecclesiastes 1, 1 Timothy 3
April 15: Leviticus 19, Psalms 23-24, Ecclesiastes 2, 1 Timothy 4
April 16: Leviticus 20, Psalms 25, Ecclesiastes 3, 1 Timothy 5

---
TUESDAY
Now on the first day of the week, very early in the morning, they, and certain other women with them, came to the tomb bringing the spices which they had prepared. But they found the stone rolled away from the tomb. Then they went in and did not find the body of the Lord Jesus.
Luke 24:1-3
All evidence points to the conclusion that God has not heard you and He does not care. The stone is rolled away from the mouth of the tomb and of course, you enter in. You may go as deep into worry and fear as you desire. Some people may even become depressed over situations that they cannot control and mountains that they feel are too tough to climb. Where is Jesus? He said He would never leave you or forsake you. You will never find Him in the tombs. Jesus was never a preacher of death. He always was for life. He brought life with Him. He brought the dead back to life, so He always had the power over death. He stated that His God was not the God of the dead, but of the living.
Who rolled away the stone from the tomb where all your death issues abide? Perhaps it was an incident that caused you pain that reminded you of your limitations. Perhaps the enemy is hounding you with past sins. Whatever the situation, God has placed a great big stone in front of the death issues of your past. Did you see what happened on Friday? All your sins were nailed to that tree and buried in the tomb. Don't go there. Your God is not the God of the dead, but of the living. Choose life.
---
WEDNESDAY
And it happened, as they were greatly perplexed about this, that behold, two men stood by them in shining garments. Then, as they were afraid and bowed their faces to the earth, they said to them, "Why do you seek the living among the dead?"
Luke 24:4-5
So you went there, anyway, didn't you? "Well, Barb, some of us can't just do stuff like that. You don't know my situation. You don't know what I've been through. I had abuse, I had rejection, and I was abandoned."
I know that on Friday, all that was reckoned dead. I reckon you'd better reckon it dead, also, if you're going to experience the new life of Jesus. That's the only way you'll lose the confusion that combing the tombs will put you in. Just like his disciples were perplexed looking for life in the tomb, so will you be if you continue in the mindset of your problems and limitations.
Finally, the voice of wisdom speaks up. God has left two angels of revelation in the tombs to await their arrival.
What two angels has he left in your tomb? It's interesting, but God will not allow you to see corruption for very long, either. He always sends a word to you to bring you into remembrance of His great love and desire to bring us out of whatever perplexes us.
What do you do when He sends His word of deliverance to you? You'd better bow down and humble yourself to listen and obey that word. It will bring you out of the tombs. You ever notice, though, when someone gives you the Word sometimes, you get angry and want to argue with them? Some people just don't want to come out of the grave. Don't be like that.
Take your medicine. Come out, come out, wherever you are!
---
THURSDAY
Then, as they were afraid and bowed their faces to the earth, they said to them, "Why do you seek the living among the dead? He is not here, but is risen! Remember how He spoke to you when He was still in Galilee, saying, 'The Son of Man must be delivered into the hands of sinful men, and be crucified, and the third day rise again.'"
Luke 24:5-7
Why are you looking for life among dead things? Why roam through the corridors of your carnal mind looking for answers to your problems? If God is the God of the living, you must seek Him on His turf. Lets have a little praise, a little joy, and a little worship. "I don't feel no joy," you say. And you won't feel it either, until you come out of the tombs. Rise. Rise. Rise up where He is, and you will be all that He wants you to be. Arise and receive your answer; arise and receive your joy. Arise. Arise and remember the promises that He made to you. Arise and think on the things that are above. Arise and take your place far above things that bother you. Arise and tread upon serpents and scorpions. Arise, take up your bed and walk. Arise and ride upon your high places. Arise and receive the father's blessing. Arise and let His countenance shine upon you. Say it with me, "I rise."
---
FRIDAY
And they remembered His words. Then they returned from the tomb and told all these things to the eleven and to all the rest. It was Mary Magdalene, Joanna, Mary the mother of James, and the other women with them, who told these things to the apostles.
Luke 24:8-10
Remember Jesus' words to the disciples, "in this world, you will have tribulation, but be of good cheer; I have overcome the world." In order to overcome, there must be some opposition. The disciples had just witnessed Jesus' tribulation in going to the cross. The problem was, they didn't realize that if He told us to be of good cheer and overcome, that He must have overcoming power, also. They had forgotten that He had exercised power over death on several occasions. Why would that power diminish this time? The angel reminds the disciples that Jesus had told them all the things that would happen to Him and that He would be raised from the dead, also.
Have you forgotten all of what Jesus said? He never said the opposition would cease, but He tells us to rejoice when opposition hits. It's funny, but He tells us to rejoice several times when talking about trouble, tribulation or temptation. Ever wonder why some Christians have more joy? Maybe they have overcome more. Maybe they've faced more giants and cut their heads off. Maybe they know something about staying out of the tombs of the dead that we don't know. Maybe…. maybe they just obey God. So the disciples remembered the Words of Jesus. Remember His words. Let the cross be a reminder of all that He has said to us. Then tell somebody that He is risen, just as He said.