A teaching by Rev. Barbara Williams, President of the Ministry of the Watchman International
Week of May 8-12, 2023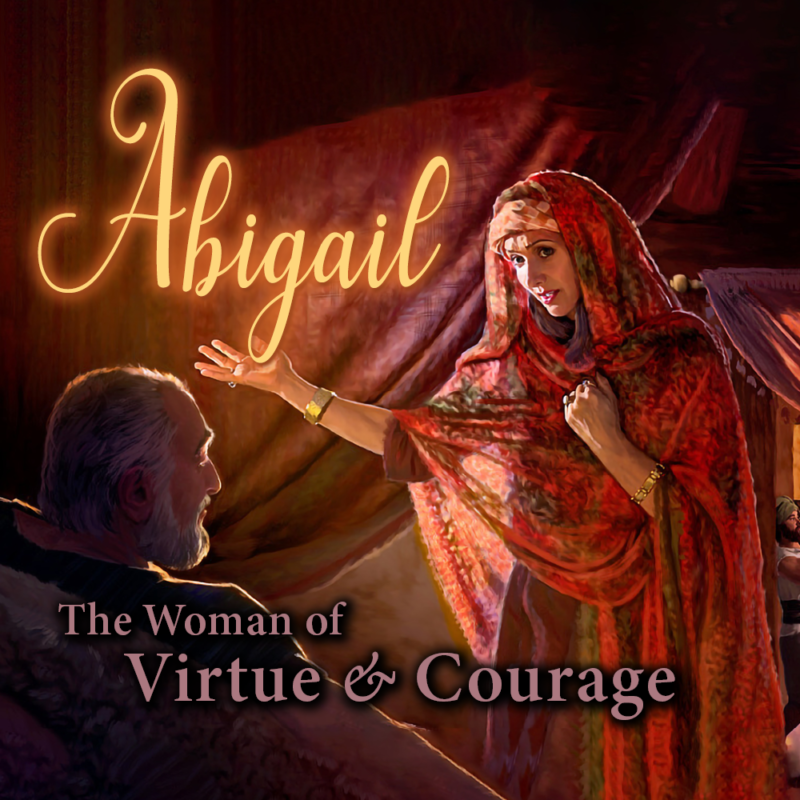 MONDAY
Now when Abigail saw David, she dismounted quickly from the donkey, fell on her face before David, and bowed down to the ground. 
So she fell at his feet and said: "On me, my lord, on me let this iniquity be! And please let your maidservant speak in your ears, and hear the words of your maidservant. Please, let not my lord regard this scoundrel Nabal. For as his name is, so is he: Nabal is his name, and folly is with him! But I, your maidservant, did not see the young men of my lord whom you sent. Now therefore, my lord, as the 

Lord

 lives and as your soul lives, since the 

Lord

 has held you back from coming to bloodshed and from avenging yourself with your own hand, now then, let your enemies and those who seek harm for my lord be as Nabal. 
And now this present which your maidservant has brought to my lord, let it be given to the young men who follow my lord. 

Please forgive the trespass of your maidservant. For the 

Lord

 will certainly make for my lord an enduring house, because my lord fights the battles of the 

Lord

, and evil is not found in you throughout your days. Yet a man has risen to pursue you and seek your life, but the life of my lord shall be bound in the bundle of the living with the 

Lord

 your God; and the lives of your enemies He shall sling out, as from the pocket of a sling. And it shall come to pass, when the 

Lord

 has done for my lord according to all the good that He has spoken concerning you, and has appointed you ruler over Israel, that this will be no grief to you, nor offense of heart to my lord, either that you have shed blood without cause, or that my lord has avenged himself. But when the 

Lord

 has dealt well with my lord, then remember your maidservant."
1 Samuel 25:23-31

Abigail is married to a very wealthy, hard-working man named Nabal. From the meaning of their names, they seem to be complete opposites. "Abigail" is from the root word for father, but means source of joy. "Nabal" means, wicked, stupid, or churlish. Perhaps someone was not in a good mood when he was born. Nabal, however unfortunately named, is from the tribe of Caleb, a people known for their strength, courage and generosity. Nabal has acted unwisely again. He has refused kindness and an opportunity to make covenant with someone who has been kind to him. In this case it is David, who has been anointed King of Israel, but is currently on the run from the present King, Saul. David is known as a mighty man and a warrior, but has chosen to show kindness to Nabal's herdsmen. He has spared their lives, and not taken Nabal's herds. When this is told to Nabal, he reacts foolishly and refuses to return the kindness to David. This is usually thought of as a declaration of war. If one offers kindness and it is not returned, then you are considered enemies.

Nabal's servants, sensing danger, report these events to Abigail. Because she is a virtuous woman, one who has relationship with God and respects her husband, she approaches David in peace. She knows that the safety of her household depends upon her words, since the words of her husband have kindled David's wrath. Abigail becomes the peacemaker of the whole household. Instead of stirring up strife, she goes for peace. A virtuous woman is a peacemaker in her household. She builds her house.
---

If you are in need of healing, there is good news! Proverbs 4:20-22 SAYS:
My son, attend to my words; incline thine ear unto my sayings. Let them not depart from thine eyes; keep them in the midst of thine heart. For they are life unto those that find them, and health to all their flesh.
So there is life and health in God's word. Since God's word is medicine, we must take it like we would a prescription. I suggest three times a day, like you would your food. Remember, healing is the children's bread. Consider this your "dose" for today. Remember, read, and meditate three times a day the following:
Rx: Proverbs 12:18b ~ The words of the wise bring healing.
---
"Study to show thyself approved unto God, a workman that needeth not to be ashamed, rightly dividing the word of truth."
2 Timothy 2:15
If you've never studied the Bible from Genesis to Revelation, we invite you to join us as we read through the Bible in a year. Read and meditate on these chapters this week:
May 8: Numbers 16, Psalms 52-54, Isaiah 6, Hebrews 13
May 9: Numbers 17-18, Psalms 55, Isaiah 7, James 1
May 10: Numbers 19, Psalms 56-57, Isaiah 8-9 v,7, James 2
May 11: Numbers 20, Psalms 58-59, Isaiah 9 v,8 – 10 v, 4, James 3
May 12: Numbers 21, Psalms 60-61, Isaiah 10 v, 5-34, James 4
May 13: Numbers 22, Psalms 62-63, Isaiah 11-12, James 5
May 14: Numbers 23, Psalms 64-65, Isaiah 13, 1 Peter 1

---
TUESDAY
Abigail has explained to David that he should not regard her husband's words. Notice she does not try to pretend to David that her husband has done no wrong. She is asking that he forgive the husband, but let her take responsibility for the husband's deeds. This woman is doing what is within her power to do. She has authority over the household goods, and she is doing her part. She has brought provisions of food for David and his men, and is now entreating him and honoring him as a man of power, but also as a man who is worthy of respect and who has shown kindness to them and deserves it back. She tells David the truth about her husband. He has been called a fool since he was a child, and unfortunately, the name has stuck. He is not responsible for his words. He has the habit of flying off the handle for no reason. Though he is basically a good man, he has his faults. She responds by saying that she did not see the young men that David had brought with him, and that they were in need. She seeks forgiveness from David and wants to make up for her husband's fault.
Love covers a multitude of sins. How many women could honestly admit the husband's fault without tearing him down? How many could recognize their ability to keep the household together by being honest? How many women are honest enough with themselves to recognize weakness and desire to help the weakness of the husband? By covering with love, Abigail is able to honestly speak about Nabal's unkindness to David without destroying his character, but she also sees her role as one who can be a helper of her husband's weakness. She is both a help meet for her husband's weakness and a woman of virtue. Abigail has got it going on in God.
---
WEDNESDAY
Abigail continues to entreat David, and to ask him to forgive her trespass. What did she do? Well, in spite of her husband's foolishness, she recognizes that she is responsible to dispense provision to visitors. She is responsible for showing hospitality as much as is Nabal. She is responsible to keep the servants stocked with provision. She has the job of seeing to it that everyone in the household is clothed and fed. She is not "covering" for Nabal's sin, but she is shouldering her part of it. She recognizes that even though her husband is wrong, she still has a part to do. How many women give up and abdicate their role because the husband seems to be holding them back?
Come on, ladies, give it up. Often because the husband is the head of the wife, we feel held back unnecessarily by the husband's authority. Abigail, however, had some type of ability working in her that allowed her to overcome this feeling and to know how to respond in every situation. It is called the wisdom of God. How did she get this wisdom?
Obviously, she asked for it. Simple, huh? James 1:5 tells us this. God gave wisdom to her liberally. With wisdom comes strength, for wisdom is the principal thing. Wisdom takes you from weakness to strength. Wisdom is one of the spirits of God, and is present in the anointing. As Abigail entreats David with respect, something else begins to happen. She begins to prophesy.
---
THURSDAY
Abigail begins to share with David what the Lord has shown her about him. This is one of the reasons that she has pursued peace and blessing from David. She has heard about him, and has sought the Lord concerning him. God has revealed the heart of David to her, and she has reassured David that God is with him. In fact she says something remarkable that we seldom remember being said concerning David, but it is a reiteration of the famous phrase that David was a man after God's own heart. She discloses to David that his soul is bound in bundle of life with God. Who would have thought that a woman of this caliber would be married to one such as Nabal? She knows David is a good man, and decides to treat him as such. God helps her by allowing David to see the quality of person she is. David appreciates her words, because they keep him from sin. Pleasant words are as a honeycomb.
---
FRIDAY
Then David said to Abigail: "Blessed is the Lord God of Israel, who sent you this day to meet me! And blessed is your advice and blessed are you, because you have kept me this day from coming to bloodshed and from avenging myself with my own hand. For indeed, as the Lord God of Israel lives, who has kept me back from hurting you, unless you had hurried and come to meet me, surely by morning light no males would have been left to Nabal!" So David received from her hand what she had brought him, and said to her, "Go up in peace to your house. See, I have heeded your voice and respected your person."
1 Samuel 25:32-35
David decides to accept what Abigail offers him. He confessed to her that his intentions were to destroy Nabal and their whole household, her included. Somehow Abigail must have sensed this. She knew how powerful David was.
She also knew that God was with him. We must always seek to keep peace in the household of faith. There are those who a peace breakers, but God wants us all to be peacemakers. David appreciated Abigail's wisdom and cannot move against their family now. Her words are not only peaceful, but they are edifying and encouraging to David's heart. They are the words of the father, God. They insure David's position in God's eyes. Had it not been for Abigail, David would have sinned against God, by seeking revenge against a brother.
Can a woman tap into this degree of wisdom from God? Of course she can. She can only do it in the context of obedience to the will of God. She can neither disrespect, usurp authority over, nor condemn her husband. She has to uphold the dignity of the family by being honest, taking responsibility for her part, and making amends.
Abigail learned this at the feet of Jesus. Perhaps having a husband who was wicked caused her to press into God all the more, or she may have already had a strong relationship with the Father. Whatever first motivates us toward God, the end result can be the same as this woman experienced. We can save a household from destruction, and gain God's approval and protection by walking in our position and being women of integrity.
Abigail was a woman who had the heart of the Father and wisdom from the Son. She had the spirit of victory, virtue and power. She became a mother in Israel.