A teaching by Rev. Barbara Williams, President of the Ministry of the Watchman International
Week of October 9-13, 2023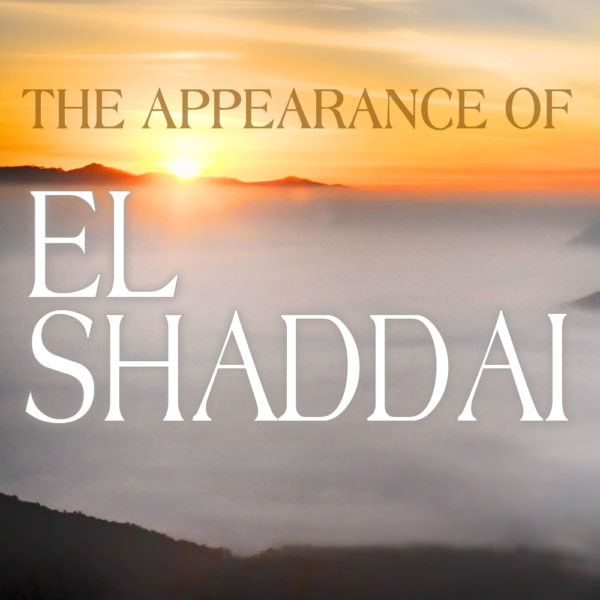 MONDAY
When Abram was ninety-nine years old, the Lord appeared to Abram and said to him, "I am Almighty God; walk before Me and be blameless. And I will make My covenant between Me and you, and will multiply you exceedingly."
Then Abram fell on his face, and God talked with him, saying: "As for Me, behold, My covenant is with you, and you shall be a father of many nations. No longer shall your name be called Abram, but your name shall be Abraham; for I have made you a father of many nations."
Genesis 17:1-5
Whenever God appeared to the patriarchs, He identified Himself in a specific way. The appearance of El Shaddai, the Almighty God, is significant because we all need to have an encounter with Him. Whenever God introduces Himself by a specific name, it is because He is going to have to reveal Himself according to the attributes described in that name in order to accomplish His stated purpose in that encounter.
This is also significant because God never appears to any of us to just sit down and chit-chat. He is a God of purpose and prosperity. He is a God of accomplishment who shows mercy to His children. He sees our need for Him even though we may be unaware of that need ourselves, and He appears in the form of power that we will need to know Him in order that He might fulfill that need. He is a performer.
---

If you are in need of healing, there is good news! Proverbs 4:20-22 SAYS:
My son, attend to my words; incline thine ear unto my sayings. Let them not depart from thine eyes; keep them in the midst of thine heart. For they are life unto those that find them, and health to all their flesh.
So there is life and health in God's word. Since God's word is medicine, we must take it like we would a prescription. I suggest three times a day, like you would your food. Remember, healing is the children's bread. Consider this your "dose" for today. Remember, read, and meditate three times a day the following:
Rx: Psalm 103:1-5 ~ Bless the Lord, O my soul; and all that is within me, bless His holy name! Bless the Lord, O my soul, and forget not all his benefits: Who forgives all your iniquities, Who heals all your diseases, Who redeems your life from destruction, Who crowns you with lovingkindness and tender mercies, Who satisfies your mouth with good things, so that your youth is renewed like the eagle's.
---
"Study to show thyself approved unto God, a workman that needeth not to be ashamed, rightly dividing the word of truth."
2 Timothy 2:15
If you've never studied the Bible from Genesis to Revelation, we invite you to join us as we read through the Bible in a year. Read and meditate on these chapters this week:
October 9: 1 Kings 10, Philippians 3, Ezekiel 42, Psalms 94
October 10: 1 Kings 11, Philippians 4, Ezekiel 43, Psalms 95-96
October 11: 1 Kings 12, Colossians 1, Ezekiel 44, Psalms 97-98
October 12: 1 Kings 13, Colossians 2, Ezekiel 45, Psalms 99-101
October 13: 1 Kings 14, Colossians 3, Ezekiel 46, Psalms 102
October 14: 1 Kings 15, Colossians 4, Ezekiel 47, Psalms 103
October 15: 1 Kings 16-18, 1 Thessalonians 1, Ezekiel 48, Psalms 104

---
TUESDAY
"I will make you exceedingly fruitful; and I will make nations of you, and kings shall come from you. And I will establish My covenant between Me and you and your descendants after you in their generations, for an everlasting covenant, to be God to you and your descendants after you. Also I give to you and your descendants after you the land in which you are a stranger, all the land of Canaan, as an everlasting possession; and I will be their God."
And God said to Abraham: "As for you, you shall keep My covenant, you and your descendants after you throughout their generations."
Genesis 17:6-9
Will Abraham need to know El-Shaddai? You'd better believe it! God has just promised this 100-year-old man that He will make him the father of many nations of people. Not only that, but He is promising a covenant with him that will include his descendants forever. He will give them a land to inhabit in the earth. He also promises that Abraham's descendants will go on forever and ever. He will be the father of a multitude of nations who worship the Almighty God. God will have to show Himself very powerful in order to accomplish this through Abraham.
Who is this El Shaddai? How is He able to do this?
El Shaddai refers to the God who is more than enough. Bigger than big, way too big. El Shaddai is the God of the overflow. God places great emphasis on His ability to bless more than one person in any situation. When He first met Abram as "Jehovah God" or the Lord God, He made Himself known as the God who would bless people who blessed Abram and curse people who contended with him. He was a righteous judge able to mete out both reward and punishment. Don't get nervous about that last statement. Even God's punishment has a blessing attached to it.
---
WEDNESDAY
"This is My covenant which you shall keep, between Me and you and your descendants after you: Every male child among you shall be circumcised; and you shall be circumcised in the flesh of your foreskins, and it shall be a sign of the covenant between Me and you. He who is eight days old among you shall be circumcised, every male child in your generations, he who is born in your house or bought with money from any foreigner who is not your descendant. He who is born in your house and he who is bought with your money must be circumcised, and My covenant shall be in your flesh for an everlasting covenant. And the uncircumcised male child, who is not circumcised in the flesh of his foreskin, that person shall be cut off from his people; he has broken My covenant."
Genesis 17:10-14
El Shaddai gives the covenant of circumcision to Abram. He also changes his name to Abraham. He goes from being an exalted father to the father of a multitude. He brings Abraham into His faith. He allows Abraham to call things that be not as though they are. He not only guarantees to perform this thing for Abraham, but He also empowers Abraham to do his part. This is El Shaddai. This is the Almighty God. Nothing is too hard for Him. Nothing is impossible with Him.
So God introduces Abraham to Himself according to the need that Abraham will have of Him in order to accomplish his portion of what God is promising. This is the work of the true Almighty God. This is the God who takes care of everything. This is the God of the overflow. This is the God who can provide for you and your loved ones, no matter what the need. This is the God who is way too big. This is the God you cannot contain or limit. This is the God who is not surprised by anything that happens to you and has already made provision for it.
God also allows Abraham to include others in this covenant. Abraham is told to bring his descendants into covenant with God through the rite of circumcision. Through circumcision he is able to include everyone in his household in this great covenant he has with El Shaddai. God is overflowing already into the lives of those around Abraham. He wants to bless as many people as He can.
---
THURSDAY
Then God said to Abraham, "As for Sarai your wife, you shall not call her name Sarai, but Sarah shall be her name. And I will bless her and also give you a son by her; then I will bless her, and she shall be a mother of nations; kings of peoples shall be from her."
Then Abraham fell on his face and laughed, and said in his heart, "Shall a child be born to a man who is one hundred years old? And shall Sarah, who is ninety years old, bear a child?" And Abraham said to God, "Oh, that Ishmael might live before You!"
Then God said: "No, Sarah your wife shall bear you a son, and you shall call his name Isaac; I will establish My covenant with him for an everlasting covenant, and with his descendants after him."
Genesis 17:15-19
Here comes the overflow. God not only has to be big enough to make Abraham fertile, but He also has to restore fertility to his wife, Sarai. She too will undergo a name change. All will know that He is the Almighty God because He will leave His mark on Abraham's family. God changes the name and direction of everyone involved in this situation. He makes provision even for Ishmael, Abram's son with the household maid Hagar. Ishmael was born not of promise, but by mistake through Abram and Sarai's impatience.
God proves Himself as the Almighty God because He changes the attitude and thinking of those people involved in the work that He is doing. He is able to change even hardened hearts. As the God who is more than enough, The Almighty God, He is able to cause Abraham and his wife to mature. He tells Abraham in verse 1 to walk before Him and be perfect. This means that he can no longer laugh or stagger at the promises of God in unbelief.
Can God change the quality of your faith? El Shaddai certainly can. 
---
FRIDAY
"And as for Ishmael, I have heard you. Behold, I have blessed him, and will make him fruitful, and will multiply him exceedingly. He shall beget twelve princes, and I will make him a great nation. But My covenant I will establish with Isaac, whom Sarah shall bear to you at this set time next year." Then He finished talking with him, and God went up from Abraham.
Genesis 17:20-22
El Shaddai sets the time for this event to take place. Can God know when something like this is going to happen? Of course He can.
God knows the impact of His name in a situation. With the announcement of Himself as El Shaddai, He is able to introduce a new dimension of faith into Abraham's life. His name begins to work a new work into this man's heart.
This name is able to work maturity, faith, obedience, and perfection, all the needed attributes into the hearts of Abraham and Sarah, so that they will be able to receive the promises that El Shaddai has promised to them. We need to get to know this God. We need to meditate on the fact that El Shaddai, the Almighty God, the God who is more than enough and way too big, actually lives and dwells inside of us.
We need to magnify Him until He performs that great big thing that we need so badly from Him. Let El Shaddai appear in your situation. Call upon Him today.