A teaching by Rev. Barbara Williams, President of the Ministry of the Watchman International
Week of November 13-17, 2023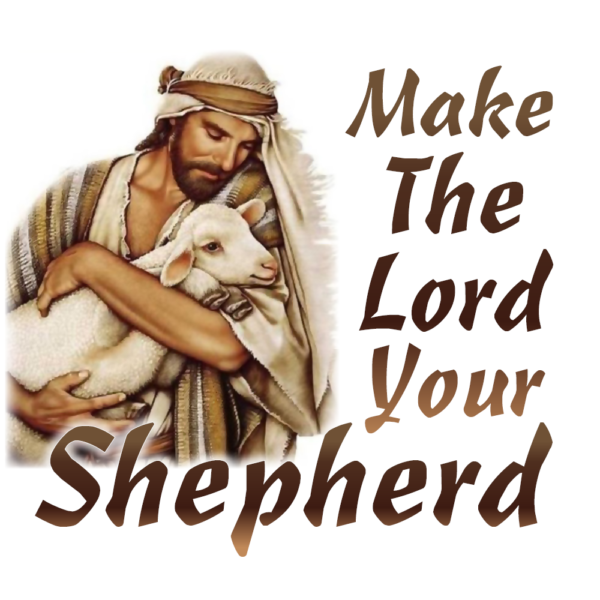 MONDAY
The Lord is my shepherd;
I shall not want.
Psalm 23:1
God always makes bold declarations. He states that when you declare Him as your Shepherd, you shall not want. He is El Shaddai, the All-Sufficient One. When He leads you, He makes provision for your every need to the point that you never experience want or lack. We are speaking here not just of natural places, but places in the spirit. There is no lack in the Spirit of God, so God leads us by His Spirit, with His Spirit and into the realm of the spirit that He has prepared for us.
Can you understand why the enemy works so hard to keep us out of the spirit and in the flesh?
Many times we face new situations, circumstances and times with fear. God wants us to face every day with faith and confidence in Him knowing, that if we allow Him to lead us, we will have the best of everything. If we are willing to be led, and obedient to do what He tells us, we will eat the good of the land. We will enjoy it too, because He provides a peaceful environment in which to dwell. If He is truly your Shepherd, you will never want for anything.
---

If you are in need of healing, there is good news! Proverbs 4:20-22 SAYS:
My son, attend to my words; incline thine ear unto my sayings. Let them not depart from thine eyes; keep them in the midst of thine heart. For they are life unto those that find them, and health to all their flesh.
So there is life and health in God's word. Since God's word is medicine, we must take it like we would a prescription. I suggest three times a day, like you would your food. Remember, healing is the children's bread. Consider this your "dose" for today. Remember, read, and meditate three times a day the following:
Rx: Matthew 14:14 ~ And when Jesus went out He saw a great multitude; and He was moved with compassion for them, and healed their sick.
---
"Study to show thyself approved unto God, a workman that needeth not to be ashamed, rightly dividing the word of truth."
2 Timothy 2:15
If you've never studied the Bible from Genesis to Revelation, we invite you to join us as we read through the Bible in a year. Read and meditate on these chapters this week:
November 13: 1 Chronicles 1-2, Hebrews 8, Amos 2, Psalms 145
November 14: 1 Chronicles 3-4, Hebrews 9, Amos 3, Psalms 146-147
November 15: 1 Chronicles 5-6, Hebrews 10, Amos 4, Psalms 148-150
November 16: 1 Chronicles 7-8, Hebrews 11, Amos 5, Luke 1:1-38
November 17: 1 Chronicles 9-10, Hebrews 12, Amos 6, Luke 1:39-80
November 18: 1 Chronicles 11-12, Hebrews 13, Amos 7, Luke 2
November 19: 1 Chronicles 13-14, James 1, Amos 8, Luke 3

---
TUESDAY
He makes me to lie down in green pastures;
He leads me beside the still waters.
He restores my soul;
He leads me in the paths of righteousness
For His name's sake
Psalm 23:2-3
How do we know the Lord's leading? This is very important because many people are out of the will of God and don't realize that this is the basic problem. "Out of the will of God, Barb? But I'm saved. I speak in tongues. I don't lie, cheat, cuss or steal…blah, blah, blah."
Yes, out of the will of God by not allowing Him to lead you into the things He has for you. Many of us are being led by us and asking God to come on the scene when we realize we have no strength to pull the things we are trying to accomplish. So how do we know the Lord is leading us?
1. Green pastures: This implies full provision for our shelter and food. We lie down there, which means we are in peace and we are not fearful of losing these things. So we have the blessings of God that makes us rich and adds no sorrow. We possess things, they do not possess us. We can move freely wherever the Shepherd leads and not be concerned about the provision. We trust Him totally.
2. Still waters: He is our refreshing and we are not afraid He will be turbulent and get out of control. God will never do us harm, only good. We trust in His goodness. He is our peace.
3. Restored soul: Ever been upset? Tormented? Lack sleep? He causes us to settle down in our thoughts and emotions. We pick up His vision and thoughts about ourselves.
4. He leads us in the right way that we should go, to be an example for Him. Our best witness is being led by the spirit of God. He knows He can trust us with many things if we obey His leading.
---
WEDNESDAY
Yea, though I walk through the valley of the shadow of death,
I will fear no evil;
For You are with me;
Your rod and Your staff, they comfort me.
Psalm 23:4
Feeling overwhelmed? You're coming out victorious. You're not going under, but over. Many times we have close calls. I used to think that being in the will of God causes us to avoid almost everything that is challenging. This is true to a degree, but there are times when we may become ensnared by the fowler.
Psalm 91 tells us that God will surely deliver us from this snare. God is with us even in trouble. Do you know how disappointed the devil is when he ensnares a child of God, and finds Jesus right in the midst of the trouble with Him?
He will lead you through this dark valley with a firm guidance. His rod of discipline, which is His Word, becomes a comfort to you in times of trouble. His staff, on which you may lean, gives you a sense of comfort and points you in the direction that the Shepherd is leading you. The raised staff lets you know that the Shepherd is with you, just follow Him closely and you will emerge from this dark time.
---
THURSDAY
You prepare a table before me in the presence of my enemies;
You anoint my head with oil;
My cup runs over.
Psalm 23:5
Ever get knots in your stomach? I would get them when my mother caught me doing something wrong, or when I walked past Sister Bridgett Marie (my second grade teacher). I could never eat when I was confronted with my own misdeeds. I knew punishment was coming. It is worse when enemies confront us. We lose our appetite. Food is always associated with good times.
The table is also indicative of covenant. Covenant makes friends out of enemies. God will prepare a covenant or peace meal with you and your enemies, not just your friends. The Good Shepherd always leads us to reconciliation. He leads us to abundance in all things. When He anoints our heads with oil, He is grooming us in the finest olive oil, the pouring of which upon the skin was a sign of abundance.
He causes you to have an overflow of His power, symbolized by the oil, and that makes you wealthy. He again reveals Himself as El Shaddai, the God of the overflow. He has led you to a place of blessing that you might be blessed and be a blessing to others.
What a wonderful Good Shepherd.
---
FRIDAY
Surely goodness and mercy shall follow me
All the days of my life;
And I will dwell in the house of the Lord
Forever.
Psalm 23:6
This is the payoff. This is how you really know His leading. You know by the fruit. The fruit of goodness and mercy follows you all the days of your life.
Have good things happened to you? Have you received the blessings of God's mercy?
Do you feel peace in your heart toward God?
Has He caused all things to work together for your good?
Do you have a good attitude about your life?
Are you still hung up because He hasn't answered that particular prayer for you?
You can have goodness and mercy follow you even though you have not yet received all that you have been asking Him for. He is teaching you to be content where you are. Faith makes you content where you are, and it allows you to see all your promises in your possession instead of focusing on the fact that you're waiting for God to give you the answer.
Not there yet?
Go a little further with the Good Shepherd. I know you think you can't do it, but you can. Let Him lead you.