If you need a miracle, don't miss this meeting!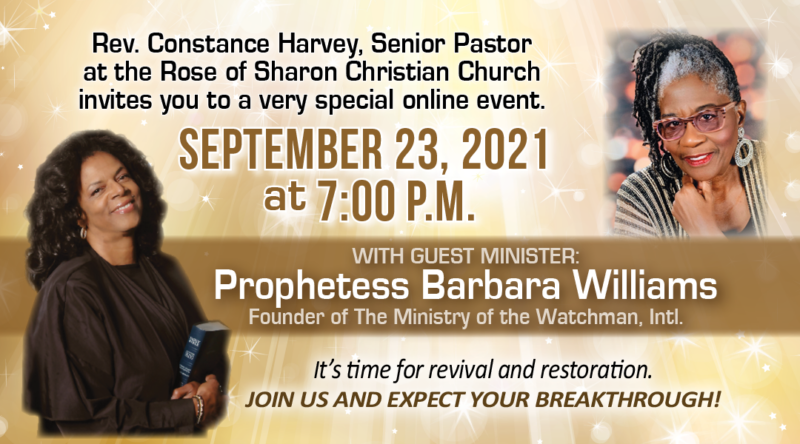 Meeting ID: 8196574663
Passcode: 8EQdBr
OR JOIN THE CONFERENCE CALL
605-313-4831
Access Code: 642583#
Prophetess Barbara Williams has a powerful healing ministry. God has done notable miracles in her meetings, such as healing the deaf, healing cancer, removing growths, and healing broken limbs. Jesus releases miracles in the financial realm as well. It's time for revival and restoration.
JOIN US AND EXPECT YOUR BREAKTHROUGH!
---
ABOUT REV. CONSTANCE HARVEY:
Rev. Constance Harvey, Senior Pastor at the Rose of Sharon Christian Church in Detroit, Michigan, has ministered in various venues throughout the United States and the Caribbean Islands. With the message of Hope her heart throb is seeing lives changed by the power of God. Anointed to preach the gospel and lay hands of the sick she has seen a multitude of souls saved and delivered from the Powers of Darkness.
The Rose of Sharon Church is located at 19337 Conant Street in Detroit, Michigan. Under the leadership of Rev. Harvey, the church has fed the hungry and clothed the naked at home and abroad; feeding and clothing the naked in Jamaica. Also clothing the naked in the Indian Sioux Tribe in South Dakota. As well as supporting missions in Africa and the International Fellowship of Christian and Jews.