A teaching by Rev. Barbara Williams, President of the Ministry of the Watchman International
Week of August 2-6, 2021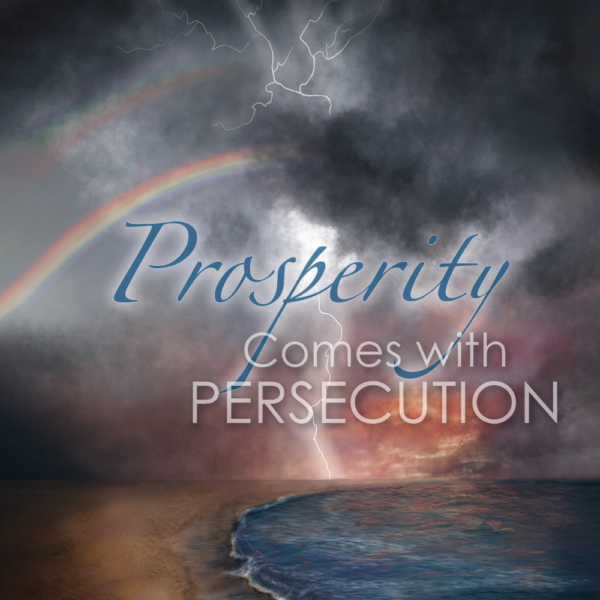 MONDAY
Then Peter began to say to Him, "See, we have left all and followed You."
So Jesus answered and said, "Assuredly, I say to you, there is no one who has left house or brothers or sisters or father or mother or wife or children or lands, for My sake and the gospel's, who shall not receive a hundredfold now in this time—houses and brothers and sisters and mothers and children and lands, with persecutions—and in the age to come, eternal life."
Mark 10:28-30
Prosperity comes with persecution. When we give up something, God prospers us. What we have forsaken is nothing but loss anyhow, but God is able to cause us to prosper. We also receive persecution when we prosper. This goes along with the territory. When we move up, we vacate a place of authority and move on to another place of authority. The door of opportunity opens with many adversaries. Many times the adversaries surround the door before we enter it. Persecution is one of those adversaries.
---

If you are in need of healing, there is good news! Proverbs 4:20-22 SAYS:
My son, attend to my words; incline thine ear unto my sayings. Let them not depart from thine eyes; keep them in the midst of thine heart. For they are life unto those that find them, and health to all their flesh.
So there is life and health in God's word. Since God's word is medicine, we must take it like we would a prescription. I suggest three times a day, like you would your food. Remember, healing is the children's bread. Consider this your "dose" for today. Remember, read, and meditate three times a day the following:
Rx: Jeremiah 30:17a ~ "For I will restore health to you and I will heal you of your wounds," declares the Lord.

---
"Study to show thyself approved unto God, a workman that needeth not to be ashamed, rightly dividing the word of truth."
2 Timothy 2:15
If you've never studied the Bible from Genesis to Revelation, we invite you to join us as we read through the Bible in a year. Read and meditate on these chapters this week:
August 2: Judges 16, Acts 20, Jeremiah 29, Mark 15
August 3: Judges 17, Acts 21, Jeremiah 30-31, Mark 16
August 4: Judges 18, Acts 22, Jeremiah 32, Psalms 1-2
August 5: Judges 19, Acts 23, Jeremiah 33, Psalms 3-4
August 6: Judges 20, Acts 24, Jeremiah 34, Psalms 5-6
August 7: Judges 21, Acts 25, Jeremiah 35, Psalms 7-8
August 8: Ruth 1, Acts 26, Jeremiah 36 & 45, Psalms 9

---
TUESDAY
So I answered them, and said to them, "The God of heaven Himself will prosper us; therefore we His servants will arise and build, but you have no heritage or right or memorial in Jerusalem."
Nehemiah 2:20
To persecute means to annoy with persistent and urgent approaches. This is the result of prosperity. Why does prosperity come with persecution? Because God wants to make sure we depend totally upon Him as we prosper. When we align ourselves with God, our success is assured. When we prosper, we are able to do more for others, we have more power, and we become established in the earth. The enemy never wants this to happen, so he sends enemies of our souls to persecute us.
---
WEDNESDAY
So I answered them, and said to them, "The God of heaven Himself will prosper us; therefore we His servants will arise and build, but you have no heritage or right or memorial in Jerusalem."
Nehemiah 2:20
One of the enemies sent is warfare against our souls. When promotion is imminent, the enemy will begin to bombard us with thoughts of weakness, as he did Nehemiah. We will doubt our ability. Often we will doubt God's desire to help us. We will doubt the people's desire to help. All of these are weapons of persecution that the enemy uses against us. When we enter into this arena of warfare, we are the most vulnerable to thoughts of defeat. Therefore, it is most important that we pray to God, and seek Him diligently for direction and protection. Nehemiah wound up setting a watch over the work (extra prayer) to protect it from the attacks of the enemy.
---
THURSDAY
And you shall remember the Lord your God, for it is He who gives you power to get wealth, that He may establish His covenant which He swore to your fathers, as it is this day.
Deuteronomy 8:18
Let them shout for joy and be glad, who favor my righteous cause; and let them say continually, "Let the Lord be magnified, who has pleasure in the prosperity of His servant."
Psalm 35:27
The reason God wants us to prosper is so that He can establish His covenant. When God establishes His covenant, He establishes us as His people in the earth. We become equipped to solve many problems and bring salvation and deliverance to many. Without prosperity, we have no voice. Prosperity brings us into prominence among the people, and enables us to rise to a position of notoriety. Nehemiah was able to do this; He was given a leave of absence by the King and all the materials he needed for the work were supplied. With such favor, what could the enemy do except attempt to stop him with threats?
---
FRIDAY
The rich rules over the poor, and the borrower is servant to the lender.
Proverbs 22:7
Prosperity brings mastery into our lives. If the borrower is servant to the lender, then the borrower has a master other than God. This is why God wants us to prosper; So that He and He alone can be God to us. When we allow Him to prosper us, we break off the shackles of man's dominion and man-pleasing in our lives. We are free to serve and worship the Lord because we are not being ruled by creditors. We are to owe no man anything but love (Romans 13:8). We are indebted to love and to serve the Lord and humanity. Prosperity frees us to obey the gospel.