A teaching by Rev. Barbara Williams, President of the Ministry of the Watchman International
Week of February 7-11, 2022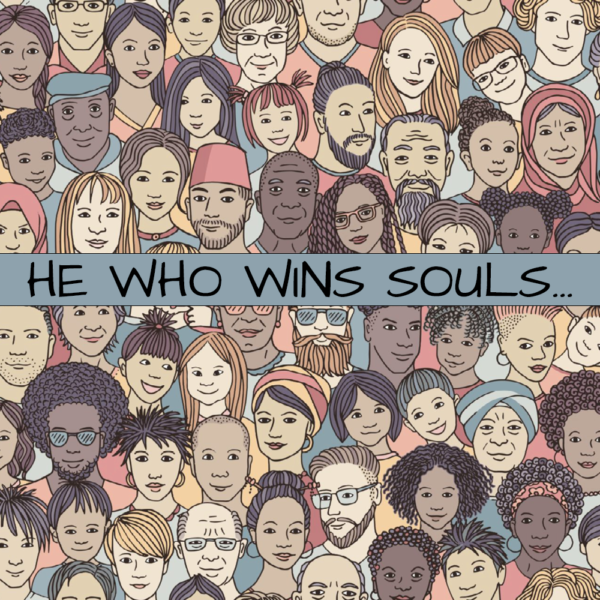 The fruit of the righteous is a tree of life, and he who wins souls is wise.
Proverbs 11:30
There are many promises for the soul winner, one of which is wisdom. This week we will look at five areas of wisdom that are given to the soul winner.
MONDAY
UNDERSTANDING
To do evil is like sport to a fool, but a man of understanding has wisdom.
Proverbs 10:23
The man of understanding has wisdom. When a person receives understanding, it is the gift of God. Since the fall, man has stumbled in darkness. When God begins to reveal Himself to a person, that person approaches God in reverent fear. This is the beginning of understanding, and the understanding increases with the pursuit of God. When we seek God wholeheartedly, we find Him and wisdom becomes ours. Understanding becomes ours. No longer are we confounded, but we are able to make wise choices and act with discretion. We win people to God with our words and lifestyles. When we win a soul over to God, we have enlarged our own souls. We find prosperity and health.
---

If you are in need of healing, there is good news! Proverbs 4:20-22 SAYS:
My son, attend to my words; incline thine ear unto my sayings. Let them not depart from thine eyes; keep them in the midst of thine heart. For they are life unto those that find them, and health to all their flesh.
So there is life and health in God's word. Since God's word is medicine, we must take it like we would a prescription. I suggest three times a day, like you would your food. Remember, healing is the children's bread. Consider this your "dose" for today. Remember, read, and meditate three times a day the following:
Rx: John 4:49-53 ~ The nobleman said to Him, "Sir, come down before my child dies!"
Jesus said to him, "Go your way; your son lives."
So the man believed the word that Jesus spoke to him, and he went his way. And as he was now going down, his servants met him and told him, saying, "Your son lives!" Then he inquired of them the hour when he got better. And they said to him, "Yesterday at the seventh hour the fever left him." So the father knew that it was at the same hour in which Jesus said to him, "Your son lives." And he himself believed, and his whole household.
---
"Study to show thyself approved unto God, a workman that needeth not to be ashamed, rightly dividing the word of truth."
2 Timothy 2:15
If you've never studied the Bible from Genesis to Revelation, we invite you to join us as we read through the Bible in a year. Read and meditate on these chapters this week:
February 7: Genesis 40, Mark 10, Job 6, Romans 10
February 8: Genesis 41, Mark 11, Job 7, Romans 11
February 9: Genesis 42, Mark 12, Job 8, Romans 12
February 10: Genesis 43, Mark 13, Job 9, Romans 13
February 11: Genesis 44, Mark 14, Job 10, Romans 14
February 12: Genesis 45, Mark 15, Job 11, Romans 15
February 13: Genesis 46, Mark 16, Job 12, Romans 16

---
TUESDAY
WEALTH
For wisdom is better than rubies, and all the things one may desire cannot be compared with her.
Proverbs 8:11
When we win a soul, our own souls have prospered. We have used the wisdom of God in this process. So the power of God is resident in us. Wisdom is richer than rubies. It is more sought after than gold. The material treasures we have are only a sign of favor or wisdom. Wisdom itself is the power that enables us to prosper. We find peace and contentment when we behave wisely. We have the assurance from God of a job well done when we win a soul. We have no idea what that soul may in turn do for God…there are souls that they may win to the Lord, so there is a sense of fulfillment of purpose that makes us rich.
---
WEDNESDAY
DISCRETION
My son, let them not depart from your eyes—keep sound wisdom and discretion; so they will be life to your soul and grace to your neck.
Proverbs 3:21-22
Discretion is the freedom to make individual choices based upon past wisdom. Discretion implies wise discernment and the ability to behave oneself wisely in all situations. God's favor is with the wise. The wise man is able to gain the favor and trust of men and become a leader. The discreet person knows when to act and when to restrain oneself. This person has self-control. He is able to win more souls to himself based upon his discretion.
---
THURSDAY
HAPPINESS
Happy is the man who finds wisdom, and the man who gains understanding; for her proceeds are better than the profits of silver, and her gain than fine gold.
Proverbs 3:13-14
Happiness comes to the person who is a soul winner. He has friends and he is the friend of God. True happiness implies a state of contentment in spite of natural circumstances. The wise man knows that his wisdom is more valuable than rubies or gold. He lives in a realm above the world because he has ascended into the mind of God. God knows how to reach every soul with the gospel and the soul winner has tapped into this realm. He has the assurance of knowing that God has picked the person that he witnessed to as His peculiar treasure. He is able to convert the soul of another by his wisdom. His actions on earth have caused the angels in heaven to rejoice. Happiness is his.
---
FRIDAY
VICTORY
Then I said: "Wisdom is better than strength. Nevertheless the poor man's wisdom is despised, and his words are not heard. Words of the wise, spoken quietly, should be heard rather than the shout of a ruler of fools. Wisdom is better than weapons of war; but one sinner destroys much good."
Ecclesiastes 9:16-18
Wisdom is better than strength or weapons of war. War can be averted through the exercise of wisdom. Wise rulers use diplomacy whenever possible. World governments look for wise and peaceful persons as arbiters when conflict arises. Issues of good and bad, right and wrong fall by the wayside in the face of wisdom. The soul winner knows how to appeal to the sensibleness in others. When apartheid was abolished in South Africa, Bishop Desmond Tutu was instrumental in bringing peace between the races by holding Truth and Reconciliation hearings in which offending and offended parties were able to speak about their experiences during apartheid. Most left the hearings feeling at peace with their former enemies. Many people thought these hearings would do more to stir up past hurts, but because they were the idea of a wise soul-winner, they have served as a model for other groups to bring reconciliation. Wisdom outlasts weapons of war.