A teaching by Rev. Barbara Williams, President of the Ministry of the Watchman International
Week of March 28-April 1, 2022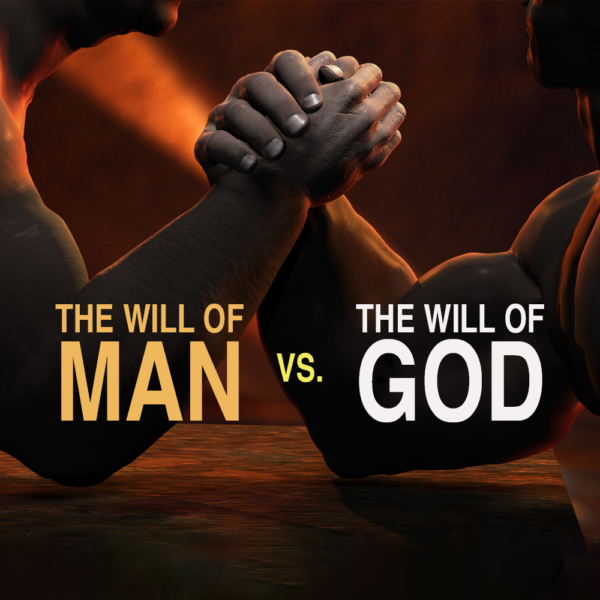 MONDAY
When He came to the place, He said to them, "Pray that you may not enter into temptation." Then He was withdrawn from them about a stone's throw, and He knelt down and prayed, saying, "Father, if it is Your will, take this cup away from Me; nevertheless not My will, but Yours, be done."
Luke 22:40-42
Jesus finds himself at a point of decision. He must decide to do the will of the Father. We always assume this was easy for Him. Being wrapped up in human flesh made Him not much different from us, as far as needing to make decisions is concerned. He did not have an earthly father, so He did not have a sinful human nature, but He was the second Adam, made perfect by His virgin birth. He still, however, had a will and the ability to do whatever He desired as far as His decisions were concerned. Knowing this about Himself, Jesus made many opportunities to go apart from the crowd to pray.
This was one of those times. He was in such agony of mind that He even asked His disciples to pray with Him. God put them to sleep. This was not the time for the prayer of agreement, but the prayer of consecration. In praying to consecrate yourself to the Lord, you must approach Him alone.
This is a time of personal decision, not a time of group consensus. We can sometimes diminish our return through agreement with people who will oppose our spiritual decisions. Agreement is very powerful in the spirit, but there must be total agreement with the will of God for it to be most effective. I doubt that Jesus could have gotten any of His disciples to agree to let Him go to the cross. He had to do this alone.
---

If you are in need of healing, there is good news! Proverbs 4:20-22 SAYS:
My son, attend to my words; incline thine ear unto my sayings. Let them not depart from thine eyes; keep them in the midst of thine heart. For they are life unto those that find them, and health to all their flesh.
So there is life and health in God's word. Since God's word is medicine, we must take it like we would a prescription. I suggest three times a day, like you would your food. Remember, healing is the children's bread. Consider this your "dose" for today. Remember, read, and meditate three times a day the following:
Rx: Isaiah 33:24 ~ No one living in Zion will say, "I am sick"; and the sins of those who dwell there will be forgiven.
---
"Study to show thyself approved unto God, a workman that needeth not to be ashamed, rightly dividing the word of truth."
2 Timothy 2:15
If you've never studied the Bible from Genesis to Revelation, we invite you to join us as we read through the Bible in a year. Read and meditate on these chapters this week:
March 28: Exodus 39, John 18, Proverbs 15, Philippians 2
March 29: Exodus 40, John 19, Proverbs 16, Philippians 3
March 30: Leviticus 1, John 20, Proverbs 17, Philippians 4
March 31: Leviticus, 2-3, John 21, Proverbs 18, Colossians 1
April 1: Leviticus, 4, Psalms1-2, Proverbs 19, Colossians 2
April 2: Leviticus 5, Psalms 3-4, Proverbs 20, Colossians 3
April 3: Leviticus 6, Psalms 5-6, Proverbs 21, Colossians 4

---
TUESDAY
Then an angel appeared to Him from heaven, strengthening Him.
Luke 22:43
The angel of the Lord appears to those who are in the Father's will. In times of weakness, we need just to say, "not my will, but thine, be done." The protection and grace of God will come when we submit to His will. As Jesus was being led away, Peter sought to defend the Lord against His captors by pulling a sword and cutting off the ear of one of the guards. Jesus informed Peter that He could easily call for ten legions of angels if He needed them.
What a difference in the amount of strength and determination He exhibits since yielding to the will of the Father. After yielding to the Father's will, He takes on more strength, power, and determination. There is now the grace for martyrdom in His heart, because He fears nothing at this point. Everything in Him is greater because He chose to decrease and let the Father increase in Him.
---
WEDNESDAY
Then an angel appeared to Him from heaven, strengthening Him.
Luke 22:43
It is God's will to give us good success in everything we undertake. Is it ever good to relinquish your rights and your will? Think about all the situations we face from day to day in which we must make the decision to do our own or someone else's will. How often do we think about the spiritual consequences of each decision? You should weigh the spiritual impact in each decision you make.
The will is something like a gear or a thermostat. It is set to certain values, disciplines, and desires. If our will has developed to respond to decisions toward self-gratification only, we will be prone to frustrations and temper tantrums when we do not have things our way. If it is prone to discipline only, we will resent having fun, considering pleasurable things a waste of time. It is only when we set it to respond to the will of God do we experience the fruit of the spirit, which is very satisfying, and we prosper and succeed at the same time.
Choosing God over comfort is always a good thing. The hosts of heaven rejoice over one sinner who repents. Think of what happens when those of us who belong to God choose His will on a continual basis. The angels will come to our aid, strengthening us and giving us peace.
---
THURSDAY
And being in agony, He prayed more earnestly. Then His sweat became like great drops of blood falling down to the ground.
Luke 22:44
The angel strengthened Him because His prayer caused even greater agony. Do angels strengthen us to pray? They must. They bring the promise of heaven and the bible says that they "bear us up, lest we dash our foot against a stone. (Psalm 91:12)." If they hold us up spiritually, then this must have a manifestation in the natural.
Have you ever been driving and come too close to the car in front of you, but see that you were able to stop within inches of a collision? This is the manifestation of the angel holding you up, strengthening you. Angels strengthen us during times of agony in the soul.
Before I met the Lord, I suffered a severe depression. This is what actually led me to the Lord. One of my fears after being healed was that I might not be able to stay healed (Depressed people tend to have frequent relapses). One of the things that helped me was in knowing and abiding in the will of God. In the mind of Christ I found peace, joy and love. There was a security in knowing that I had permanently traded my own mind for the mind of Christ. Jesus never had a nervous breakdown, and neither would I.
The knowledge of angelic strength to help during these times has brought me great security and peace in deciding to do the will of God in all things.
---
FRIDAY
When He rose up from prayer, and had come to His disciples, He found them sleeping from sorrow.
Luke 22:45
When Jesus is done praying, He comes to the disciples who have gone to sleep from sorrow. Sleep can be a way of escape from emotional problems. People sometimes take on the spirit of heaviness in times of sorrow and will give in to the desire to sleep because their heads seem "heavy."
This attitude of withdrawal sets the tone for the rest of the period of Jesus' trial. Because the disciples could not understand the mission of Jesus to die for our sins, they set themselves outside of the will of God during the trial and crucifixion of Jesus. They are not in the will of God in this because they are not in the mind of God. Being outside of the mind of God puts one outside His wisdom and abilities.
We need the abilities of God to accomplish even the smallest task successfully. Yielding our will to His will nets us the most benefit. We have His life, mind and abilities, plus the angels of heaven encamp about us waiting to help us do His will.