A teaching by Rev. Barbara Williams, President of the Ministry of the Watchman International
Week of April 11-15, 2022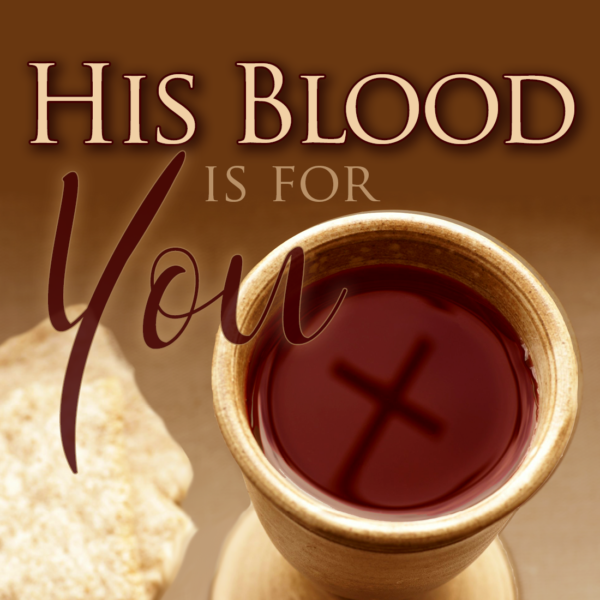 MONDAY
Then He took the cup, and gave thanks, and gave it to them, saying, "Drink from it, all of you. For this is My blood of the new covenant, which is shed for many for the remission of sins."
Matthew 26:27-28
Jesus tells His disciples that He is cutting a new covenant with them. Cutting covenant is a time-honored ritual through which people gain strength, power, friendship and long life. When people wanted to survive, they made friends with people stronger than they were through covenant. Eastern nations have remnants of the same type of covenant. Every society has a marriage covenant ceremony. It is how we establish life and society.
This covenant is different because it is sealed in His blood alone. Other covenants require that there be a cutting of the flesh of both parties, but Jesus cut this covenant with Himself. That's why His blood was shed for us, not mingled with ours, as the usual covenant ritual required. Since Jesus is without sin, His covenant with man has no sin on it. It is not weak, as the Old covenant was, because it is not carried out in the flesh, but in the reborn spirit.
His blood is for us, not against us, because it pays for our sin totally, and replaces it with righteousness. His blood is for us.
---

If you are in need of healing, there is good news! Proverbs 4:20-22 SAYS:
My son, attend to my words; incline thine ear unto my sayings. Let them not depart from thine eyes; keep them in the midst of thine heart. For they are life unto those that find them, and health to all their flesh.
So there is life and health in God's word. Since God's word is medicine, we must take it like we would a prescription. I suggest three times a day, like you would your food. Remember, healing is the children's bread. Consider this your "dose" for today. Remember, read, and meditate three times a day the following:
Rx: Isaiah 53:5 ~ But He was wounded for our transgressions, He was bruised for our iniquities; the chastisement for our peace was upon Him, and by His stripes we are healed.
---
"Study to show thyself approved unto God, a workman that needeth not to be ashamed, rightly dividing the word of truth."
2 Timothy 2:15
If you've never studied the Bible from Genesis to Revelation, we invite you to join us as we read through the Bible in a year. Read and meditate on these chapters this week:
April 11: Leviticus 15, Psalms 18, Proverbs 29, 2 Thessalonians 3
April 12: Leviticus 16, Psalms 19, Proverbs 30, 1 Timothy 1
April 13: Leviticus 17, Psalms 20-21, Proverbs 31, 1 Timothy 2
April 14: Leviticus 18, Psalms 22, Ecclesiastes 1, 1 Timothy 3
April 15: Leviticus 19, Psalms 23-24, Ecclesiastes 2, 1 Timothy 4
April 16: Leviticus 20, Psalms 25, Ecclesiastes 3, 1 Timothy 5
April 17: Leviticus 21, Psalms 26-27, Ecclesiastes 4, 1 Timothy 6

---
TUESDAY
For when Moses had spoken every precept to all the people according to the law, he took the blood of calves and goats, with water, scarlet wool, and hyssop, and sprinkled both the book itself and all the people, saying, "This is the blood of the covenant which God has commanded you." Then likewise he sprinkled with blood both the tabernacle and all the vessels of the ministry. And according to the law almost all things are purified with blood, and without shedding of blood there is no remission.
Hebrews 9:19-22
The blood of Jesus is for the remission of our sins. Without the shedding of blood there is no remission. When sins are remitted, they are sent away from us. The blood of Jesus has paid for the sins of many. How many? As many who desire to have their sins washed away and sent away. The blood is no respecter of persons.
Since this blood sends our sins away, it is against sins, but is for righteousness. It is for us at all times, never against us. It is for our good, not for evil. It is for redemption and blessing, and against the curse and failure. Since the shed blood sends sins away, whenever we remember that Jesus died for us, we can enter into His righteousness. This is true communion with God.
Remembering that the blood was shed for us to send sins away allows us to enter into His righteousness. When we think on these things, righteousness rises in us by faith. His blood is for our righteousness.
---
WEDNESDAY
For scarcely for a righteous man will one die; yet perhaps for a good man someone would even dare to die. But God demonstrates His own love toward us, in that while we were still sinners, Christ died for us. Much more then, having now been justified by His blood, we shall be saved from wrath through Him.
Romans 5:7-9
We are justified by His blood. His blood was shed for our justification. The blood speaks for us. It answers for our sins. We don't have to try to defend ourselves. We can remain silent when our sins are spoken about. We can call for the blood to speak for us.
We no longer have to answer the voice of self-condemnation. We can know that the blood is for us. It is for our justification. We must believe that we no longer need to try to blame someone or something for our sins. The blood has answered for us. It has sent sin away and now speaks that we are justified.
We have rights and privileges. We have the right to be sons of God. We have been given the spirit of adoption. We cry "Abba Father", and we expect that God will say "Here I am…" We are saved from wrath and judgment.
This blood is for us, not against us.
---
THURSDAY
In Him we have redemption through His blood, the forgiveness of sins, according to the riches of His grace which He made to abound toward us in all wisdom and prudence, having made known to us the mystery of His will, according to His good pleasure which He purposed in Himself, that in the dispensation of the fullness of the times He might gather together in one all things in Christ, both which are in heaven and which are on earth—in Him.
Ephesians 1:7-10
His blood is for our redemption. His blood paid a ransom;it was the required purchase price for our souls. It bought us out of the power of the curse and allowed us to receive an inheritance in Christ. We are redeemed from failure. We are redeemed from hopelessness. We are redeemed from the power of darkness. We now have access to the presence of God by a new and living way.
The blood is alive and speaks. It tells the spirit world that we are just like Him. We are righteous; we are justified. We are holy and without blame because of His blood. We are no longer sinners; we are saved and redeemed by the power of His blood. We are made whole in every way. We are justified by His blood.
His blood is for us, not against us. We must be thankful that the blood was shed. We should never feel ashamed or guilty for the shedding of the blood of Jesus. He is a faithful Creator.
He paid the ransom that He set for our souls. He satisfied His own requirements for our redemption. He did all this for us. We can repay this great gift by giving our all to fulfill His plan for us. We are for Him because we are justified by His blood.
---
FRIDAY
For if the blood of bulls and goats and the ashes of a heifer, sprinkling the unclean, sanctifies for the purifying of the flesh, how much more shall the blood of Christ, who through the eternal Spirit offered Himself without spot to God, cleanse your conscience from dead works to serve the living God?
Hebrews 9:13-14
His blood is for our purging. Purging is different from mere cleansing. When something is cleaned, it may appear to be in good condition. When something had been purged, however, all traces of the former things are washed away. Purging leaves "not a trace" of the former things.
This is why the conscience of the person who has been washed in the blood of Jesus can be free of any recollection of the former self and sins. Since the blood of Jesus sends away our sins, it can remove all traces of our old habits, wants and desires.
His blood can also make our consciences work in cooperation with the spirit of grace. Our consciences will no longer stand in the way of our forward progress. Since we have had our consciences purged from dead works, we can now confidently serve the living God.
We have no need to fear going forward with God. We serve the living God. We are His by the life of His spirit. This blood is so for us, that it motivates us in a new direction. We move toward things that are eternal and not temporal. Things that should be passed away are passed away.
All things become new and renewed because of His blood. It is for us, not against us. This blood is life. It saves us, heals us and redeems us. It is for us in every way.