A teaching by Rev. Barbara Williams, President of the Ministry of the Watchman International
Week of May 23-27, 2022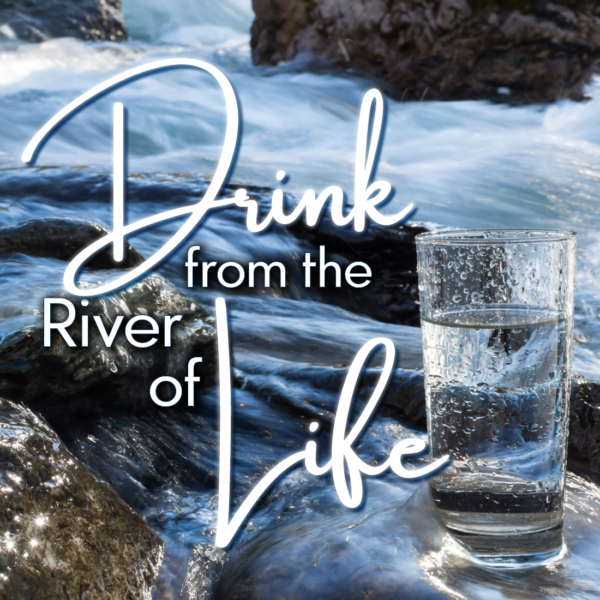 MONDAY
On the last day, that great day of the feast, Jesus stood and cried out, saying, "If anyone thirsts, let him come to Me and drink. He who believes in Me, as the Scripture has said, out of his heart will flow rivers of living water."
John 7:37-38
Jesus makes an intriguing statement here. He says people who are thirsty may come to Him and drink. If we believe what we drink, out of our belly shall flow rivers of living water.
He told the woman at the well, who had many unsatisfying relationships and marriages, that she was merely thirsty for living water. All have sinned and fallen short of the glory of God, so all are thirsty. Even Jesus, when he hung on the cross and had the sins of the world laid upon Him said, "I thirst" (John 19:28). So this thirst that Jesus spoke of is not a natural thirst necessarily, but a spiritual thirst.
When people suffer blood loss, which is a sign of losing life, they become thirsty. There is a general thirst for life that all of us have. We seek living water… the water that only the Holy Spirit can give. Because His water is holy, it is perfect and fills a place in us in such a perfect way that we are able to draw from it over and over again, and will never experience thirst.
He is the River of Life.
---

If you are in need of healing, there is good news! Proverbs 4:20-22 SAYS:
My son, attend to my words; incline thine ear unto my sayings. Let them not depart from thine eyes; keep them in the midst of thine heart. For they are life unto those that find them, and health to all their flesh.
So there is life and health in God's word. Since God's word is medicine, we must take it like we would a prescription. I suggest three times a day, like you would your food. Remember, healing is the children's bread. Consider this your "dose" for today. Remember, read, and meditate three times a day the following:
Rx: Isaiah 58:11~ The Lord will guide you continually, and satisfy your soul in drought, and strengthen your bones; You shall be like a watered garden, and like a spring of water, whose waters do not fail.
---
"Study to show thyself approved unto God, a workman that needeth not to be ashamed, rightly dividing the word of truth."
2 Timothy 2:15
If you've never studied the Bible from Genesis to Revelation, we invite you to join us as we read through the Bible in a year. Read and meditate on these chapters this week:
May 23: Numbers 32, Psalms 77, Isaiah 24, 1 John 2
May 24: Numbers 33, Psalms 78:1-37, Isaiah 25, 1 John 3
May 25: Numbers 34, Psalms 78:38-72, Isaiah 26, 1 John 4
May 26: Numbers 35, Psalms 79, Isaiah 27, 1 John 5
May 27: Numbers 36, Psalms 80, Isaiah 28, 2 John 1
May 28: Deuteronomy 1, Psalms 81-82, Isaiah 29, 3 John 1
May 29: Deuteronomy 2, Psalms 83-84, Isaiah 30, Jude 1

---
TUESDAY
Behold, a king will reign in righteousness, and princes will rule with justice. A man will be as a hiding place from the wind, and a cover from the tempest, as rivers of water in a dry place, as the shadow of a great rock in a weary land.
Isaiah 32:1-2
Isaiah speaks of a time when man will become a source of refreshing in the earth. He speaks of a King coming in righteousness, no doubt to release this type of living water to all mankind. He says that man will be a hidden refreshing, like rivers of living water in a dry place.
What is that dry place? It is the sinful earth. In this sinful, dry place, those who have been touched by the King of Righteousness will be like rivers of water.
Out of our bellies (the seat of the Holy Spirit) will flow rivers of living water. Because we are connected to the Spirit of the Living God, everything that flows out of inner man will be holy, righteous and pure. It will be full of life. This is not an ordinary, earthly life, but it is the very life of God, coming through a human vessel.
This is the pattern set forth by Jesus, who was anointed with the Holy Ghost and power, and who went about doing good, healing those who were oppressed. This living water only does good and brings healing to us and those whom we refresh.
---
WEDNESDAY
And he showed me a pure river of water of life, clear as crystal, proceeding from the throne of God and of the Lamb.
Revelation 22:1
This passage tells us the origin of the river of life. It is a stream of eternal life that emanates from God's throne. All rivers eventually empty into the ocean or another large body of water, like a lake.
Notice that God did not call us pools or lakes, but streams. Streams and rivers are signs of God's blessing. Nobody understands the course that a river takes. Rivers encroach upon the dry and thirsty land and form a source of nourishment for the otherwise dry and barren land. Rivers can be peaceful, but also quite powerful. The course of a river can change and even wear away rocks that have stood for ages. When rivers gain momentum, they can overflow their banks and destroy man-made things.
The river of life can destroy things that are man-made, also. Sin, iniquity, and all unrighteousness will eventually bow to the power of the river of life that springs forth from the lips of the believer. Our most important asset is this precious river that flows from us. We must keep it and protect it. We must draw from it regularly in order that we bring life to hurting, thirsty humanity.
---
THURSDAY
And he showed me a pure river of water of life, clear as crystal, proceeding from the throne of God and of the Lamb.
Revelation 22:1
We are connected to God's throne in such a wonderful way.
All rivers are connected to a much larger source of water. Eventually they empty into the oceans. Why does God connect the rivers and streams to the earth the way He does?
God is the source of our provision, so He wants us to be able to enjoy everything He has provided. God can change the course of any river, so He invites us to pray for His provision. When God places us as believers in the earth, it is to imitate His already present irrigation and life system. He wants us to move about under His direction and pour out His life freely to all that we meet. We are to go into all the world and give this living water to everybody that we meet.
Since we are connected to a heavenly source of this living water, we need never fear a lack of words, opportunity or ability. All we need to do is open our mouths and our Father in heaven fills it with words.
The words of God are life-giving. Because they come from a stream, there is adequate refreshing, but we will not drown the person who is receiving. They may refuse to accept the living water, but we pour it out anyway. Since this water is alive, it may follow them and remind them of what was said. When they decide to take a drink, it will still be there for them.
How amazing is this living water!
---
FRIDAY
Behold, a king will reign in righteousness, and princes will rule with justice. A man will be as a hiding place from the wind, and a cover from the tempest, as rivers of water in a dry place, as the shadow of a great rock in a weary land.
Isaiah 32:1-2
If you haven't ministered the Word of God to someone in a while, you may feel inadequate or unable to do so. You may have to stir up these waters inside of you in order to get the unction flowing and feel ready to serve God in this way. Stir up the waters through meditating on the word.
John 3:16 is a marvelous scripture that allows us to understand how much God loves those who have not accepted Him yet. Allow that scripture to gain new life on the inside of you. Once it is stirred up, the river will begin to flow. It will swell up on the inside of you causing the stream to overflow its banks. Once the dam bursts, you will begin to speak forth the utterances of God. You will have a word in season and you will have the tongue of the learned.
Meditation stirs the waters. You will have wisdom, because the word will provide that. You will be instant in season and out, because the Lord is in charge of the source of the stream. Never underestimate the power of the river of life. We will swim in it one day!