A teaching by Rev. Barbara Williams, President of the Ministry of the Watchman International
Week of June 13-17, 2022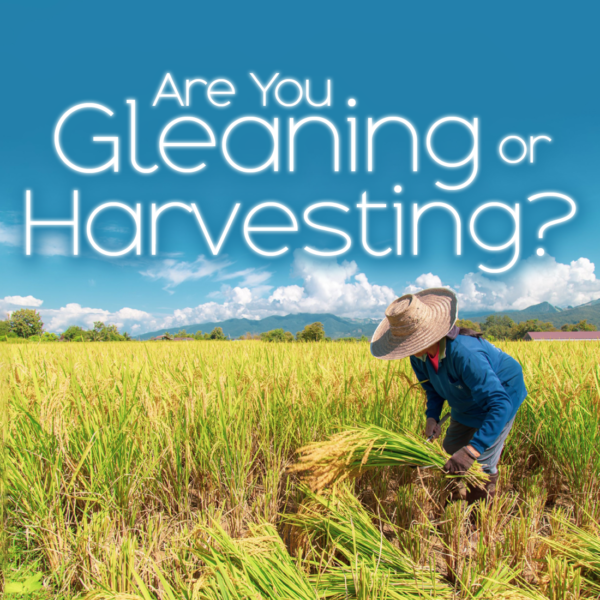 MONDAY
When you reap the harvest of your land, you shall not wholly reap the corners of your field, nor shall you gather the gleanings of your harvest. And you shall not glean your vineyard, nor shall you gather every grape of your vineyard; you shall leave them for the poor and the stranger: I am the Lord your God.
Leviticus 19:9-10
The law of the harvest stated that the reaper was not allowed to harvest his entire crop. He was to leave the corners for the poor and the stranger. Perhaps the most famous gleaner was Ruth, the Moabitess daughter-in-law of Naomi.
Let us look at gleaning for a minute. The gleaner was a person who owned no property or was suffering some type of temporary poverty. Some suffered poverty through slothfulness, mismanagement, misfortune, sickness, death, or accumulated debt. This person was dispossessed of his own property, had no land to farm, and was totally dependent upon the goodness of those who possessed a harvest for his daily bread.
Of course, God provides through all this, but gleaning is not the inheritance of those in covenant with God.
---

If you are in need of healing, there is good news! Proverbs 4:20-22 SAYS:
My son, attend to my words; incline thine ear unto my sayings. Let them not depart from thine eyes; keep them in the midst of thine heart. For they are life unto those that find them, and health to all their flesh.
So there is life and health in God's word. Since God's word is medicine, we must take it like we would a prescription. I suggest three times a day, like you would your food. Remember, healing is the children's bread. Consider this your "dose" for today. Remember, read, and meditate three times a day the following:
Rx: Acts 10:38 ~ God anointed Jesus of Nazareth with the Holy Spirit and with power, who went about doing good and healing all who were oppressed by the devil, for God was with Him.
---
"Study to show thyself approved unto God, a workman that needeth not to be ashamed, rightly dividing the word of truth."
2 Timothy 2:15
If you've never studied the Bible from Genesis to Revelation, we invite you to join us as we read through the Bible in a year. Read and meditate on these chapters this week:
June 13: Deuteronomy 18, Psalms 105, Isaiah 45, Revelation 15
June 14: Deuteronomy 19, Psalms 106, Isaiah 46, Revelation 16
June 15: Deuteronomy 20, Psalms 107, Isaiah 47, Revelation 17
June 16: Deuteronomy 21, Psalms 108-109, Isaiah 48, Revelation 18
June 17: Deuteronomy 22, Psalms 10-111, Isaiah 49, Revelation 19
June 18: Deuteronomy 23, Psalms 112-113, Isaiah 50, Revelation 20
June 19: Deuteronomy 24, Psalms 114-115, Isaiah 51, Revelation 21

---
TUESDAY
When you reap the harvest of your land, you shall not wholly reap the corners of your field, nor shall you gather the gleanings of your harvest. And you shall not glean your vineyard, nor shall you gather every grape of your vineyard; you shall leave them for the poor and the stranger: I am the Lord your God.
Leviticus 19:9-10
I did not say the gleaner was not one of God's people. For example, in the New Covenant, salvation is the initial step, but there is so much more in the New Covenant than saved from our sins. In order to receive the benefits of this covenant, we must access them with our faith. (This gives a clue to the reason why some of the sons of Abraham found themselves having to glean for their daily bread: they had a "dormant" covenant instead of an "active" one).
In order to "activate" or access the covenant benefits, we simply have to believe the word of God and act on it. When the Word is acted upon, we are able to receive all the benefits of our covenant with God. When we fail to believe God, we live as though we have no covenant of blessings. We waive our rights as God's children, and we live as the gleaners did. We live a life distant from God, not knowing from where or if our daily bread is coming.
---
WEDNESDAY
So Ruth the Moabitess said to Naomi, "Please let me go to the field, and glean heads of grain after him in whose sight I may find favor."
And she said to her, "Go, my daughter."
Ruth 2:2
Ruth looks for someone who will allow her to glean in their field. Can you imagine her meekly edging her way into the corner of a huge field, hoping not to be told to leave or to be roughly treated by the owner of the field?
How sad a sight for a child of the King!
Yet this was God's system of provision for the poor of his flock and the stranger. Ruth, though not a Hebrew by birth, was the widow of a son of Abraham. She had chosen to follow their God. While she has not been taught in all their ways, she knows that their custom is to allow those who have nothing of their own to live off the remainder of the crop.
---
THURSDAY
So Ruth the Moabitess said to Naomi, "Please let me go to the field, and glean heads of grain after him in whose sight I may find favor."
And she said to her, "Go, my daughter."
Ruth 2:2
The gleaner not only had to depend upon the kindness of the landowner to gain permission to glean, but he also had to be careful to pick as he was instructed. Sometimes the gleaner was allowed such a small amount that he had to wander from field to field for his food.
Sometimes we feel that the Word is not working, and we seek for another way to have our needs met only to become frustrated in our attempts and come back to the Word. Gleaning is like that. We know deep inside that God wants more for us, but we somehow can't get the big breakthrough that will bring us into abundance.
The reason this way of life seems hard is that God never called us to live by gleaning; He wants us to receive our inheritance. A child of God will never be satisfied until he lives by faith in his covenant with God.
---
FRIDAY
And Boaz answered and said to her, "It has been fully reported to me, all that you have done for your mother-in-law since the death of your husband, and how you have left your father and your mother and the land of your birth, and have come to a people whom you did not know before. The Lord repay your work, and a full reward be given you by the Lord God of Israel, under whose wings you have come for refuge."
Ruth 2:11-12
The gleaner lived in the hope of one day being able to have his own field. This is normal. Perhaps God designed gleaning as a way to show and teach the gleaner how to manage his own land and to inspire him to desire his own.
Boaz observed Ruth gleaning and saw that she was a faithful and good woman and gleaned to help care for her mother-in-law. Gleaning allowed her to develop the character and faithfulness necessary to receive her inheritance. She is invited to sit at the table (Ruth 2:14).
Gleaning has taught her discipline, faithfulness, respect for authority and humility. She is elevated from among the gleaners, and receives the covenant ring by marrying Boaz (Ruth 4:10). She is united with the landlord, Boaz, in covenant. No longer at a distance, she is able to receive full rights and privileges of her covenant.
Not only that, but Ruth has a permanent harvest and became the mother of Kings! (Matthew 1:5).