A teaching by Rev. Barbara Williams, President of the Ministry of the Watchman International
Week of July 25-29, 2022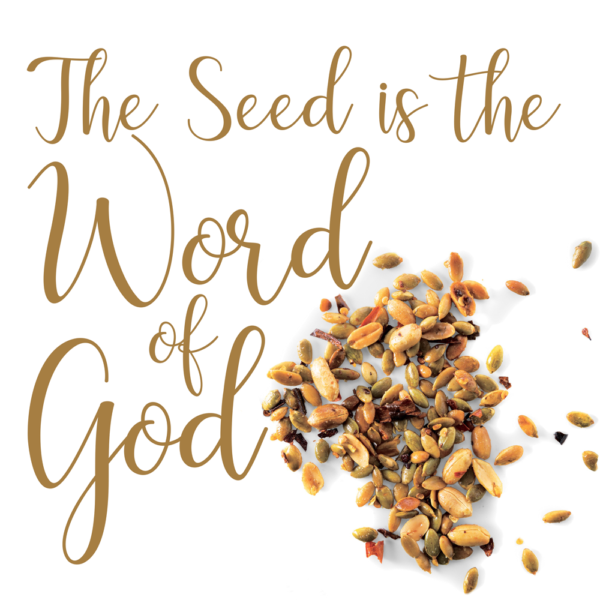 MONDAY
Therefore hear the parable of the sower: When anyone hears the Word of the kingdom, and does not understand it, then the wicked one comes and snatches away what was sown in his heart. This is he who received seed by the wayside.
Matthew 13:18-19
Jesus is blessing the disciples by explaining a parable to them. He rewards those who earnestly seek Him. This is faith that pleases God, (Hebrews 11:6). God has a way of protecting the valuable wisdom that is contained in His word, but He offers it freely to anyone who will ask, (James 1:5).
In this parable, the seed is the Word of God. The fruit that the seed of the Word produces in our lives depends upon the condition of our hearts. The Pharisees were continually confounded by the wisdom with which Jesus spoke. They were speechless most of the time when they questioned Him and He gave them a wise answer. They didn't allow His words to take root to produce understanding and wisdom within them because of the condition of their own hearts. Like the children of Israel in the wilderness, they did not mix the Word they heard with faith, (Hebrews 4:2).
One reason the teaching gift is given to the body of Christ is to bring understanding to the people. We must hear and believe the Word of God before we can benefit from it. When we do, we get both wisdom and understanding; they go hand-in-hand (Proverbs 4:5-7). When we meditate on the Word, we begin to get understanding and the seed can start to take root. Seeking understanding will cause God to give us what we lack.
The devil will snatch the Word that you have heard if you do not understand it, so in all your getting, get understanding.
---

If you are in need of healing, there is good news! Proverbs 4:20-22 SAYS:
My son, attend to my words; incline thine ear unto my sayings. Let them not depart from thine eyes; keep them in the midst of thine heart. For they are life unto those that find them, and health to all their flesh.
So there is life and health in God's word. Since God's word is medicine, we must take it like we would a prescription. I suggest three times a day, like you would your food. Remember, healing is the children's bread. Consider this your "dose" for today. Remember, read, and meditate three times a day the following:
Rx: John 4:49-53 ~ The nobleman said to Him, "Sir, come down before my child dies!" Jesus said to him, "Go your way; your son lives." So the man believed the Word that Jesus spoke to him, and he went his way. And as he was now going down, his servants met him and told him, saying, "Your son lives!" Then he inquired of them the hour when he got better. And they said to him, "Yesterday at the seventh hour the fever left him." So the father knew that it was at the same hour in which Jesus said to him, "Your son lives." And he himself believed, and his whole household.
---
"Study to show thyself approved unto God, a workman that needeth not to be ashamed, rightly dividing the word of truth."
2 Timothy 2:15
If you've never studied the Bible from Genesis to Revelation, we invite you to join us as we read through the Bible in a year. Read and meditate on these chapters this week:
July 25: Judges 8, Acts 12, Jeremiah 21, Mark 7
July 26: Judges 9, Acts 13, Jeremiah 22, Mark 8
July 27: Judges 10:1-11:11, Acts 14, Jeremiah 23, Mark 9
July 28: Judges 11:12-40, Acts 15, Jeremiah 24, Mark 10
July 29: Judges 12, Acts 16, Jeremiah 25, Mark 11
July 30: Judges 13, Acts 17, Jeremiah 26, Mark 12
July 31: Judges 14, Acts 18, Jeremiah 27, Mark 13

---
TUESDAY
But he who received the seed on stony places, this is he who hears the Word and immediately receives it with joy; yet he has no root in himself, but endures only for a while. For when tribulation or persecution arises because of the Word, immediately he stumbles.
Matthew 13:20-21
Stony places keep the Word from taking root in a deep way. Maybe a person goes to meetings or to church and is very excited about the sermon. Many times I see televised meetings with thousands of people standing to their feet yelling back to the preacher, excited about the Word, but if these same people are not careful, they will walk away from the same revelation that they were so excited about.
This is what happened to the disciples the night Jesus was crucified. They had spent three years with the Master, learning all the teachings. They healed the sick, cast out devils, cleansed lepers, but they were unable to grasp the idea that Jesus would be crucified. Heroes live forever, don't they? But Jesus was not merely a hero, as they were soon to find out. These same disciples who worked miracles were superficial in their understanding of Jesus' purpose on earth. When tribulation and persecution came, they forgot the Word that they heard, they responded in fear, and they ran.
---
WEDNESDAY
But he who received the seed on stony places, this is he who hears the Word and immediately receives it with joy; yet he has no root in himself, but endures only for a while. For when tribulation or persecution arises because of the Word, immediately he stumbles.
Matthew 13:20-21
When tribulation and persecution arise because of the Word, these people run away from the Word that they had heard. The Word was sent to them to strengthen them and prepare them for the time of trouble, but stony places don't allow that Word to take root and help them. 
When Jesus told Peter that he would be crucified, Peter rebuked Him. This saying of Jesus was one that Peter did not want to hear. This is typical of how humans are. We rejoice about the Word we hear that we think will serve us, or matches our own agenda or idea of how things should work. However, there are many passages in the Bible that will cause us discomfort. It is best to get these words deep in us, especially if they are hard to swallow. Some of the most beneficial scriptures for us are those that are hard to swallow. If we will stop resisting them, they will produce 100-fold in our lives to bring us the strength, patience and endurance we need in times of trouble. 
Tribulation and persecution hit the disciples when Jesus was arrested. Because they never really received the seed of the Word that He would be crucified and resurrected, they were not able to endure when the persecution that led to His crucifixion arose. 
In times of trouble, hold onto what you've heard. Remember God's Word. Get understanding. Receive His Word with gladness, and let it take root in your heart. It will sustain you if you will believe.
---
THURSDAY
Now he who received seed among the thorns is he who hears the Word , and the cares of this world and the deceitfulness of riches choke the Word, and he becomes unfruitful.
Matthew 13:22
The next person receives the Word, and it begins to take root, but the growth is cut short because of the cares of this world and the deceitfulness of riches.
I am reminded of Achan, who caused all Israel to lose the battle of Ai. He was distracted from the instructions God had given the people when he saw the spoils of the last war. Achan saw a Babylonish garment, some goblets, and other things that had been the property of the Babylonians. He decided to get them for himself. Even though no man saw him take the objects, God saw it. The instructions that God had given (the seed of the Word ) were planted among the thorns of the lusts in his heart. Temptation arose, and his ability to obey the Word failed.
Isn't that they way it is? We get a blessing from God, and instead of receiving and appreciating it, we begin to worship it. Many people say they want to give to God's work, however, they convince themselves they can't afford it. Instead, the thorns of lust for material things choke out the desire to obey God's word concerning giving. Priorities that world sets become our priorities instead of letting the Kingdom come first. Some people hoard and stock up for themselves because of lust created by a lack mentality; the deceitfulness of riches makes them believe that their efforts will keep them secure.
However, God's Word says, "It is possible to give away and become richer! It is also possible to hold on too tightly and lose everything. Yes, the liberal man shall be rich! By watering others, he waters himself," (Proverbs 11:24). The truth is that worldly riches are temporary, and they don't bring the true security they promise. We want prosperity, but true prosperity that remains does not come from the world's wealth—it comes from a prosperous soul, (3 John 2).
---
FRIDAY
But he who received seed on the good ground is he who hears the Word and understands it, who indeed bears fruit and produces: some a hundredfold, some sixty, some thirty.
Matthew 13:23
The last person is the one we always feel we are. We always feel that we receive the Word the right way and produce 100-fold. I'm not sure we totally understand what 100-fold means. When we produce 100-fold on the Word that is sown in our hearts, that means that we are 100% attentive to the Word that is sown when we hear it. We continue to chew on it and meditate on it and let it unlock more and more understanding to us. So often we stop at 30-fold harvest, but there is more available to us if we continue to seek God in faith.
Brother Kenneth Hagin, Sr. was probably the most faithful minister of the Word that I have heard. He went home to Heaven in 2003, but during his life Brother Hagin testified that never took medication—He took the Word. He didn't worry—he cast his cares upon the Lord and went to sleep. How wonderful to be that persuaded in the Word of God!
It is available for all of us, if we make the determined effort to keep our hearts pure before God, stay in faith, and purpose to live by every word that proceeds from the mouth of God. The pure in heart always see the glory of God.