A teaching by Rev. Barbara Williams, President of the Ministry of the Watchman International
Week of September 5-9, 2022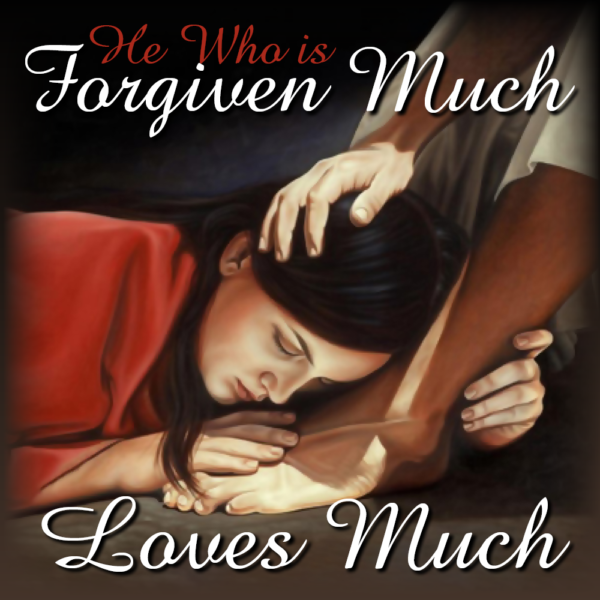 MONDAY
Then one of the Pharisees asked Him to eat with him. And He went to the Pharisee's house, and sat down to eat. And behold, a woman in the city who was a sinner, when she knew that Jesus sat at the table in the Pharisee's house, brought an alabaster flask of fragrant oil, and stood at His feet behind Him weeping; and she began to wash His feet with her tears, and wiped them with the hair of her head; and she kissed His feet and anointed them with the fragrant oil. Now when the Pharisee who had invited Him saw this, he spoke to himself, saying, "This Man, if He were a prophet, would know who and what manner of woman this is who is touching Him, for she is a sinner."
Luke 7:36-39
Jesus is visiting one of the Pharisees. I like this about Jesus. His love is so great that He even dined with His enemies. This is often very hard for us. Breaking bread with our enemies has the potential to make friends out of them. That's the Jesus way.
So here is the Master accepting an invitation from the religious hypocrites of His day. They have an unwanted visitor. This is also true about a Jesus gathering. You will find all kinds of people responding to invitations from God. In any assembly of believers, you will find people from all walks of life. All men seek after God.
The unwelcome visitor is not a Pharisee, but a woman who was known to be a sinner. This woman is in a good place because Jesus is there. John the Baptist called him, "The Lamb of God who takes away the sin of the world!" (John 1:29). Those who don't recognize their own need for forgiveness have a problem. The Pharisees were such people.
So this unwanted woman comes into the Jesus meeting and actually touches Him—right in front of everybody! She had probably touched many men there, but not in public. With Jesus, she finally was able to stop being ashamed of her sins. In the presence of Jesus, she began to sense His great love and forgiveness. This is the way it is when God's love dominates an atmosphere.
Then she began to wash Jesus' feet with her hair. In Hebrew culture, it was customary to wash the feet of guest, or to offer water for them to wash the dust off their feet. This lady was so grateful for the Master's love and forgiveness, that she offered something of herself to comfort Him. She was overcome with emotion and began to cry.
The Pharisee, looking on, begins to doubt Jesus' authenticity as a prophet of God. He assumes that a real prophet would have an attitude like his: judgmental and condemning. After all, the religious leaders always do everything right, don't they?
---

If you are in need of healing, there is good news! Proverbs 4:20-22 SAYS:
My son, attend to my words; incline thine ear unto my sayings. Let them not depart from thine eyes; keep them in the midst of thine heart. For they are life unto those that find them, and health to all their flesh.
So there is life and health in God's word. Since God's word is medicine, we must take it like we would a prescription. I suggest three times a day, like you would your food. Remember, healing is the children's bread. Consider this your "dose" for today. Remember, read, and meditate three times a day the following:
Rx: Isaiah 53:4a ~ Surely He has borne our infirmities and carried our diseases.
---
"Study to show thyself approved unto God, a workman that needeth not to be ashamed, rightly dividing the word of truth."
2 Timothy 2:15
If you've never studied the Bible from Genesis to Revelation, we invite you to join us as we read through the Bible in a year. Read and meditate on these chapters this week:
September 5: 1 Samuel 29-30, 1 Corinthians 10, Ezekiel 8, Psalms 46-47
September 6: 1 Samuel 31, 1 Corinthians 11, Ezekiel 9, Psalms 48
September 7: 2 Samuel 1, 1 Corinthians 12, Ezekiel 10, Psalms 49
September 8: 2 Samuel 2, 1 Corinthians 13, Ezekiel 11, Psalms 50
September 9: 2 Samuel 3, 1 Corinthians 14, Ezekiel 12, Psalms 51
September 10: 2 Samuel 4-5, 1 Corinthians 15, Ezekiel 13, Psalms 52-54
September 11: 2 Samuel 6, 1 Corinthians 16, Ezekiel 14, Psalms 55

---
TUESDAY
Now when the Pharisee who had invited Him saw this, he spoke to himself, saying, "This Man, if He were a prophet, would know who and what manner of woman this is who is touching Him, for she is a sinner."
And Jesus answered and said to him, "Simon, I have something to say to you."
So he said, "Teacher, say it."
Luke 7:39-40
Jesus reads the thoughts of the Pharisee. It's really dangerous to have an errant thought around Jesus. You know, He has sent another Comforter to us in the person of the Holy Spirit, and He works within us the same way Jesus worked. The Holy Spirit searches our hearts (Romans 8:27). This is what Jesus was doing here, and He responded to Simon's heart.
This is an ability of a true prophet of God. Jesus answers this man's inward question, which demonstrated His prophetic gift. It is evident that the Pharisee misread this woman, as all carnal persons do. We sometimes look at the outward appearance and past behavior of a person and think we know what they have in their hearts.
How wrong we are!
I can think of so many instances when I was sure I was right about someone, and was dead wrong all because I judged from the outer. I thought I knew what that person was going to do based upon what they had done in the past. I'm so glad that God looks at the heart, just as Jesus did in this situation.
Jesus tells Simon that He has something to say to him, and Simon invites Him to speak His mind. Often we may think we want to know what He thinks, but do we? Can we handle the outcome of knowing the mind of God?
---
WEDNESDAY
And Jesus answered and said to him, "Simon, I have something to say to you."
So he said, "Teacher, say it."
"There was a certain creditor who had two debtors. One owed five hundred denarii, and the other fifty. And when they had nothing with which to repay, he freely forgave them both. Tell Me, therefore, which of them will love him more?"
Simon answered and said, "I suppose the one whom he forgave more."
Luke 7:40-43
Jesus poses a question to Simon. As Simon begins to answer Jesus, he perhaps thinks that he is being given an opportunity to show Jesus just how good a Pharisee he is. He perhaps does not know that the intent of his heart is about to be exposed to everyone in the room. Sometimes our secret thoughts will be exposed openly if we do not deal with them the right way in the secret place.
Jesus has a very important point to make, so he asks Simon a question that is fitting for their situation. He asks a question relating to debt and forgiveness. He asks which person will most love the person who forgives their debts: the person with the small debt or the one with the large debt.
Simon assumes, as most of us do, that those who have the largest debt forgiven would be the most grateful. It's pretty easy to see when you're talking about money. But Jesus isn't really talking about money, is He?
---
THURSDAY
[Jesus said,] "There was a certain creditor who had two debtors. One owed five hundred denarii, and the other fifty. And when they had nothing with which to repay, he freely forgave them both. Tell Me, therefore, which of them will love him more?"
Simon answered and said, "I suppose the one whom he forgave more."
And He said to him, "You have rightly judged." Then He turned to the woman and said to Simon, "Do you see this woman? I entered your house; you gave Me no water for My feet, but she has washed My feet with her tears and wiped them with the hair of her head. You gave Me no kiss, but this woman has not ceased to kiss My feet since the time I came in. You did not anoint My head with oil, but this woman has anointed My feet with fragrant oil."
Luke 7:43-46
The conclusion is that the person with the most horrible sins would love the most, right? That is true, but how horrible it would be to have many sins, but consider them few. This means that we probably are not acknowledging His forgiveness they way we should. Often we overlook what we do, or consider it "normal for what I'm going through" and never address it, even though we know it is sin. This happens sometimes with things we have no desire to stop doing. Perhaps, if we continue to go to God—even though we're embarrassed and frustrated with our own shortcomings—God will pour out His love and forgiveness in such a powerful way that the desire, burden and guilt are permanently lifted from us.
Simon gives Jesus his answer. Although his answer was correct, his thinking was still wrong. The religious are full of answers, but without God's Spirit, they are still are wrong. One reason is that they think with their fleshly, carnal minds instead of the heart of God. Herein lies the seat of iniquity. The carnal mind is the enemy of the mind of God, (Romans 8:7).
Jesus brings the woman forward, (whom Simon has judged as a dirty sinner and unworthy to be in his house), and begins to talk about her to Simon. Simon probably though Jesus was going to read her mail and expose her sins. Wrong, Simon! Jesus is going to read your mail. In fact, He already has.
Jesus then begins to compare this woman's behavior toward Him to that of Simon's. He tells Simon that this woman washed His feet, where Simon never bothered to offer the Master any water for His feet.
How welcome do we allow Jesus to feel in our presence? Do we take ample time to minister to Him in praise and adoration? Do we care to acknowledge Him at all?
Simon never greeted Jesus with a kiss, but the woman kissed His feet. Neither did Simon offer Him ointment with which to groom His hair but the woman poured very costly ointment upon His head and made Him comfortable.
How is it this woman, who was a known sinner got so close to the Master, ministered to Him, and all these things, when the religious perfectionist never acknowledged the presence of Jesus?
---
FRIDAY
[Jesus said,] "Therefore I say to you, her sins, which are many, are forgiven, for she loved much. But to whom little is forgiven, the same loves little."
Then He said to her, "Your sins are forgiven."
And those who sat at the table with Him began to say to themselves, "Who is this who even forgives sins?"
Then He said to the woman, "Your faith has saved you. Go in peace."
Luke 7:47-50
The answer is very clear. This woman, who knew she was forgiven of much, loved much. The amount of love you have is proportional to the amount of forgiveness you have acknowledged you have received. The truth is all have sinned and fallen short of His glory, and we have been justified freely by His grace, (Romans 3:23-24). Our sins have been many, but because of His great mercy, we can live in peace because we know we have been forgiven much.
The key to loving God is in knowing who you are, what you have done, and confessing before God. Don't be ashamed to be honest before Him. He invites us to come boldly to His throne of grace to receive the mercy and help we need whenever we need it, (Hebrews 4:16). This woman loved much—not because she was perfect—but because she recognized how much Jesus loved and forgave her.
Love the Lord! Bless the Lord! Do not forget any of His benefits! He forgives all your sins, and removes them from you as far as the east is from the west, (Psalm 103). Keep the love flow open! You can love much because you have been forgiven much!