A teaching by Rev. Barbara Williams, President of the Ministry of the Watchman International
Week of October 17-21, 2022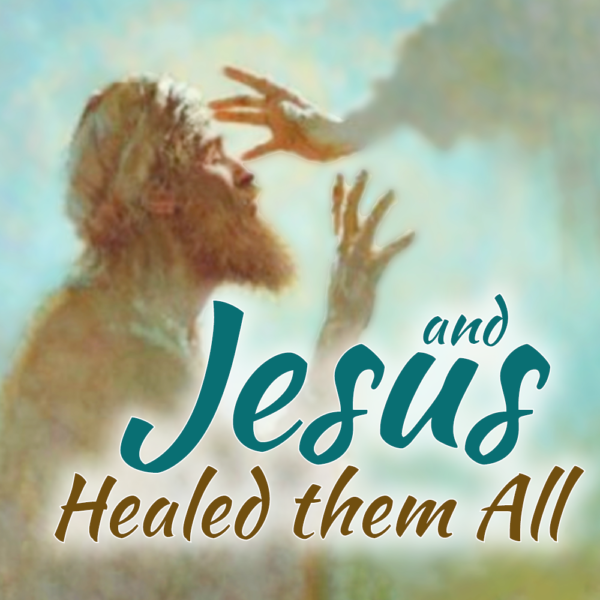 MONDAY
And Jesus came down with them and stood on a level place with a crowd of His disciples and a great multitude of people from all Judea and Jerusalem, and from the seacoast of Tyre and Sidon, who came to hear Him and be healed of their diseases, as well as those who were tormented with unclean spirits. And they were healed. And the whole multitude sought to touch Him, for power went out from Him and healed them all.
Luke 6:17-19
They came to hear and be healed. It is good to come to a Jesus meeting with expectation. Expectation is an essential part of faith. Without faith it is impossible to please God and to receive His blessings. With faith we can do many things. Faith can do the impossible. Faith can move mountains. Is there a mountain facing you in your life today? Then come and hear and be healed. Come with the purpose of hearing and being healed. This is God's way. Faith comes by hearing, and hearing by the Word of God. God blesses us tremendously when we hear His word. It is a blessing to us to hear the Word of God. He tells us to not harden our hearts when we hear His voice. If we keep our hearts softened then the Word becomes planted in good soil. This type of soil produces exactly what we hear.
If we hear words of healing, then we will believe that Jesus wants us well, and we will receive our healing. If we hear words of repentance, we will know that God expects us to live a life of holiness and will turn away from our wicked ways. If we hear words of prosperity, then we will know that meditating on the Word, observing and doing it, will cause us to have good success in all that we undertake. When we hear and believe God's word, we are healed.
---

If you are in need of healing, there is good news! Proverbs 4:20-22 SAYS:
My son, attend to my words; incline thine ear unto my sayings. Let them not depart from thine eyes; keep them in the midst of thine heart. For they are life unto those that find them, and health to all their flesh.
So there is life and health in God's word. Since God's word is medicine, we must take it like we would a prescription. I suggest three times a day, like you would your food. Remember, healing is the children's bread. Consider this your "dose" for today. Remember, read, and meditate three times a day the following:
Rx: Nahum 1:7-9 ~ The Lord is good, a stronghold in the day of trouble; He knows those who take refuge in Him. But with an overflowing flood He will make a complete end of the adversaries, and will pursue His enemies into darkness. What do you conspire against the Lord? He will make an utter end of it. Affliction will not rise up a second time.
---
"Study to show thyself approved unto God, a workman that needeth not to be ashamed, rightly dividing the word of truth."
2 Timothy 2:15
If you've never studied the Bible from Genesis to Revelation, we invite you to join us as we read through the Bible in a year. Read and meditate on these chapters this week:
October 17: 1 Kings 20, 1 Thessalonians 3, Daniel 2, Psalms 106
October 18: 1 Kings 21, 1 Thessalonians 4, Daniel 3, Psalms 107
October 19: 1 Kings 22, 1 Thessalonians 5, Daniel 4, Psalms 108-109
October 20: 2 Kings 1, 2 Thessalonians 1, Daniel 5 Psalms 110-111
October 21: 2 Kings 2, 2 Thessalonians 2, Daniel 6, Psalms 112-113
October 22: 2 Kings 3, 2 Thessalonians 3, Daniel 7, Psalms 114-115
October 23: 2 Kings 4, 1 Timothy 1, Daniel 8, Psalms 116

---
TUESDAY
And Jesus came down with them and stood on a level place with a crowd of His disciples and a great multitude of people from all Judea and Jerusalem, and from the seacoast of Tyre and Sidon, who came to hear Him and be healed of their diseases, as well as those who were tormented with unclean spirits. And they were healed. And the whole multitude sought to touch Him, for power went out from Him and healed them all.
Luke 6:17-19
Are you vexed with unclean spirits? Spirits that torment and harass us will leave us when we come to hear and be healed. Jesus came to destroy the works of the devil. He went about doing good and healing all that were oppressed of the devil because God was with Him (Acts 10:38). He lived on earth as a man who was full of God. He was full of God's power and God's love. He says we can do the same works and greater works than He did. We simply need to be filled with God's power and God's love.
The love of God has healing and delivering power. Many people are healed and delivered from the power of unclean spirits when they hear the story of God's great love for us. When we hear the story about Jesus coming to earth as a baby, then growing up to defeat the devil and foil his plans for humanity, then loving and healing them all, then shedding his blood and dying in our place, we are moved with His love and compassion, and desire to forsake our sins and live for Him.
---
WEDNESDAY
And Jesus came down with them and stood on a level place with a crowd of His disciples and a great multitude of people from all Judea and Jerusalem, and from the seacoast of Tyre and Sidon, who came to hear Him and be healed of their diseases, as well as those who were tormented with unclean spirits. And they were healed. And the whole multitude sought to touch Him, for power went out from Him and healed them all.
Luke 6:17-19
Because the whole multitude sought to touch Him, virtue went out of Him. This is sometimes referred to as making a demand with your faith. Faith makes a demand on the promises of God. Jesus always represents all the promises of God. He represents the will of God. He represents the virtue of God because as the Son of God, He is heir to all things. All power is in His hands.
So why not seek to touch Him? When we touch Jesus with our faith, there is a transfer of His virtue to us. As joint-heirs with Him, we are entitled to receive all the things that our covenant promises. This includes the right to be free from all forms of disease.
If the enemy has put sickness upon you, then you have a right to be healed by touching Jesus. Come close to Him and learn of Him by reading and hearing His word. Find good faith-filled healing teaching tapes that cause us to believe that impossible, incurable diseases will be healed in Jesus' name. Find encouraging scriptures that cause us to come closer to Jesus.
The whole multitude was healed, so there is no limit to God's healing power. If He healed the multitude, then He will heal you.
---
THURSDAY
Then Jesus said to them, "What man is there among you who has one sheep, and if it falls into a pit on the Sabbath, will not lay hold of it and lift it out? Of how much more value then is a man than a sheep? Therefore it is lawful to do good on the Sabbath." Then He said to the man, "Stretch out your hand." And he stretched it out, and it was restored as whole as the other.
Matthew 12:11-13
Jesus likens His love for us to that of a man for his sheep. Then he declares that a man is better than many sheep. He declares that it is lawful for a man to be healed on the Sabbath Day. This was considered a day when no man was allowed to work, but Jesus said that if a man can rescue a fallen sheep from a pit on the Sabbath, then God will rescue us fallen sheep from sickness on the Sabbath.
This is good news. This means that we can expect to be healed at any time. There is no set date or time that God has chosen to heal us; it is merely a matter of our believing that Jesus healed them all. "All" includes you and me.
Are you waiting for God to heal you? Wait no longer! You are healed, since Jesus has satisfied the conditions for your healing. He suffered sickness so that you could go free. You cannot pay the debt twice. Even in natural law, to try a person twice for the same crime once he has been pardoned is considered double jeopardy and therefore illegal.
Satan has to let you go once you believe that the penalty for your sins and sicknesses has been paid.
---
FRIDAY
Then the Pharisees went out and plotted against Him, how they might destroy Him. But when Jesus knew it, He withdrew from there. And great multitudes followed Him, and He healed them all.
Matthew 12:14-15
Are there obstacles to your healing?
The Pharisees always protested Jesus ministry. There are Pharisees in our midst now. Perhaps it is some religious mindset that tells you that you must somehow earn your healing from God.
Maybe it is fear. Perhaps it is relying on man, medicine, or natural remedies. Sometimes we live in condemnation and feel unworthy to receive from God.
Jesus knows about the obstacles. Sometimes it may appear that He has withdrawn Himself from our situation. When we focus on the obstacles, we do not exercise our faith, and the Healer will withdraw Himself. Jesus' power and anointing will not be in operation when we focus on obstacles, unbelief, or fear.
But He is still our Healer and He still healed them all. He is merely drawing us into a different path so that we will follow Him and focus totally upon Him. When our full focus in on Jesus, then we find our faith restored, our expectation increase, and our health begins to spring forth speedily.
Here we see the multitudes follow Him again, and of course he healed them all.