A teaching by Rev. Barbara Williams, President of the Ministry of the Watchman International
Week of December 5-9, 2022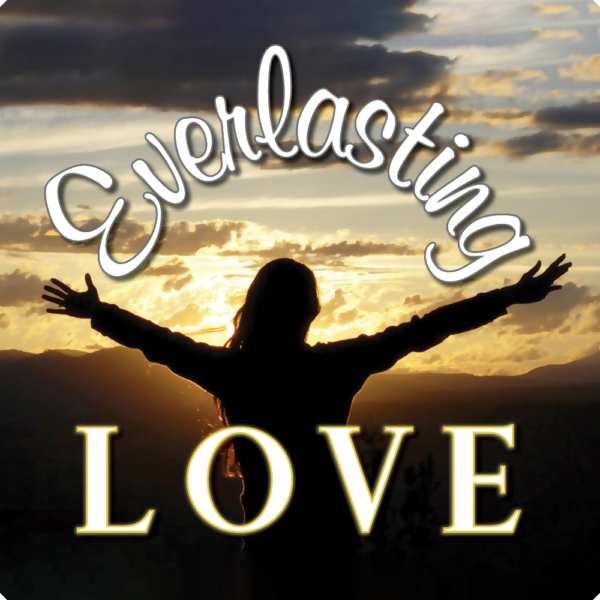 MONDAY
The Lord has appeared of old to me, saying: "Yes, I have loved you with an everlasting love; Therefore with lovingkindness I have drawn you."
Jeremiah 31:3
God loves humanity with an everlasting love. These words spoken to the nation of Israel through the prophet Jeremiah ring true to us today.
What is everlasting love? What qualities make love eternal? Are we humans capable of this kind of love? How is this love different from any other love? Are there different kinds of love? These questions can be answered very simply and easily if we search the scriptures.
The word everlasting has the same meaning as the word eternal. Eternal really means "without beginning or end." This type of love is preexistent before any recorded history, any people were formed; before anything was, it was.
Love is described as a "strong affection or emotion based on familial or social relationship." This strong emotion ties people one to another. They become bonded together through the emotion of love.
But how about eternal love? Is it possible that love comes long before two persons meet? Is it possible that we are loved long before we are ever conceived?
If we become the objects of eternal love, could it be that there is a force of love shed on us that is there from the beginning of time? What a powerful thing to think that we are loved before we ever come into the world. But this is exactly what eternal love does. It loves you before you are you.
---

If you are in need of healing, there is good news! Proverbs 4:20-22 SAYS:
My son, attend to my words; incline thine ear unto my sayings. Let them not depart from thine eyes; keep them in the midst of thine heart. For they are life unto those that find them, and health to all their flesh.
So there is life and health in God's word. Since God's word is medicine, we must take it like we would a prescription. I suggest three times a day, like you would your food. Remember, healing is the children's bread. Consider this your "dose" for today. Remember, read, and meditate three times a day the following:
Rx: Isaiah 53:5 ~ But He was wounded for our transgressions; He was bruised for our iniquities. The chastisement of our peace was upon Him, and with His stripes we are healed.
---
"Study to show thyself approved unto God, a workman that needeth not to be ashamed, rightly dividing the word of truth."
2 Timothy 2:15
If you've never studied the Bible from Genesis to Revelation, we invite you to join us as we read through the Bible in a year. Read and meditate on these chapters this week:
December 5: 2 Chronicles 3-4, 1 John 3, Nahum 3, Luke 19
December 6: 2 Chronicles 5-6:11, 1 John 4, Habakkuk 1, Luke 20
December 7: 2 Chronicles 6:12-42, 1 John 5, Habakkuk 2, Luke 21
December 8: 2 Chronicles 7, 2 John 1, Habakkuk 3, Luke 22
December 9: 2 Chronicles 8, 3 John 1, Zephaniah 1, Luke 23
December 10: 2 Chronicles 9-10, Jude 1, Zephaniah 2, Luke 24
December 11: 2 Chronicles 11-12, Revelation 1-2, Zephaniah 3, John 1

---
TUESDAY
The Lord has appeared of old to me, saying: "Yes, I have loved you with an everlasting love; Therefore with lovingkindness I have drawn you."
Jeremiah 31:3
Now wait, Barb. How can anybody love me before I'm me? How is that possible? With God. Eternal or everlasting love originates with God. Love is God.
All of his attributes combined together, when summed up equal love. God's thoughts toward us are love thoughts. His actions toward us are love actions. His words are love words. There is nothing that He does that is not filled with love. Did you hear what I said? His actions are filled with love.
There is no shortage of goodness, kindness, mercy, loving kindness, steadfastness, faithfulness, gentleness, or any of the great fruit of the spirit in our God. He is full of love and His kind of love is a great force that causes everything that goes right in the world to happen.
God's love is a life-changing force that causes people to be changed for the better, eternally. There is no person on the earth who has been touched by God that has ever been the same. Everlasting love does that. It changes everything that it touches and makes it like itself. That's what happened when you were born again.
And guess what? If you are not born again, it can happen to you. You are not the same person you were before meeting Jesus. You will never be the same after meeting Him. Why? Because you have been touched by everlasting love. You will never be the same! That's the power of the love of God.
---
WEDNESDAY
The Lord has appeared of old to me, saying: "Yes, I have loved you with an everlasting love; Therefore with lovingkindness I have drawn you."
Jeremiah 31:3
The power of everlasting love was felt by Adam and Eve many times as they walked in the garden of Eden with God. God's everlasting love caused Him to fashion man from the dust of the ground.
The man and the woman were hand crafted by God with such patience and precision and care, that it caused David to say, " I am fearfully and wonderfully made" (Psalm 139:14). Scientists are still trying to understand how the human body works. The more they find out, the more mysteries they unfold.
The Greeks were captivated by the beauty of the external structure of the human body. This creation of God still captures our attention and evokes a sensation of awe. It is the love with which we have been fashioned that brings about this response from us. It is a strong emotion. It is a reflection of the love with which we are created.
It is not the same type of love with which we are created, but it is the effect of that love upon us. It is our response to the agape love of God. It is a reverence and respect for our creator, and an admiration of His creation.
---
THURSDAY
The Lord has appeared of old to me, saying: "Yes, I have loved you with an everlasting love; Therefore with lovingkindness I have drawn you."
Jeremiah 31:3
The Greek word, agape, was not found in use very much before the time of Christ. There were other words for love in their language, (which is very exact) but the word agape, though it existed, was not utilized much because it was rare—rare, that is, until Jesus came on the scene.
When Jesus preached about love, the writers realized that He was not speaking about erotic love, or brotherly love, but He was speaking about a higher type of love.
The love Jesus talked about was an aggressive, militant, forceful yet gentle love that melted hardened hearts, caused sinners to desire to worship God, and was freely given to all who would serve the master. It was a type of love that could not be bottled up, for Jesus commanded us to do this type of love. It was a love that could be released by one's will and never failed to accomplish. It was a love that caused a once battered and shy person to go forth in boldness to conquer those who had wronged him with this love.
This love is strong, resilient, dynamic, full of joy, and infectious. This love causes great forgiveness to come into the hearts of those who receive it. It cannot be resisted. This love is from everlasting to everlasting. This love is God.
---
FRIDAY
The Lord has appeared of old to me, saying: "Yes, I have loved you with an everlasting love; Therefore with lovingkindness I have drawn you."
Jeremiah 31:3
This love never lets go. The more one tries to resist it, the more the person is entrapped and captivated by it. It's much like trying to get sticky dough off your hands. If you keep touching it, you get stuck all the more. Who has been able to resist the love of God?
David said, "if I make my bed in hell, you are there," (Psalm 139:8). Love is the force that draws God continually toward us. What can separate us from the love of God? The love of God is everywhere. Who can control the love of God? Love never fails. Love is patient and kind, not boastful, or arrogant, though it is a powerful, irresistible force to be reckoned with.
Does God doubt the power of His love? Of course He doesn't. That is why He says with loving kindness He will draw us back to Him. He doesn't have to threaten or intimidate us, He just draws us with his love. He woos us to Himself with His powerful agape love. Love lasts forever. After every other gift of God ceases, there will be love.
Have you experienced the love of God? Are you still resisting Him? I dare you to reflect on your salvation experience. How about the time you nearly escaped serious injury in a traffic accident? How about the last time your husband brought home flowers.
What about the many answers to prayer. What about the times when you weren't saved that somehow the miraculous happened and you knew somebody was looking out for you…with everlasting love. And we've only experienced a few years of it. Just think, we get to have everlasting love eternally.