A teaching by Rev. Barbara Williams, President of the Ministry of the Watchman International
Week of December 12-16, 2022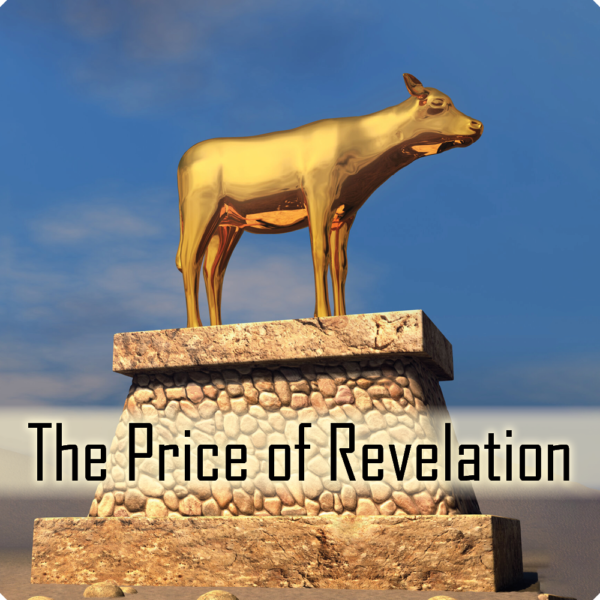 Indeed, I count everything as loss because of the surpassing worth of knowing Christ Jesus my Lord. For his sake I have suffered the loss of all things and count them as rubbish, in order that I may gain Christ…
Philippians 3:8
MONDAY
Now when the people saw that Moses delayed coming down from the mountain, the people gathered together to Aaron, and said to him, "Come, make us gods that shall go before us; for as for this Moses, the man who brought us up out of the land of Egypt, we do not know what has become of him."
And Aaron said to them, "Break off the golden earrings which are in the ears of your wives, your sons, and your daughters, and bring them to me." So all the people broke off the golden earrings which were in their ears, and brought them to Aaron. And he received the gold from their hand, and he fashioned it with an engraving tool, and made a molded calf.
Then they said, "This is your god, O Israel, that brought you out of the land of Egypt!"
So when Aaron saw it, he built an altar before it. And Aaron made a proclamation and said, "Tomorrow is a feast to the Lord." Then they rose early on the next day, offered burnt offerings, and brought peace offerings; and the people sat down to eat and drink, and rose up to play.
Exodus 32:1-6
Moses was chosen to lead the Lord's people as a minister. We are all leaders in one arena or another. The anointing of God qualifies us to lead. Whether it is of our families, people on our jobs, church or prayer group, we all have leadership capability and will be called upon God to have that ability activated.
Leadership requires that we have a revelation of God. A revelation is something that you know about God that He has shown you. It becomes life and real to you, so that you can share it with others and it becomes life and real to them. How you acquire this revelation is something that only you and God can work out. It is worked out through your relationship with Him. God chose Moses to lead, and Moses had to maintain and cultivate his relationship with God to receive the revelation to help the people. A minister who has little or no relationship with God is a very poor minister.
Moses spent a long period of time with God, so the people felt that Moses was no longer interested in them. This is the price of revelation: you will lose popularity with people.
The people talked Aaron into making a golden calf for them to worship. This is not spiritual worship. This is worship by popularity. People will worship anything, but God desires that we worship Him only. He is explaining this to Moses at the very time the people are demanding that Aaron be their new leader and allow them to do what they desire.
So often, people are led by their flesh to choose leaders, and not by the Spirit of God. We choose people that we like, or that say the things we want to hear. Often, we do not consult the Lord to find the person who He wants to teach us. Only God knows where you belong. Only God knows what He wants to make out of you.
---

If you are in need of healing, there is good news! Proverbs 4:20-22 SAYS:
My son, attend to my words; incline thine ear unto my sayings. Let them not depart from thine eyes; keep them in the midst of thine heart. For they are life unto those that find them, and health to all their flesh.
So there is life and health in God's word. Since God's word is medicine, we must take it like we would a prescription. I suggest three times a day, like you would your food. Remember, healing is the children's bread. Consider this your "dose" for today. Remember, read, and meditate three times a day the following:
Rx: Isaiah 33:24 ~ No one living in Zion will say, "I am sick"; and the sins of those who dwell there will be forgiven.
---
"Study to show thyself approved unto God, a workman that needeth not to be ashamed, rightly dividing the word of truth."
2 Timothy 2:15
If you've never studied the Bible from Genesis to Revelation, we invite you to join us as we read through the Bible in a year. Read and meditate on these chapters this week:
December 12: 2 Chronicles 13, Revelation 3, Haggai 1, John 2
December 13: 2 Chronicles 14-15, Revelation 4, Haggai 2, John 3
December 14: 2 Chronicles 16, Revelation 5, Zechariah 1, John 4
December 15: 2 Chronicles 17, Revelation 6, Zechariah 2, John 5
December 16: 2 Chronicles 18, Revelation 7, Zechariah 3, John 6
December 17: 2 Chronicles 19-20, Revelation 8, Zechariah 4, John 7
December 18: 2 Chronicles 21, Revelation 9, Zechariah 5, John 8

---
TUESDAY
And the Lord said to Moses, "Go, get down! For your people whom you brought out of the land of Egypt have corrupted themselves. They have turned aside quickly out of the way which I commanded them. They have made themselves a molded calf, and worshiped it and sacrificed to it, and said, 'This is your god, O Israel, that brought you out of the land of Egypt!'" And the Lord said to Moses, "I have seen this people, and indeed it is a stiff-necked people! Now therefore, let Me alone, that My wrath may burn hot against them and I may consume them. And I will make of you a great nation."
Exodus 32:7-10
Boy, this made God mad enough to start all over again with Moses. The people had actually given the golden calf credit for bringing them out of Israel. Can you blame God? Think about it. God has proven Himself to the people, fulfilling a four hundred-year-old prophecy. He leads them out through signs and wonders, riches, health and immunity from death, and now just because their leader wants to spend time with God, preparing himself to be a better leader, they decide to fire him. It's enough to make anybody mad. They take the things that God gave them and offer them to a dead god.
We do it all the time.
God blesses us with health, and we abuse it. He gives us good jobs, good money, fine homes, nice cars, and we crab because He asks us to let somebody come over for prayer, or give another saint a ride to church. Many things that we possess could easily be put into service for God, but we offer them to the god of idleness instead.
We're afraid of a little exertion. We're afraid of a little commitment, a little service. We're afraid of… guess what? MINISTRY!
The children of Israel were so impatient to have what satisfied their flesh, they couldn't believe that Moses was spending time with God for THEIR good. Guess what else? When we spend time with God it is for our good, also. Whatever He requires of us, we get the greatest benefit from it.
---
WEDNESDAY
Then Moses pleaded with the Lord his God, and said: "Lord, why does Your wrath burn hot against Your people whom You have brought out of the land of Egypt with great power and with a mighty hand? Why should the Egyptians speak, and say, 'He brought them out to harm them, to kill them in the mountains, and to consume them from the face of the earth'? Turn from Your fierce wrath, and relent from this harm to Your people. Remember Abraham, Isaac, and Israel, Your servants, to whom You swore by Your own self, and said to them, 'I will multiply your descendants as the stars of heaven; and all this land that I have spoken of I give to your descendants, and they shall inherit it forever.'" So the Lord relented from the harm which He said He would do to His people.
And Moses turned and went down from the mountain, and the two tablets of the Testimony were in his hand. The tablets were written on both sides; on the one side and on the other they were written. Now the tablets were the work of God, and the writing was the writing of God engraved on the tablets.
And when Joshua heard the noise of the people as they shouted, he said to Moses, "There is a noise of war in the camp."
But he said: "It is not the noise of the shout of victory, nor the noise of the cry of defeat, but the sound of singing I hear."
So it was, as soon as he came near the camp, that he saw the calf and the dancing. So Moses' anger became hot, and he cast the tablets out of his hands and broke them at the foot of the mountain.
Exodus 32:11-19
Well, the price is going up. Not only have the people fired Moses, but also Moses is about to feel the same anger at the people that God felt. This is a side effect of time spent with God. You feel like He feels. Moses has just convinced God not to destroy the people. It's a good thing Moses knows the Word, so he can intercede according to God's covenant with the people. It's interesting that we can ask God for things based on how we feel, but sometimes God wants us to know how He feels. Every good leader should have this experience. We also need to know how the people feel for whom we pray.
After Moses convinces God not to destroy the people (and embarrass Himself in front of the Egyptians) God tells Moses to go down and check on the people, that they have made a golden calf and offered burnt offerings to it.
As Moses approaches the foot of the mountain, he hears the sound of singing. When he sees how backslid the people are, and that they have continued in the ways of Egypt, he breaks all ten of the commandments God just gave him (figuratively speaking, of course).
In one movement of anger, Moses has destroyed the work of God's hands. Those commandments were written with the finger of God. Moses had judged God's anger as excessive when He thought to destroy the children of Israel, but Moses' anger at the people caused him to sin against God.
Is this part of the price of revelation? It sure is. Whenever we get a new insight into God's character, we tend to judge it against what we know and believe. We judge God by our standards, and find He is too harsh. We look at His word and decide we can't do what it commands. Then we find that if we don't do as it commands, we are the worse for it. This struggle to accept the new revelation is a part of the price, also, but if we keep working at it, we will eventually choose God's way.
---
THURSDAY
Then he took the calf which they had made, burned it in the fire, and ground it to powder; and he scattered it on the water and made the children of Israel drink it. And Moses said to Aaron, "What did this people do to you that you have brought so great a sin upon them?"
So Aaron said, "Do not let the anger of my lord become hot. You know the people, that they are set on evil. For they said to me, 'Make us gods that shall go before us; as for this Moses, the man who brought us out of the land of Egypt, we do not know what has become of him.' And I said to them, 'Whoever has any gold, let them break it off.' So they gave it to me, and I cast it into the fire, and this calf came out."
Now when Moses saw that the people were unrestrained (for Aaron had not restrained them, to their shame among their enemies), then Moses stood in the entrance of the camp, and said, "Whoever is on the Lord's side—come to me!" And all the sons of Levi gathered themselves together to him. And he said to them, "Thus says the Lord God of Israel: 'Let every man put his sword on his side, and go in and out from entrance to entrance throughout the camp, and let every man kill his brother, every man his companion, and every man his neighbor.'" So the sons of Levi did according to the word of Moses. And about three thousand men of the people fell that day.
Exodus 32:20-28
Well, now it is a civil war. Brother against brother. Whenever sin is uncovered among God's people, war between the brethren breaks out. God has just given Moses a law book by which to govern, teach and judge His people. God has been angered by their sin, but Moses is angrier. He has a sense of what is right and wrong, but he has no mastery of it yet. In trying to correct the people, he causes a division in the camp.
Is this the price of revelation? Of course it is. Whenever you get a new understanding of God and who He is, there will be some that cannot accept the truth. A division in the ranks will ensue, and you will be forced to know who is on the Lord's side.
Whenever a church or body of believers makes the move toward deeper, stronger revelation, there will be those dissenters who do not want to accept the new. They want the old. They want the calf of Egypt. When Moses questions his own brother, Aaron lies to him and blames the people for his actions. Can God use this bunch of people? Of course He can. They are all paying the price of revelation.
---
FRIDAY
Then Moses said, "Consecrate yourselves today to the Lord, that He may bestow on you a blessing this day, for every man has opposed his son and his brother."
Now it came to pass on the next day that Moses said to the people, "You have committed a great sin. So now I will go up to the Lord; perhaps I can make atonement for your sin." Then Moses returned to the Lord and said, "Oh, these people have committed a great sin, and have made for themselves a god of gold! Yet now, if You will forgive their sin—but if not, I pray, blot me out of Your book which You have written."
And the Lord said to Moses, "Whoever has sinned against Me, I will blot him out of My book. Now therefore, go, lead the people to the place of which I have spoken to you. Behold, My Angel shall go before you. Nevertheless, in the day when I visit for punishment, I will visit punishment upon them for their sin."
So the Lord plagued the people because of what they did with the calf which Aaron made.
Exodus 32:29-35
Moses has judged the guilty. Those who were on the Lord's side have killed those who were not. He convinces the remaining ones to consecrate themselves to God. Moses hopes that this act of judgment will appease God, and that God will turn and bless the faithful ones. But God is not a God who delights in human sacrifice. He loves a broken spirit and contrite heart. As we draw close to God to learn of Him, we must forsake father, mother, husband, and wife. Only then can God reveal Himself fully to us. He must have our full attention. Moses has only scratched the surface in understanding God. He has paid a great price and the amount of revelation seems so small, but is it?
From this encounter with God, Moses received the seed of the whole of the Bible, the greatest collection of books ever written. The ten commandments set man's moral compass for ages. The legal system of modern civilization owes its strength to this revelation of God handed to a mere man, barely able to control his temper.
Was the price of this revelation too great? You decide.
What price is God asking you to pay? Maybe a few more hours spent in His word? Maybe a new dimension of worship? Maybe fasting, or some other sacrifice. Whatever the price, make sure you pay the full price. A life of separation unto God is a great blessing. The revelation you gain will be used to minister life and blessing to others for as long as Jesus desires to use it.