A teaching by Rev. Barbara Williams, President of the Ministry of the Watchman International
Week of August 14-18, 2023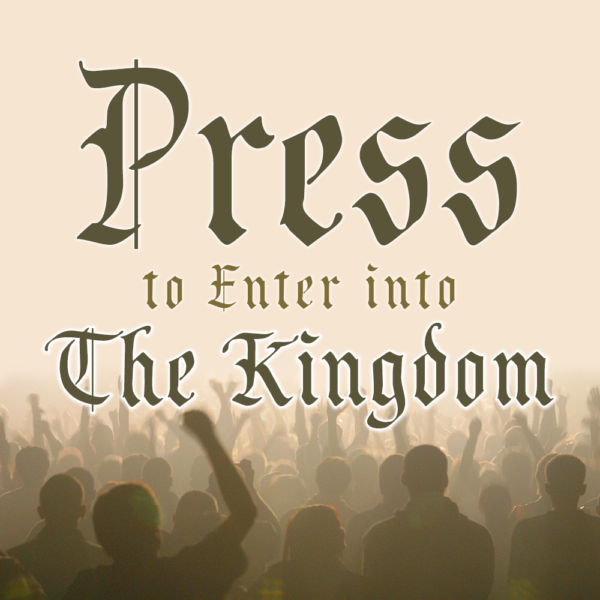 MONDAY
[Jesus said to them,] "The Law and the Prophets were until John. Since that time the Kingdom of God is preached, and everyone is pressing into it."
Luke 16:16
Jesus' statement here is worthy of note. He is talking about a change in the way people perceive and apprehend the things that are necessary for life. He is talking about Kingdom living, the life that He has ordained that we live. Get that: ordained, as in ordered, not requested.
You ever notice that God never begs anybody to do anything? So certain is He of the rightness and justice of His ways that He gives a firm command to all, then a promise to those who obey His command. Jesus is telling all who will hear that, in times past, God's people were taught by the law and the prophets. These are instructions for living that were seldom carried out because of man's inability to carry them out.
After this time, the Kingdom is preached, and everyone "presses" into that Kingdom. To "press" here is the same translation as in Matthew 11:12, where God says that the Kingdom suffers violence. This press means that men rush against a resistance and there must be a violent (intense or severe) seizure of the Kingdom of God.
How violent are you?
Do you press?
---

If you are in need of healing, there is good news! Proverbs 4:20-22 SAYS:
My son, attend to my words; incline thine ear unto my sayings. Let them not depart from thine eyes; keep them in the midst of thine heart. For they are life unto those that find them, and health to all their flesh.
So there is life and health in God's word. Since God's word is medicine, we must take it like we would a prescription. I suggest three times a day, like you would your food. Remember, healing is the children's bread. Consider this your "dose" for today. Remember, read, and meditate three times a day the following:
Rx: Psalm 105:37 ~ He brought them forth also with silver and gold: and there was not one feeble person among their tribes.
---
"Study to show thyself approved unto God, a workman that needeth not to be ashamed, rightly dividing the word of truth."
2 Timothy 2:15
If you've never studied the Bible from Genesis to Revelation, we invite you to join us as we read through the Bible in a year. Read and meditate on these chapters this week:
August 14: 1 Samuel 4, Romans 4, Jeremiah 42, Psalms 18
August 15: 1 Samuel 5-6, Romans 5, Jeremiah 43, Psalms 19
August 16: 1 Samuel 7-8, Romans 6, Jeremiah 44, Psalms 20-21
August 17: 1 Samuel 9, Romans 7, Jeremiah 45, Psalms 22
August 18: 1 Samuel 10, Romans 8, Jeremiah 46, Psalms 23-24
August 19: 1 Samuel 11, Romans 9, Jeremiah 47, Psalms 25
August 20: 1 Samuel 12, Romans 10, Jeremiah 48-49, Psalms 26-27

---
TUESDAY
[Jesus said to them,] "The Law and the Prophets were until John. Since that time the Kingdom of God is preached, and everyone is pressing into it."
Luke 16:16
So Jesus is saying that the new order, or new breed of Christian, is one who goes after the things of God in a forceful, deliberate, even abusive fashion. This is a far cry from what I was taught about God all my life. Even New Testament Christians can live as though we were still under the law and the prophets. I think the majority of those who would call themselves Christians would recoil at the thought of getting violent in order to obtain what God has promised us. Think about it. One would have to be pretty sure of himself or His God in order to carry out these instructions.
Yet, Jesus Himself said these very words. In other words, no more rehearsing the words in our ears and thinking about having the promises "one day," or in the "great by-and-by." No way. TODAY is the day of salvation, and NOW is the appointed time. We must do the works of God today, while it is day.
Why did Jesus preach with such urgency? Well, He said that the zeal for His Father's house had consumed Him. He is so very eager for us to have the blessings that He has laid up for us (before the foundation of the world, I might add) that He invites… no, commands us to "take it by force." It is as though He has been waiting since before the foundation of the world to freely give us all things.
What force is He talking about?
---
WEDNESDAY
[Jesus said to them,] "The Law and the Prophets were until John. Since that time the Kingdom of God is preached, and everyone is pressing into it."
Luke 16:16
I am sure Jesus is talking about the force of faith. It is our faith expressed by what we say, how we live, where we spend our time, what we do with our resources that cause us to take or seize the Kingdom of God by "force."
Faith is a very violent force. Anybody who has ever used their faith, sometimes in desperation, can attest to the fact that faith moves mountains. Faith is very precious. When we operate in faith we please God. So the Kingdom of God is one that is attained not by reading the law and the prophets, but believing what we read with our whole hearts, and increasing the substance of our faith. When our faith substance is so enlarged that we can no longer contain it, then out comes the glorious expression of what we believe.
We go forth ruthlessly pursuing the things that God has for us because we know that God means to give them to us… nay, has already given them to us. When we understand that the thief, the devil, has stolen from us through deception and wrong thinking on our part, we awaken the sleeping giant inside of us. We gain because we use our faith. We press in to attain what God has promised us. We become violent and ruthless, letting nothing stand in the way of our receiving our promised possession.
When Jesus walked the earth, there was always a crowd or "press" around Him. These people were violently pursuing the Kingdom of God. In many gospel accounts we see the multitudes thronging him (Mark 5:31) and in many situations, everybody in the crowd gets healed.
Do you know why? They pressed toward the Master. They violently took what they needed with their faith. Do you have a need today? I suggest you press.
---
THURSDAY
Brethren, I do not count myself to have apprehended; but one thing I do, forgetting those things which are behind and reaching forward to those things which are ahead, I press toward the goal for the prize of the upward call of God in Christ Jesus.
Philippians 3:13-14
So you've pressed in order to get your healing. You've pressed in order to get your bills paid. Your kids are serving God (sort of… they could always do better), and you think things are going pretty well. ANNNNNNH! Wrong answer.
Before he was converted, the Apostle Paul also had some similar thoughts, I'm sure. Paul seemed to just have an unquenchable zeal to work for God, even when he murdered Christians. He had no problem being violent for God. Ruthless, even. But he understood that there were greater things to attain and higher dimensions to go in God.
He talked about attaining Christ. Not just His anointing and gifts, but the inner working of Christ in the inner man. Paul knew that there were days that he didn't feel like rejoicing. There were times when He felt like giving up. He knew that his zeal only lasted a short time at times. He knew that there was more of the character of Christ that needed to be captured by him. He needed to be captured totally by Christ. This also takes violence on our part.
This takes a press.
---
FRIDAY
Brethren, I do not count myself to have apprehended; but one thing I do, forgetting those things which are behind and reaching forward to those things which are ahead, I press toward the goal for the prize of the upward call of God in Christ Jesus.
Philippians 3:13-14
What mark is Paul referring to? I believe he is talking about a goal that resides in every Christian's heart. It is the vision of the completed work of Calvary. It is the image of Christ that we are being conformed to, in its finished state. If we could only get there. Until that time, there is a groaning and stretching inside of us to attain what God has for us.
There is an apprehending that we must do in order to get the things that God has promised us as far as our inner character is concerned. We need this image ever before us, then we need to stretch ourselves out with our faith as a runner does when he crosses the finish line of a great race. We stretch ourselves out in the confidence that what we are reaching for belongs to us. It is our promised inheritance. It is our prized possession.
Paul knew something. He knew that attaining Christ belonged to him, and he also knew that the devil didn't want him to have it. This is why he forgot the things that were behind… both failures and successes. If he had focused on either, he would lose sight of the prize. With all the good things we do for God, there should still be a hunger inside of us for the fruit of apprehending Christ.
There must always be a press inside of us to violently take and apprehend the character of Christ. If we are weak to the flesh, we need to get violent about attaining His strength. If we are easily angry, we should seize His peace. If we hate, seize love.
If we are hesitant to forgive, we need to die to us and come alive unto Him who has called us into His kingdom and glory. I hope you're not still waiting for God to bring it to you. He's waiting for you to press!