A teaching by Rev. Barbara Williams, President of the Ministry of the Watchman International
Week of December 7-11, 2020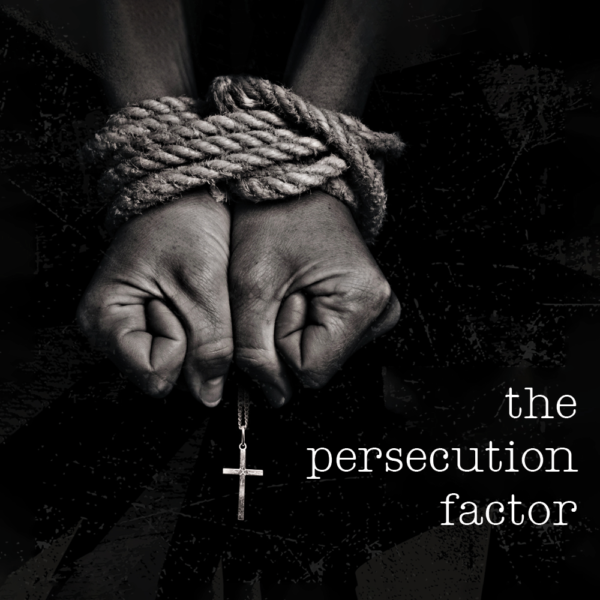 MONDAY
Yes, and all who desire to live godly in Christ Jesus will suffer persecution.
2 Timothy 3:12
Godly living causes persecution. We can never choose to live otherwise, can we? How awful it would be for us to be children of God and live ungodly. We have no real choice except to live for God. If we do not live for Him, we feel like fish out of water, for HE IS THE VERY AIR WE BREATHE. So it is a given that we will be persecuted. All Christians suffer this. If we are in the White House, we will be persecuted, and if we are in the poorhouse we will suffer persecution. The intimidating tactics of the devil will find us. Persecution is the devil's assault on our souls to cause us to fear for our lives, security, possessions, and safety. When we are in fear, we are useless to God's kingdom of love. Persecution is sent by the enemy to neutralize God's power on the earth.
---

If you are in need of healing, there is good news! Proverbs 4:20-22 SAYS:
My son, attend to my words; incline thine ear unto my sayings. Let them not depart from thine eyes; keep them in the midst of thine heart. For they are life unto those that find them, and health to all their flesh.
So there is life and health in God's word. Since God's word is medicine, we must take it like we would a prescription. I suggest three times a day, like you would your food. Remember, healing is the children's bread. Consider this your "dose" for today. Remember, read, and meditate three times a day the following:
Rx: John 5:6-9 ~ When Jesus saw him lying there and knew that he had already been there a long time, he said to him, "Do you want to be healed?"
The sick man answered him, "Sir, I have no one to put me into the pool when the water is stirred up, and while I am going another steps down before me."
Jesus said to him, "Get up, take up your bed, and walk." And at once the man was healed, and he took up his bed and walked. Now that day was the Sabbath.
---
"Study to show thyself approved unto God, a workman that needeth not to be ashamed, rightly dividing the word of truth."
2 Timothy 2:15
If you've never studied the Bible from Genesis to Revelation, we invite you to join us as we read through the Bible in a year. Read and meditate on these chapters this week:
December 7: 2 Chronicles 6:12-42, 1 John 5, Habakkuk 2, Luke 21
December 8: 2 Chronicles 7, 2 John 1, Habakkuk 3, Luke 22
December 9: 2 Chronicles 8, 3 John 1, Zephaniah 1, Luke 23
December 10: 2 Chronicles 9-10, Jude 1, Zephaniah 2, Luke 24
December 11: 2 Chronicles 11-12, Revelation 1-2, Zephaniah 3, John 1
December 12: 2 Chronicles 13, Revelation 3, Haggai 1, John 2
December 13: 2 Chronicles 14-15, Revelation 4, Haggai 2, John 3

---
TUESDAY
So Jesus answered and said, "Assuredly, I say to you, there is no one who has left house or brothers or sisters or father or mother or wife or children or lands, for My sake and the gospel's, who shall not receive a hundredfold now in this time—houses and brothers and sisters and mothers and children and lands, with persecutions—and in the age to come, eternal life."
Mark 10:29-30
Persecution comes as we prosper in God. When we forsake all for the gospel, we get the one-hundred fold return…with persecutions in this life. Persecution, though unpleasant, seems to perform a protective function for us, as well. When we receive our reward with persecution, it almost insures that we will stay close to God. Only God can help us when we are persecuted. When the enemy attacks us, we need to get a new strategy from God. Persecution is a sign that the enemy is waging warfare anew, so we need the counsel of heaven to overcome the onslaught of the enemy. His wiles and schemes will take Divine guidance to overcome. Persecution drives us to God.
---
WEDNESDAY
These likewise are the ones sown on stony ground who, when they hear the word, immediately receive it with gladness; and they have no root in themselves, and so endure only for a time. Afterward, when tribulation or persecution arises for the word's sake, immediately they stumble.
Mark 4:16-17
Persecution arises for the word's sake. We get persecuted because of our words. Gospel words are fought, miracle producing words are fought, words of justice and words of blessing are fought. Have you ever been engaged in or overheard a conversation in which the focus is complaining or negative comments? It seems everybody will join in and have something to say. For example, a hot topic of debate in past has been the war in Iraq. Hardly anybody had no opinion. If you overheard the anti-war people, you seldom heard a pro-war word coming across. It seemed easier to just go with the flow of conversation. Anybody who tried to inject an opposing viewpoint was most likely vehemently attacked for his words. This is the essence of persecution. Persecution comes to stop our words. Our words have power.
---
THURSDAY
These likewise are the ones sown on stony ground who, when they hear the word, immediately receive it with gladness; and they have no root in themselves, and so endure only for a time. Afterward, when tribulation or persecution arises for the word's sake, immediately they stumble.
Mark 4:16-17
Our words have the most power when they are God's words. His word is His power. In fact, there is no word of God that is void of power. This is why the enemy persecutes us. He is trying to stop our words. If he can stop our words from agreeing with God's word, he can stop our power. A powerless church is not pleasing to God. In fact, Jesus commands us to receive His power. We must have the power of the new birth, the power to become sons of God, the power of the anointing to destroy the works of the devil, and the power to do good. While God is commanding us to receive His power, the devil is trying to get us to roll over and play dead through intimidation. So how should we react to the devil's tactics?
---
FRIDAY
And it came to pass, on the next day, that their rulers, elders, and scribes, as well as Annas the high priest, Caiaphas, John, and Alexander, and as many as were of the family of the high priest, were gathered together at Jerusalem… And they, called them [Peter and John] and commanded them not to speak at all nor teach in the name of Jesus…
And being let go, they went to their own company and reported all that the chief priests and elders had said to them. So when they heard that, they raised their voice to God with one accord and said: "Lord, You are God, who made heaven and earth and the sea, and all that is in them, who by the mouth of Your servant David have said: 'Why did the nations rage, And the people plot vain things? The kings of the earth took their stand, and the rulers were gathered together Against the Lord and against His Christ.'
"For truly against Your holy Servant Jesus, whom You anointed, both Herod and Pontius Pilate, with the Gentiles and the people of Israel, were gathered together to do whatever Your hand and Your purpose determined before to be done. Now, Lord, look on their threats, and grant to Your servants that with all boldness they may speak Your word, by stretching out Your hand to heal, and that signs and wonders may be done through the name of Your holy Servant Jesus."
And when they had prayed, the place where they were assembled together was shaken; and they were all filled with the Holy Spirit, and they spoke the word of God with boldness.
Acts 4:5-6, 18, 23-31
The apostles had an interesting approach to the persecution they received for preaching in the name of Jesus. They cried out to the Lord to look at the threats they were receiving. They knew they were entitled to Divine protection because they were obeying God. We should all know that. When our way is hindered and we are merely performing our duty, then it is up to us to petition God to get us out of trouble.
How many times have we felt guilty when we've been rejected while witnessing when that's the very thing we should expect?
There are times when we will be heard as well, but negative reactions should not surprise us. When we receive rejection because of God's word, we immediately begin to search ourselves to find out what we've done wrong! How awful! We need to do as the apostles did… ask for more boldness to proclaim the word louder, stronger, and better. Persecution should move us to demand more power to overcome it. Saint of God, know that persecution is the prophet's reward! Overcome it by stepping into a greater Divine position.