A teaching by Rev. Barbara Williams, President of the Ministry of the Watchman International
Week of June 14-18, 2021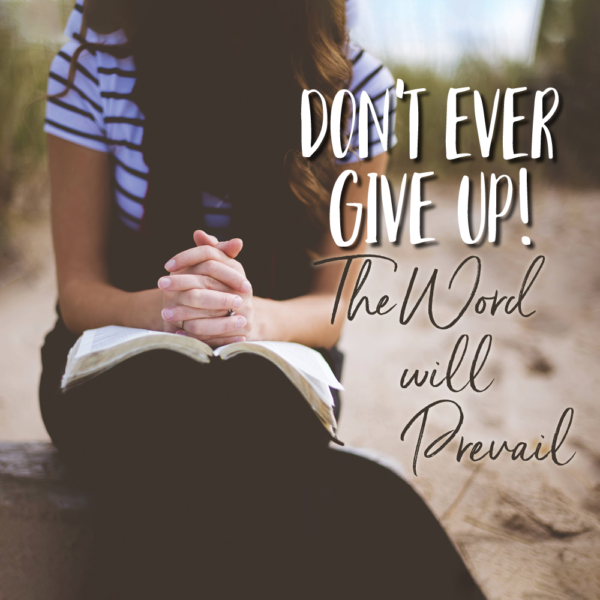 MONDAY
So the word of the Lord grew mightily and prevailed.
Acts 19:20
The word of God grew mightily and prevailed, even when confronted with the witchcraft and false religion practiced at Ephesus. The Apostle Paul stayed at Ephesus, daily teaching the word. Jesus referred to the word of God as a seed (Luke 8:11). It is an incorruptible seed (1 Peter 1:23). Seeds grow.
All words are seeds, but the eternal word of God continues to grow as long as it is believed and acted upon. Beliefs come and go. Remember communism in Russia? It was dethroned by faith in the word of God, just as witchcraft in Ephesus was (Acts 19:19). You act upon the words that you believe by saying them and doing them. When Paul declared the word of God daily, this word began to grow and grow and grow. So mighty is the word of God that it grows over all other words, or words contrary to it, and prevails.
This prevailing power of the word of God is one of the qualities that allow us to know that we can trust that the word will take us through victoriously in any situation. This word lasts forever. It lives forever, is forever settled in heaven, and will never pass away. Don't give up on believing and declaring God's word. Be a doer of His word and your deeds will last and give you the victory.
---

If you are in need of healing, there is good news! Proverbs 4:20-22 SAYS:
My son, attend to my words; incline thine ear unto my sayings. Let them not depart from thine eyes; keep them in the midst of thine heart. For they are life unto those that find them, and health to all their flesh.
So there is life and health in God's word. Since God's word is medicine, we must take it like we would a prescription. I suggest three times a day, like you would your food. Remember, healing is the children's bread. Consider this your "dose" for today. Remember, read, and meditate three times a day the following:
Rx: Psalm 21:4 ~ He asked life from You, and You gave it to him—Length of days forever and ever.
---
"Study to show thyself approved unto God, a workman that needeth not to be ashamed, rightly dividing the word of truth."
2 Timothy 2:15
If you've never studied the Bible from Genesis to Revelation, we invite you to join us as we read through the Bible in a year. Read and meditate on these chapters this week:
June 14: Deuteronomy 19, Psalms 106, Isaiah 46, Revelation 16
June 15: Deuteronomy 20, Psalms 107, Isaiah 47, Revelation 17
June 16: Deuteronomy 21, Psalms 108-109, Isaiah 48, Revelation 18
June 17: Deuteronomy 22, Psalms 10-111, Isaiah 49, Revelation 19
June 18: Deuteronomy 23, Psalms 112-113, Isaiah 50, Revelation 20
June 19: Deuteronomy 24, Psalms 114-115, Isaiah 51, Revelation 21
June 20: Deuteronomy 25, Psalms 116, Isaiah 52, Revelation 22

---
TUESDAY
Now this is the confidence that we have in Him, that if we ask anything according to His will, He hears us. And if we know that He hears us, whatever we ask, we know that we have the petitions that we have asked of Him.
1 John 5:14-15
We have confidence in God based on this fact: that whatsoever we ask of Him according to His word, He hears. Then we know that He only opens His ears to His will.
His ears are open to the cries of the righteous (Psalm 34:15). We are made righteous because of faith in His word. The word of God that we believe prevails in us. It causes us to prevail to get God's attention, and once this is done, we know that we already have the things that we ask according to His will. His will is His word.
God never says something that does not come to pass. His word and His will automatically agree. Whatever He says has an automatic happening quality upon it. His word is full of faith, so it has substance, weight, and glory upon it. His word prevails because of the eternal quality inherent in it. If we believe His word, then we have eternity locked up inside of us. When we speak His word, we release eternity into our circumstances. We need to have confidence in this very thing: we have what we believe according to His will.
---
WEDNESDAY
You will be hated by all for My name's sake, but he who endures to the end will be saved.
Matthew 10:22
Jesus prophesies to His disciples that they will be hated of all men for His sake. Most of us have experienced this to some degree. We have this treasure in earthen vessels (2 Corinthians 4:7). We are sometimes both loved and hated. It is comforting to know that as long as we hold on to God's word, no matter what the situation, we will be saved.
We are talking about salvation and wholeness in any situation that requires endurance. Not many of us have so little joy that we can't endure it. We are talking about situations that are uncomfortable to us. Rejections, false accusations, persecutions of all kinds fall under this heading. Some people must endure false imprisonment, even.
With some, it may be challenges to our physical or emotional health. All afflictions will come to an end if we hold fast to the word of God and allow it to prevail. If we endure, holding on to the word of God, then we will overcome and experience wholeness, health, and soundness. Never let go of God's word to you concerning your wholeness.
---
THURSDAY
For God is not unjust to forget your work and labor of love which you have shown toward His name, in that you have ministered to the saints, and do minister. And we desire that each one of you show the same diligence to the full assurance of hope until the end, that you do not become sluggish, but imitate those who through faith and patience inherit the promises.
For when God made a promise to Abraham, because He could swear by no one greater, He swore by Himself, saying, "Surely blessing I will bless you, and multiplying I will multiply you." And so, after he had patiently endured, he obtained the promise.
Hebrews 6:10-15
Patient endurance prevails in every situation. What does it mean to endure? To endure means to stay under something. What are we under as believers? We are under trial, persecution, attack, and affliction, to name a few things. The word of God is being tried in us, to see if we will hold on to make our faith strong so that it will work.
If our faith remains strong and is not weakened by the pressure of affliction, then we will obtain what God has promised us. We also have gained a new fortitude, or inner strength that will cause us to do greater things for God and obtain greater faith and confidence in God.
We become people whom no foe can withstand. We become people who walk with God and take on His strength. We become heirs of all things and we know it. We have a new dimension of the overcoming power of God resident within us. We mount up with wings as eagles. We begin to walk in our new endurance. We begin to know that the words, "give up" are not an option.
Endurance kills the "give up" spirit that wants to grab hold of all of us. We prove to ourselves that the word of God prevails.
---
FRIDAY
Commit your way to the Lord. Trust also in Him, and He shall bring it to pass.
Psalm 37:5
If you will let the Lord be in charge, you show your trust in Him. He will then bring to pass the things that you desire. Trust in God means that you have confidence in Him. You trust that He is a good God who will never leave you or forsake you. You have great confidence in Him. He brings to pass all things that we desire to have brought to pass.
Some days it is harder to trust God than on other days. It is easy to trust when the enemy seems to be not so near. It is more difficult to trust when the enemy is raging and the heathen imagine vain things regarding your God.
Remember that the Lord is mighty to save all who call upon His name. He honors His word above His name, so if we will hold on to what He has told us, rehearse it in our ears, meditate upon it day and night, then we will receive the petitions that we are asking of Him.
When we have the word abiding in us, then no foe can stand before us. Who can stand the word of God when they are opposed to it? The word of God is your friend. The word of God lasts and endures from everlasting, to everlasting.
The serpent thought he had won when he got Adam (male and female) to disobey God and get off the confidence they had in His word. But Jesus brought the confidence in God right back to mankind. Look out, Satan, confidence in God is back! We won't give up! We will prevail because of His Almighty word.