A teaching by Rev. Barbara Williams, President of the Ministry of the Watchman International
Week of January 17-21, 2022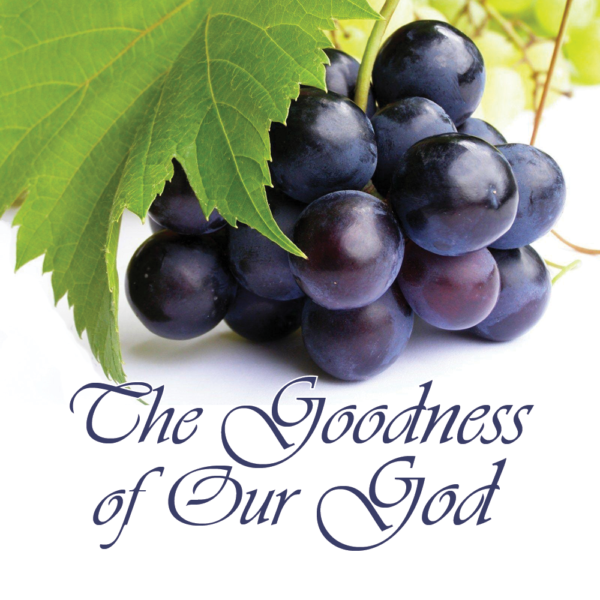 MONDAY
Oh, how great is Your goodness, which You have laid up for those who fear You, which You have prepared for those who trust in You in the presence of the sons of men!
Psalm 31:19
We serve a God of great goodness. His goodness is sometimes translated as loving kindness. This loving kindness is what some have called "covenant love." This means that God has obligated Himself to love us no matter what. When you covenant to love someone you take all the risks, but determine to show love to this person and stake your life on it. This is what Jesus has provided for us in the New Testament. He has provided love for us to such a degree that He vows that He will cease to exist if He does not show His goodness and loving kindness to us. This goodness is stored up or made like a treasure laid up for those of us who worship God. When we put Him first, honor Him, love Him, and show Him praise, and give our love to Him through obedience, He promises to bestow all His goodness upon us.
He gives us His goodness because we have trusted in Him openly. Have you had an occasion to let someone know publicly that you are trusting God? Perhaps you have decided to pray before making a decision to have medical treatment. If you have let the doctors know that you are trusting God first, then He has a good treasure laid up for you. Have you refrained from indulging in office gossip, parties, and happy hour meetings and let your co-workers know that it is because you want to please God? Then He has stored up treasures of goodness for you. The fruit of the Spirit is goodness. God is good. His spirit brings only good to us.
---

If you are in need of healing, there is good news! Proverbs 4:20-22 SAYS:
My son, attend to my words; incline thine ear unto my sayings. Let them not depart from thine eyes; keep them in the midst of thine heart. For they are life unto those that find them, and health to all their flesh.
So there is life and health in God's word. Since God's word is medicine, we must take it like we would a prescription. I suggest three times a day, like you would your food. Remember, healing is the children's bread. Consider this your "dose" for today. Remember, read, and meditate three times a day the following:
Rx: Acts 10:38 ~ How God anointed Jesus of Nazareth with the Holy Spirit and with power, who went about doing good and healing all who were oppressed by the devil, for God was with Him.
---
"Study to show thyself approved unto God, a workman that needeth not to be ashamed, rightly dividing the word of truth."
2 Timothy 2:15
If you've never studied the Bible from Genesis to Revelation, we invite you to join us as we read through the Bible in a year. Read and meditate on these chapters this week:
January 17: Genesis 18, Matthew 17, Nehemiah 7, Acts 17
January 18: Genesis 19, Matthew 18, Nehemiah 8, Acts 18
January 19: Genesis 20, Matthew 19, Nehemiah 9, Acts 19
January 20: Genesis 21, Matthew 20, Nehemiah 10, Acts 20
January 21: Genesis 22, Matthew 21, Nehemiah 11, Acts 21
January 22: Genesis 23, Matthew 22, Nehemiah 12, Acts 22
January 23: Genesis 24, Matthew 23, Nehemiah 13, Acts 23

---
TUESDAY
You shall hide them in the secret place of Your presence from the plots of man; You shall keep them secretly in a pavilion from the strife of tongues.
Psalm 31:20
God will hide you. Have you ever wished to be invisible? I sure have. Sometimes we make mistakes. We say the wrong thing and wish we could retrieve those words. Or perhaps we have misjudged someone. We thought that person to be an enemy, and never saw any good qualities in them. Then suddenly God begins to speak to us about that individual, and we feel very small. We sometimes lack compassion for others, and God begins to show us their pain, or their struggle. We remember when we struggled in the same areas and we feel bad. We want to be hidden at times like that.
There are other times when we may suffer persecution for our faith. Perhaps you are a single person and you are tired of waiting for God to reveal your spouse to you. You may even make the mistake of trying to find your own mate. You wind up in a bad relationship which finally ends very badly. People begin to talk about you. Even though you have been forgiven by God, you still don't feel good about yourself.
Sometimes your position of faith in God draws fire from the enemy. You may share your faith with people on your job and get called into the boss' office. Perhaps you take a moral stand regarding the use of company resources. Maybe you walk away when dirty jokes are told. All of these situations may cause you to feel exposed and vulnerable. Did you know that God has provided a hiding place for you? He will hide you from the pain of gossip, slander and accusation. He will hide you.
---
WEDNESDAY
Blessed be the Lord, for He has shown me His marvelous kindness in a strong city!
Psalm 31:21
God shows us His marvelous kindness in a strong city. This happened to me once. I went away to college right after high school. Even though the city I moved to was smaller than the one from which I came, the fact that it was new and strange to me made it very frightening. I moved all my new clothes in this huge trunk, and didn't realize that I would have to find a way to get the trunk from the bus station to the dormitory. I found a cab and explained my dilemma to the cab driver. He was hesitant at first, but seemed to be moved with compassion and helped me. He was an older man, but he struggled with that trunk until he got it into the trunk of the cab. Then he struggled again until he got the trunk out of the cab. Only God can find help for us in certain situations. What marvelous kindness He shows to us.
---
THURSDAY
For I said in my haste, "I am cut off from before Your eyes"; Nevertheless You heard the voice of my supplications when I cried out to You.
Psalm 31:22
Have you ever reacted to your circumstances instead of reacting to the word of God? I am sure we all have. Perhaps you got some bad news. Maybe an accident has occurred. Anything that may come upon you suddenly will prompt you to think or even say that God has forgotten or forsaken you. Maybe you are trusting God for some promised blessing. Have you thought that God is not concerned about you any more? Even if you have said that, know that God still will hear you when you cry out to Him. His great goodness assures us of that.
I often think that some of the secular symbols for Christmas are types of God in His goodness. I always think that the person who thought up Santa Claus got the idea from the God of the bible. I look at Santa being full of joy and generosity as a secular version of God the Father. He is so full of goodness that He has to carry a huge sack around with Him that He might share His glory with us. The heavy weight of His glory is carried around and deposited on earth for us. What a wonderful and good God we serve!
---
FRIDAY
Oh, love the Lord, all you His saints! For the Lord preserves the faithful, and fully repays the proud person. Be of good courage, and He shall strengthen your heart, all you who hope in the Lord.
Psalm 31:23-24
God rewards us for loving Him back. His loving kindness comes into us, and we shed it out upon Him. He preserves us with His faith and when we are faithful He takes care of us. The proud in heart are not treated like the faithful are. He wants us to be faithful and courageous and continue to trust in Him. When we are weak, He tells us to trust Him. When we are in need of healing, He tells us to cry out to Him. His great goodness is able to take care of every weakness, need and desire that we have. He is a good God of great goodness. He has hidden and laid this goodness up for those who worship Him. He will also add courage to us when we trust in Him. When our hope is in Him, we will never be ashamed. We will be set on high and prosper, and when we need Him to cover us and protect us, He will come through for us. This is part of the great goodness that He has stored up for those who worship Him.