A teaching by Rev. Barbara Williams, President of the Ministry of the Watchman International
Week of January 10-14, 2022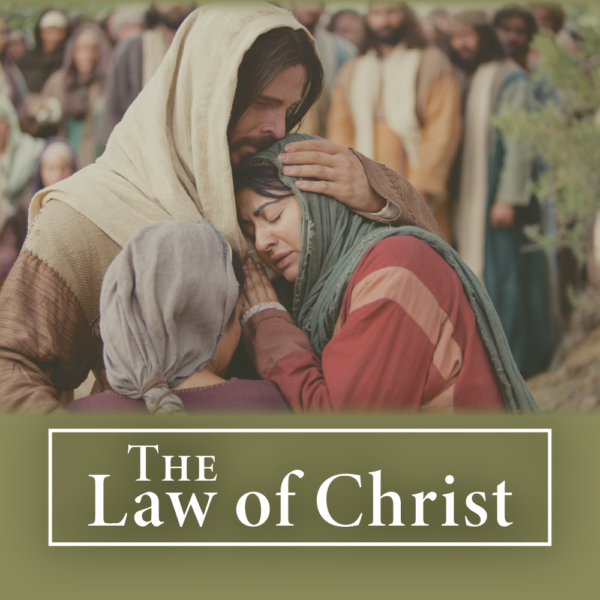 MONDAY
Bear one another's burdens, and so fulfill the law of Christ.
Galatians 6:2
The law of Christ is very simple: The strong must use their strength to support the weak, not weaken them further through judgment or intimidation. This is a revelation for some, but it is a law. It is a law of the Spirit of Christ. Many times we are led away by our weakness or we follow the weaknesses of others. We who are strong ought to bear the weaknesses of others. We must strengthen them and carry them when necessary.
This is the law of the anointing of Jesus. The anointing helps weakness. The healing anointing helps bring us back to health; the anointing for intercession energizes our prayers; the anointing of authority empowers us to cast out devils. All these help our weaknesses. Jesus came to bear our burdens, infirmities and sins. He took our weakness.
We must then bear the burdens and weaknesses of others, since the spirit of Christ dwells in us.
---

If you are in need of healing, there is good news! Proverbs 4:20-22 SAYS:
My son, attend to my words; incline thine ear unto my sayings. Let them not depart from thine eyes; keep them in the midst of thine heart. For they are life unto those that find them, and health to all their flesh.
So there is life and health in God's word. Since God's word is medicine, we must take it like we would a prescription. I suggest three times a day, like you would your food. Remember, healing is the children's bread. Consider this your "dose" for today. Remember, read, and meditate three times a day the following:
Rx: Exodus 15:26b ~ I am the Lord who heals you.
---
"Study to show thyself approved unto God, a workman that needeth not to be ashamed, rightly dividing the word of truth."
2 Timothy 2:15
If you've never studied the Bible from Genesis to Revelation, we invite you to join us as we read through the Bible in a year. Read and meditate on these chapters this week:
January 10: Genesis 11, Matthew 10, Ezra 10, Acts 10
January 11: Genesis 12, Matthew 11, Nehemiah 1, Acts 11
January 12: Genesis 13, Matthew12, Nehemiah 2, Acts 12
January 13: Genesis 14, Matthew 14, Nehemiah 3, Acts 13
January 14: Genesis 15, Matthew 15, Nehemiah 4, Acts 14
January 15: Genesis 16, Matthew 15, Nehemiah 5, Acts 15
January 16: Genesis 17, Matthew 16, Nehemiah 6, Acts 16

---
TUESDAY
Therefore let us not pass judgment on one another any longer, but rather decide never to put a stumbling block or hindrance in the way of a brother. I know and am persuaded in the Lord Jesus that nothing is unclean in itself, but it is unclean for anyone who thinks it unclean. For if your brother is grieved by what you eat, you are no longer walking in love. By what you eat, do not destroy the one for whom Christ died.
Romans 14:13-15
The writer tells of a situation where the law of Christ can be applied. I'm sure there are many situations that you and I can think of as well. In every situation in the Christian life there will be areas of life that we master and areas that challenge us. The situation spoken of here is regarding what a person eats. It appears that some people feel liberty in this area, and some are restricted. Those who have liberty should not lord it over those who do not. Those who do not have much liberty are considered "weak."
Paul says that there is no clean and unclean food in and of itself, but it is in the conscience of the person who is eating that these things are considered clean or unclean. He warns us not to judge one another in how we eat or drink. We should, of course, avoid excess, but to say meat is wrong or vegetables are right is not fulfilling the law of Christ.
There are some clear-cut right and wrong activities for believers, but what one eats or drinks is a matter of conscience, not law. This is why we are not to judge one another in these things.
---
WEDNESDAY
So do not let what you regard as good be spoken of as evil. For the kingdom of God is not a matter of eating and drinking but of righteousness and peace and joy in the Holy Spirit.
Romans 14:16-17
If you are happy with a limited diet, then let yourself be satisfied, but do not allow yourself to boast and condemn and judge another, for whom Christ died, simply because that person has a more liberal diet. This is true in many other areas of life. Married people have different lifestyles and patterns of interaction. Some people feel both partners must work outside the home. The "stay at home mom" may feel inferior to the working one, while the working mom may feel guilty for not keeping the children. One may not judge the other, as there is no hard and fast rule here.
What is important is that we must pray earnestly for our children to be raised for the Lord and according to God's laws no matter what the home situation is. Sometimes we may feel we have a right to lord it over someone or judge them because we have seen the light in this area or because God has spoken to us. This is good, but imposing this good on someone may cause it to be evil spoken of.
Our kingdom is one of righteousness, peace and joy in the Holy Ghost. We can never use our liberty to put another in bondage, but pray earnestly for the peace of God to come freely to that other individual. It will not happen if we judge that one according to our liberty.
---
THURSDAY
Whoever thus serves Christ is acceptable to God and approved by men. So then let us pursue what makes for peace and for mutual upbuilding.
Do not, for the sake of food, destroy the work of God. Everything is indeed clean, but it is wrong for anyone to make another stumble by what he eats. It is good not to eat meat or drink wine or do anything that causes your brother to stumble.
Romans 14:18-21
People want many things but have a difficult time accomplishing them. We live in a society in which people want to "have it all." Mostly they want everything at one time. It is easy to judge one another based upon habits, behaviors and lifestyles. The apostle tells us not to even eat something in front of a brother that will cause him to stumble. If a person feels only certain foods are right for him, don't argue with him, but follow after peace.
As a freshman in college, I decided to lose weight. I sent away for a diet that involved taking pills but also included a list of "forbidden foods". I soon learned that the pills were not taking the weight off, but the absence of calories achieved by not indulging in the forbidden foods was the key. I burned that list into my brain, and still abstain from many of them now, realizing they were a frivolous waste of calories. I find myself watching others who indulge in these foods and judging them according to my forbidden list. I maintain my composure and hold my peace, but I know the judgment is there.
If I am to obey the law of Christ, I will continue to hold my peace and allow that person to enjoy their meal. With food this is a simple matter, but how about more complicated areas?
The law of Christ applies here, also.
---
FRIDAY
The faith that you have, keep between yourself and God. Blessed is the one who has no reason to pass judgment on himself for what he approves. But whoever has doubts is condemned if he eats, because the eating is not from faith. For whatever does not proceed from faith is sin.
We who are strong have an obligation to bear with the failings of the weak, and not to please ourselves. Let each of us please his neighbor for his good, to build him up. For Christ did not please himself, but as it is written, "The reproaches of those who reproached you fell on me."
Romans 14:22-15:3
We are not allowed to tempt one another. We cannot push one another to sin against our consciences. We are not allowed to brag on our faith. The writer tells us to have our faith between ourselves and God. We must each do what our consciences tell us.
We cannot live each other's lives. We must each live right before God. We cause a brother to sin when we push him beyond his faith. Sometimes we feel we can carry a person to a higher level of faith only to find that that person has been pushed out on a limb and cannot carry the burden of their conscience before God.
When we were praying for a bus for the ministry, some people would come up and tell me they were thanking God for our new bus with the emphasis on "new". Some are now saying we need a semi to haul equipment. There is no faith here. I don't have it. If I were to begin raising money for such things simply because I feel ashamed not to want these things, I would be in sin.
If I feel my faith challenged and desire to meet the challenge with a decision of doubt, then I am in sin. I cannot partake of doubt and please God. There are times when we judge others' decisions to buy a used car, get a less expensive house, or refuse to buy in credit as not having faith. We need to bear their weaknesses, and not push them to do what we would do simply to please ourselves.
This is what Jesus did. He did not please himself, but took the reproach of others so that we would be free. The law of Christ compels us not to judge and criticize, but to bless and cover.
When we bear one another's burdens, we fulfill the Law of Christ.