A teaching by Rev. Barbara Williams, President of the Ministry of the Watchman International
Week of January 16-20, 2023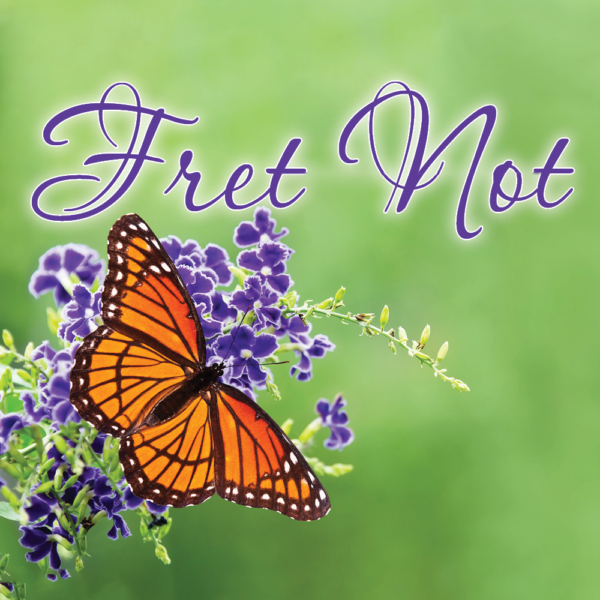 MONDAY
Fret not yourself because of evildoers, neither be you envious against the workers of iniquity.
Psalm 37:1
Fret not because of evildoers is a remarkable piece of advice. In order to understand the absurdity of fretting oneself, look at the meaning of the Word, "fret." It has the root meaning of "eroding," or "wearing away." In other words, God is saying, "don't make yourself nervous or wear yourself out" because of people who do evil works.
This is a tall order. Many times wicked people do wicked things to us. God admonishes us not to be anxious or worried, nervous or upset about even the evil that they do to us. We are also commanded not to be envious of the workers of iniquity; those who act selfishly, or who walk all over others to get ahead. Of course nobody ever worries about people who do good.
We feel total peace around people of good moral character. This is why we should surround ourselves with righteous people. We should seek the company of other believers, those who seek peace, love, and goodness. We should seek the company of persons who can encourage us in our endeavors for the Lord.
Workers of iniquity should be avoided. Iniquity is like crazy glue; when you touch it, it is very hard to get rid of it. It holds you fast to those who work iniquity. Ever wonder why some people are hard to break ties with?
It is because of the nature of iniquity. Iniquity weaves a very complicated web of thoughts, desires, and behaviors that are hard to break. It is very difficult to break ties that are rooted in iniquity. Old boyfriends and girlfriends, gossipy friends, co-workers with whom we've shared dark secrets, even professional contacts may have ties to us through iniquity.
Often Christians envy workers of iniquity because we erroneously think they are "getting away with" something as they do evil. But when we think that way, we are wrong.
---

If you are in need of healing, there is good news! Proverbs 4:20-22 SAYS:
My son, attend to my words; incline thine ear unto my sayings. Let them not depart from thine eyes; keep them in the midst of thine heart. For they are life unto those that find them, and health to all their flesh.
So there is life and health in God's word. Since God's word is medicine, we must take it like we would a prescription. I suggest three times a day, like you would your food. Remember, healing is the children's bread. Consider this your "dose" for today. Remember, read, and meditate three times a day the following:
Rx: James 5:14-15 ~ Is anyone among you sick? Let him call for the elders of the church, and let them pray over him, anointing him with oil in the name of the Lord. And the prayer of faith will save the one who is sick, and the Lord will raise him up. And if he has committed sins, he will be forgiven.
---
"Study to show thyself approved unto God, a workman that needeth not to be ashamed, rightly dividing the word of truth."
2 Timothy 2:15
If you've never studied the Bible from Genesis to Revelation, we invite you to join us as we read through the Bible in a year. Read and meditate on these chapters this week:
January 16: Genesis 17, Matthew 16, Nehemiah 6, Acts 16
January 17: Genesis 18, Matthew 17, Nehemiah 7, Acts 17
January 18: Genesis 19, Matthew 18, Nehemiah 8, Acts 18
January 19: Genesis 20, Matthew 19, Nehemiah 9, Acts 19
January 20: Genesis 21, Matthew 20, Nehemiah 10, Acts 20
January 21: Genesis 22, Matthew 21, Nehemiah 11, Acts 21
January 22: Genesis 23, Matthew 22, Nehemiah 12, Acts 22

---
TUESDAY
For they shall soon be cut down like the grass, and wither as the green herb.
Psalm 37:2
The reason God admonishes us not to be concerned about people who do wrong is because He has already devised a plan for dealing with them. He cuts them off… soon!
When He says soon, He means soon. Many times we watch such people and feel that they are on top of the world, living large and getting away with things that we get the book thrown at us for doing. Many things that evildoers do are not even appealing to us anymore.
After God has changed you to the degree that you no longer desire the things that people in the world desire, you enter into a new world of activity. You become interested in helping others to have the same peace with God that you have. So, if we're not interested in doing the works of the devil anymore, then why would God warn us not to fret about these things?
God has devised a plan that causes these people to be put in a place where they cannot continue to harm others, and they lose their power to do wickedness. That's what "withering like the grass" means. When something withers, it fades away, loses strength, and is not as prominent. It seems that evildoers suddenly become the focus of ridicule, and are eventually shunned by the people who used to hold them in high esteem. God judges the wicked, and they soon receive their reward… in this life.
---
WEDNESDAY
Trust in the Lord, and do good; so shall you dwell in the land, and truly you shall be fed.
Psalm 37:3
But you, child of God, must focus your attention on the Lord. Don't think for one moment that you should return to the works of wickedness just because it seems that wicked people are having fun. Sometimes single Christians may be envious of unsaved single persons because they seem to be free to date whomever they want, perhaps they seem more popular and appear to be having more fun than you do.
Don't fret yourself; don't wear yourself out. If you are waiting for a better job or financial breakthrough, it may be hard for you to continue to give to God, stick to your budget, and put off buying that new vehicle. You look at the wicked, and they have a new car every two years. You wonder if there is any justice.
But God says, "trust in me and do good." Do you think you can't be tempted to do bad? As long as you don't fret yourself, you won't. But if you begin to dwell on what you lack, and continue to compare yourself to the sinner, you are becoming tempted to do evil, instead of good. It's really not all that hard. Many people begin with broken vows.
Have you promised to do something for God, but keep putting it off? You are already flirting with the works of iniquity. Have you promised something to another person, but continue to put it off? You are flirting with iniquity. Focusing on the reward while ignoring the price is a step toward evil. Trusting God means focusing on His goodness and planning to do His will. Trusting Him means imitating Him in every way. Dwell where He is, and allow Him to feed your thoughts, your desires, and your actions.
---
THURSDAY
Delight yourself also in the Lord: and He shall give you the desires of your heart.
Psalm 37:4
What does it mean to delight yourself in the Lord? Dwell on that phrase for a moment.
To delight means to take great joy in something. We must take great joy in God. We cannot see serving God as just a mere religious exercise. Nor can we see serving God as a mere duty. If we don't take great joy in serving God He will not give us the desires of our hearts.
Well, that just might explain why a few things that we are waiting for are not quite within our grasp. Sometimes we have become cold toward God because of a delayed promise. Perhaps we have turned cold because of our lack of understanding of His ways. We have to watch our feelings toward God.
We must delight ourselves in Him to receive the desires of our hearts. We must love what God loves and hate what He hates in order to receive the promises that He has made to us. Trusting Him means delighting in Him.
---
FRIDAY
Commit your way to the Lord; trust also in Him; and He shall bring it to pass. And He shall bring forth your righteousness as the light, and your judgment as the noonday.
Psalm 37:5-6
Again the psalmist admonishes us to trust God without wavering by committing our way to Him. This means that we must follow Him wherever He goes. We must follow His lead. He will never lead us into iniquity or into temptation. With this in mind, we know that we can trust God. He is a faithful creator. He didn't leave us in our fallen state, and He wants to lead us far away from the kingdom of darkness. If we trust Him, He will bring to pass all the things that He has promised, plus He will bring forth our righteousness as faithfully as He brings forth the noonday. The right things to do will suddenly dawn on us. We will know the right things to say, act in wisdom, walk in truth and integrity, and keep the peace of God about us at all times.
This process begins by obeying God's commandment to "fret not" nor to be jealous of the wicked. If we keep our focus on the Lord and take great joy in serving and getting to know Him, we will see the wicked get his reward. We will watch God's word fulfilled in all areas. We will be fed by the great shepherd and will receive the desires of our hearts.