A teaching by Rev. Barbara Williams, President of the Ministry of the Watchman International
Week of September 4-8, 2023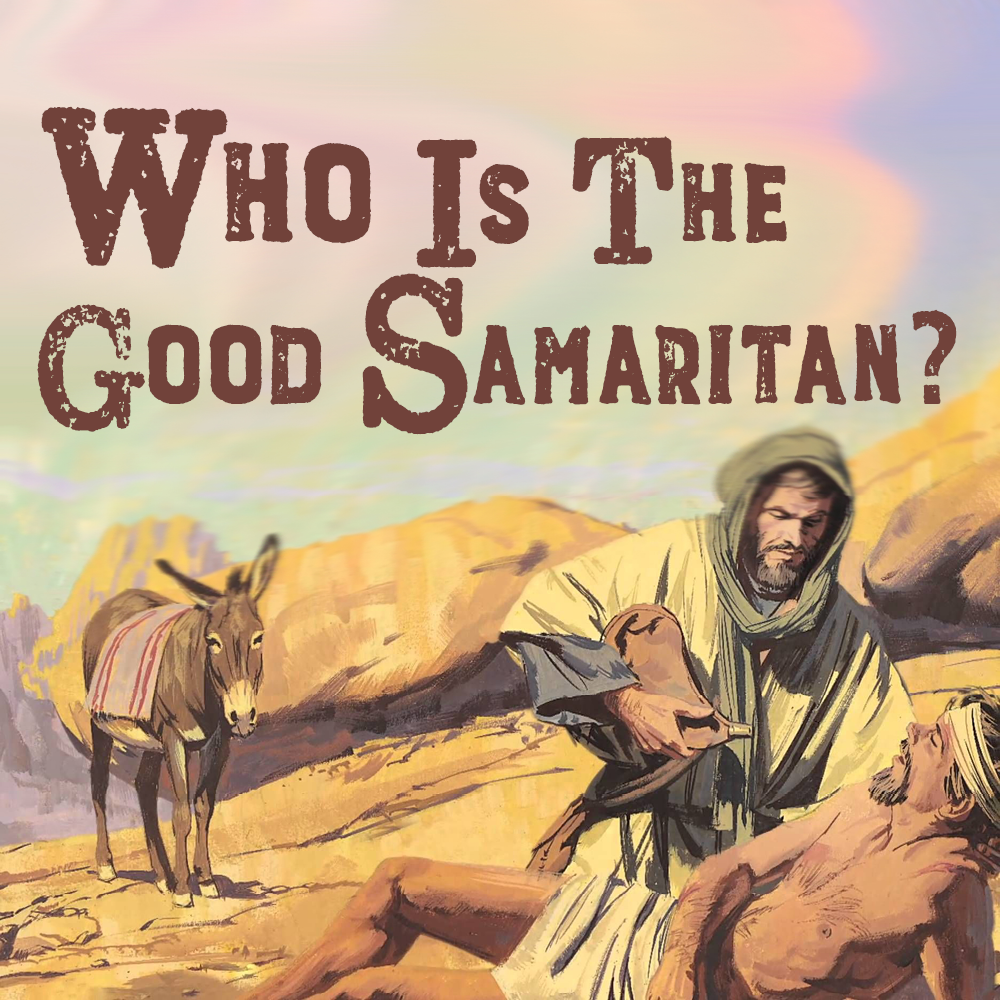 MONDAY
And behold, a certain lawyer stood up and tested Him, saying, "Teacher, what shall I do to inherit eternal life?"
He said to him, "What is written in the law? What is your reading of it?"
So he answered and said, " 'You shall love the Lord your God with all your heart, with all your soul, with all your strength, and with all your mind,' and 'your neighbor as yourself.' "
And He said to him, "You have answered rightly; do this and you will live."
But he, wanting to justify himself, said to Jesus, "And who is my neighbor?"
Luke 10:25-29
This lawyer asks Jesus a question with the wrong motive in his heart. Look out! The Master is not impressed with our acts of righteousness. Whenever this happens to God, He must set the record straight and raise up the right standard for us to adhere to. He begins by telling a parable.
Parables are interesting ways of presenting the truth. Only those who are humble in heart and interested in truth will "get it."
Will this man pass the test of the parable? Will he be found to be pure of heart, or will he still be left in darkness? Parables also enlighten us. If we begin with wrong motives, we can be softened and become open to the truth when this method is used. The questioning man has said that he always obeys the commandments. Jesus wants to know if this is true or if this man only thinks he obeys the commandments. Jesus focuses on how this man defines who his neighbor is.
Who is your neighbor?

If you are in need of healing, there is good news! Proverbs 4:20-22 SAYS:
My son, attend to my words; incline thine ear unto my sayings. Let them not depart from thine eyes; keep them in the midst of thine heart. For they are life unto those that find them, and health to all their flesh.
So there is life and health in God's word. Since God's word is medicine, we must take it like we would a prescription. I suggest three times a day, like you would your food. Remember, healing is the children's bread. Consider this your "dose" for today. Remember, read, and meditate three times a day the following:
Rx: John 4:49-53 ~ The official said to him, "Sir, come down before my child dies." Jesus said to him, "Go; your son will live." The man believed the word that Jesus spoke to him and went on his way. As he was going down, his servants met him and told him that his son was recovering. So he asked them the hour when he began to get better, and they said to him, "Yesterday at the seventh hour the fever left him." The father knew that was the hour when Jesus had said to him, "Your son will live." And he himself believed, and all his household.
"Study to show thyself approved unto God, a workman that needeth not to be ashamed, rightly dividing the word of truth."
2 Timothy 2:15
If you've never studied the Bible from Genesis to Revelation, we invite you to join us as we read through the Bible in a year. Read and meditate on these chapters this week:
September 4: 1 Samuel 28, 1 Corinthians 9, Ezekiel 7, Psalms 45
September 5: 1 Samuel 29-30, 1 Corinthians 10, Ezekiel 8, Psalms 46-47
September 6: 1 Samuel 31, 1 Corinthians 11, Ezekiel 9, Psalms 48
September 7: 2 Samuel 1, 1 Corinthians 12, Ezekiel 10, Psalms 49
September 8: 2 Samuel 2, 1 Corinthians 13, Ezekiel 11, Psalms 50
September 9: 2 Samuel 3, 1 Corinthians 14, Ezekiel 12, Psalms 51
September 10: 2 Samuel 4-5, 1 Corinthians 15, Ezekiel 13, Psalms 52-54

---
TUESDAY
Then Jesus answered and said: "A certain man went down from Jerusalem to Jericho, and fell among thieves, who stripped him of his clothing, wounded him, and departed, leaving him half dead."
Luke 10:30
Jesus gives the example of a man in trouble. Most of us don't want to know neighbors who have needs. They want to borrow the lawn mower, money, a cup of sugar, your patio furniture, or your set of matching flatware. Of course this man's need was very severe. His case is an emergency. He is the helpless victim of thieves.
Can he help his situation?
Perhaps he put himself at risk with unwise behavior. Perhaps he trusted the wrong person. Maybe he was just in the wrong place at the wrong time. What could make the two persons who passed by him treat a helpless victim so coldly? Jesus appears to believe that it was their narrow definition of the word "neighbor."
Who is your neighbor?
---
WEDNESDAY
[Jesus continued,] "Now by chance a certain priest came down that road. And when he saw him, he passed by on the other side. Likewise a Levite, when he arrived at the place, came and looked, and passed by on the other side."
Luke 10:31-32
Religious intolerance. We can all fall prey to it. It's also a thief. If it is not checked, it can cause us to live in a very narrow world where only our own needs can be met. Since these two religious leaders passed by this poor man in need, it is assumed that this man must be beyond God's help. Aren't these the people who are called by God to help? Are these not ministers of the Most High God? Is not God concerned about the hurting and the helpless? Would not God stop to assist one such as this man? Yes, He would. God is concerned about all of us. He merely wants to teach us, His people, how to express His concern, care and love for others.
Not only did both the religious servants ignore him, but they passed by on the other side of the road as though they did not want to even be contaminated by this poor suffering man. Is it any wonder they condemned Jesus for healing on the Sabbath day?
They were so caught up in their laws, rules and regulations that they ignored the spirit of the law. The spirit of the law is the Holy Spirit. We are told not to quench or grieve Him. He is also the spirit of compassion. We are also told not to shut up our bowels of mercy and refuse to help one in need. Love for one another is central to Christianity.
Do we truly love our neighbor?
---
THURSDAY
[Jesus concluded the parable,] "But a certain Samaritan, as he journeyed, came where he was. And when he saw him, he had compassion. So he went to him and bandaged his wounds, pouring on oil and wine; and he set him on his own animal, brought him to an inn, and took care of him. On the next day, when he departed, he took out two denarii, gave them to the innkeeper, and said to him, 'Take care of him; and whatever more you spend, when I come again, I will repay you.'"
Luke 10:33-35
The Samaritan had compassion on him. This is how you define who your neighbor is. Who has God told you to help? Who have you felt compassion for? Compassion is very powerful. It moves us into action to do the right thing. Compassion allows the gifts of the spirit to operate through us to help humanity. Compassion allows us to go out of our way to help. It interrupts the flow of things and allows God's miracle working power to come in. Without compassion we will not be stirred to action. Compassion is different from empathy, sympathy or pity. The last three are emotions only. Emotions can be ignored or reasoned away. Emotions are often void of power to move us to action. Only compassion compels us to obey the voice of the Spirit. Compassion is the heart of God toward the helpless. He moves us with the same compassion when we minister to the helpless.
Compassion allows the healing anointing to flow. This Samaritan bound up the man's wounds. This is what happens when the anointing is applied. Then he treated the wounds, and brought the man to a safe place. This happens whenever we minister under the anointing. God not only heals us, but He comforts us and brings us to safety. He also pays the price for all of our care. Total love. This is what a true neighbor does. He is in covenant with the entire human race, and will go anywhere the Lord sends him healing, binding up wounds, setting at liberty them that are bruised. He would not ignore a neighbor in need. He does this because it is the right thing to do.
---
FRIDAY
[Jesus then asked,] "So which of these three do you think was neighbor to him who fell among the thieves?"
And he [the lawyer] said, "He who showed mercy on him."
Then Jesus said to him, "Go and do likewise."
Luke 10:36-37
Well, was the parable effective? Did the lawyer "get it?"
I think so. He gave the correct answer. It is one thing to give the correct answer, but quite another to do the right thing, that's why Jesus makes sure he tells this man to not only know the right thing to do, but to do it.
Oftentimes the right thing will not be the easy thing, or the thing that is convenient to do. The right thing may not be fun. The right thing may take us out of the way or out of our normal routine. The right thing may cost us some personal possessions, or even cause us to put off doing what we had planned to do, but remember God is our reward. He can restore whatever it costs us to obey Him, and He can also give back lost or stolen time, wages, or benefits.
Whenever God moves upon our hearts to help someone, He is the Good Samaritan. He pays the cost, He supplies the anointing, and He provides the safety and shelter for that person who is hurting. Know that He is with you when you minister hope, restoration, healing and comfort. We are His neighbor.
Who is your neighbor?